Charlie Sheen's Ex-Wives: How Many Times Has The Actor Been Married?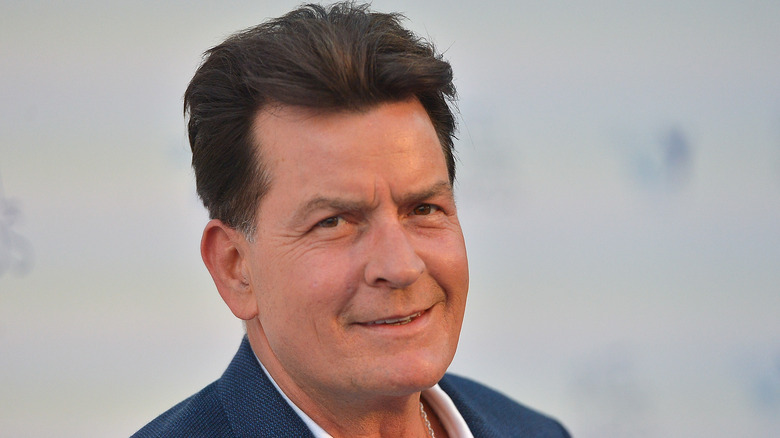 Charley Gallay/Getty Images
Charlie Sheen's career is certainly impressive, with his TV roles earning him a string of Golden Globe and Emmy noms and shooting him to the top of the list of best-paid actors in television between 2010 and 2011. But while his acting chops made him a famous star, his personal life has placed him among Hollywood's most infamous characters. Chief among them is Sheen's messy love life, which has landed him in the spotlight for all the wrong reasons.
The "Two and a Half Men" alum's shady behavior has gotten in the way of his relationships since the early '90s when Sheen allegedly shot his then-fiancée Kelly Preston in the arm. No one knows what exactly happened, but both claim the whole thing was an accident. Whether or not the incident played a role is unknown, but their engagement was called off shortly after. His relationships only got more complicated from there. Sheen's transgressions over the years culminated in December 2015, when another of his ex-fiancées, adult film star Scottine Ross, sued him over wide-ranging charges, People reported.
The lawsuit filed by Ross, known professionally as Brett Rossi, came just weeks after Sheen disclosed he had been living with HIV since 2011 on NBC's "Today" in November 2015. Ross argued, among other accusations, that he failed to disclose his diagnosis. While two of Sheen's engagements ended amid controversy, some of them went on to become marriages. And those also ended in similarly troubling circumstances. 
Charlie Sheen has had three failed marriages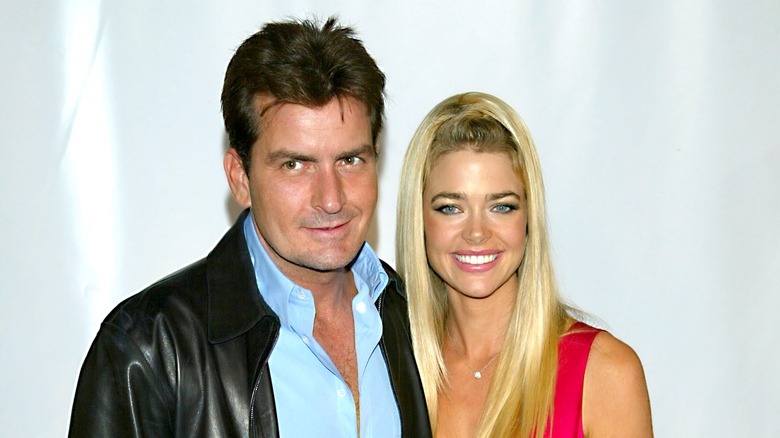 DFree/Shutterstock
Charlie Sheen became a married man for the first time in 1995. That September, he said "I do" to model Donna Peele, whom he had known for just six weeks. "My research and travel has shown me ... people who court for a decade usually have a marriage that lasts only a couple of years," he told the Deseret News. But Sheen's reasoning didn't apply to his own marriage. Five months into it, Sheen and Peele announced their plans to divorce. "I couldn't breathe," he said on "Entertainment Tonight," per The New York Times. 
He needed a few years to try again. In June 2002, Sheen wed Denise Richards, whom he started dating after she guest-starred on "Spin City" in 2001. They welcomed two daughters, Sam and Lola, in 2004 and 2005. When Richards gave birth, she had already filed for divorce. Following Lola's birth, Sheen and Richards tried marriage counseling, though they didn't reconcile. "They are trying to get along for the sake of the kids," a source told People in June 2005.
Three years later, in May 2008, Sheen married Brooke Mueller, with whom he welcomed twin sons the following March. But less than two years after exchanging their vows, the couple opted to live separately. "Sometimes when couples are trying to work things out, it's better if they don't reside under the same roof," an insider told People. But it didn't work, and Sheen filed for divorce in November 2010.
Two of Charlie Sheen's ex-wives have accused him violence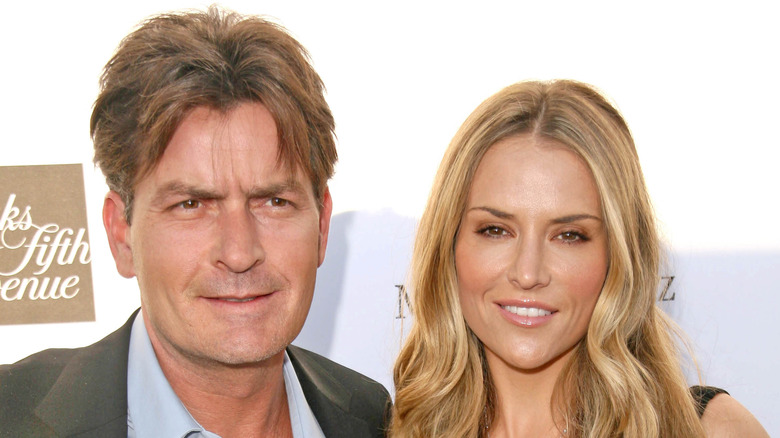 s_bukley/Shutterstock
During divorce proceedings, Denise Richards accused Charlie Sheen of worrying behavior, including death threats, physical violence, and seeking out pornographic material featuring what looked like underage actors, The Smoking Gun reported in April 2006. Sheen denied the accusations. Nevertheless, when their divorce was finalized in 2006, the court determined Sheen should stay at least 300 feet from "The Real Housewives of Beverly Hills" alum and their two daughters, except during supervised visits, Access reported.
A similar situation unfolded when Sheen and Brooke Mueller divorced. Four months after he filed paperwork, Sheen lost custody of their twins when Mueller was granted a restraining order, People reported in March 2011. "I am very concerned that [Sheen] is currently insane," Mueller's document read. "I am in great fear that he will find me and attack me and I am in great fear for the children's safety while in his care." When the divorce became final that May, Mueller got physical custody while both were to share joint legal custody.
While Sheen's first wife, Donna Peele, didn't take him to court, their marriage took place amid controversy as well. In July 1995, about a month and a half before their wedding, Sheen was named in the federal criminal case against Heidi Fleiss and her prostitution ring, AP reported. Some reports argued Sheen was eager to marry Peele after knowing her just a few weeks to hush up his involvement.
If you or someone you know is dealing with domestic abuse, you can call the National Domestic Violence Hotline at 1−800−799−7233. You can also find more information, resources, and support at their website.