Who Is Wednesday Star Gwendoline Christie Dating In Real Life?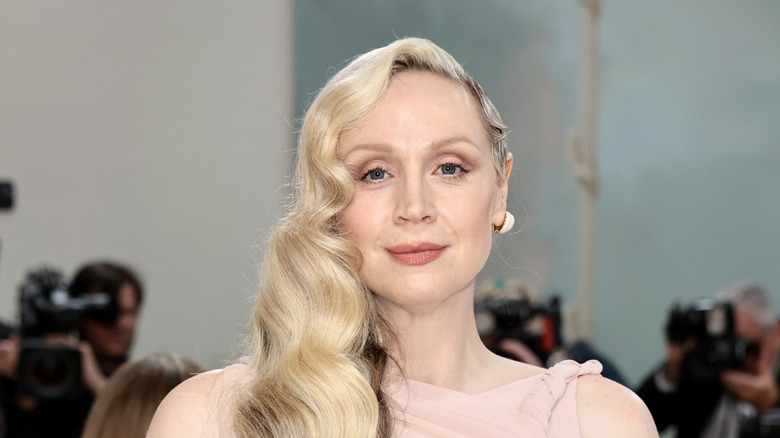 Jamie Mccarthy/Getty Images
Gwendoline Christie is thriving. In the years since she caught her big break as Brienne of Tarth in "Game of Thrones," the British actor and model has maintained a steady onscreen career playing various roles in film and on television. Most recently, she appeared alongside Jenna Ortega on the hit Netflix show "Wednesday" as Larissa Weems. A departure from her previous roles, Christie said starring as the imposing headmistress of the fictional Nevermore Academy was the first time she's ever felt attractive on screen. "I really wanted the opportunity to transform," she told WWD about creating her character with director Tim Burton. "And nobody would ever have cast me in that role. As an actor, I always want to play something far away from myself."
In real life, there's one person who has never failed to make Christie feel beautiful: her longtime partner, British fashion designer and illustrator Giles Deacon. She and Deacon have been together for over a decade since first meeting in 2013 through a mutual friend, according to his interview with Grazia UK in 2018. "I met Gwendoline six years ago through a mutual friend and was instantly smitten," Deacon said (via Yahoo!). "For a million different reasons, I thought she was extraordinary. The way she carries herself, it was not like anything I'd seen before." Deacon has always had an eye for extraordinary beauty, going by his impressive body of work which has made a huge impact in the fashion industry.
Giles Deacon designed Pippa Middleton's wedding dress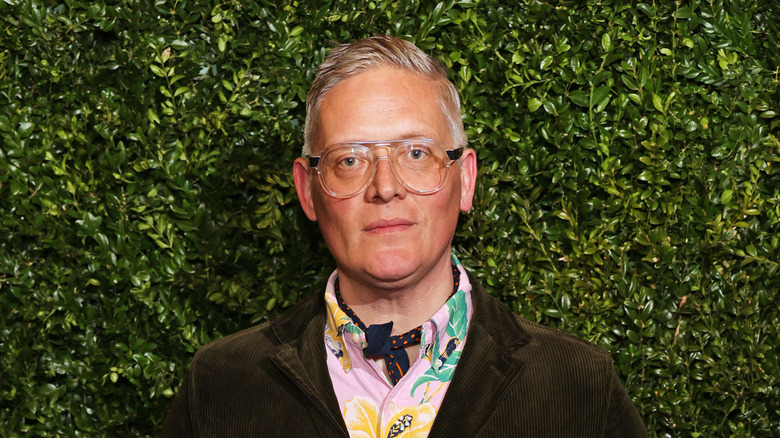 David M. Benett/Getty Images
Giles Deacon is considered one of the most influential figures in London fashion. He is known for his frequent pop culture references and use of bold, playful prints in his creations. Born in 1969 at Darlington, Deacon got his start at Jean-Charles de Castelbajac in Paris before joining Bottega Veneta in 1998 as the house's head designer, per The Independent. He went on to work with Tom Ford on womenswear in Gucci before launching his own clothing label, GILES, in 2004, which he ultimately shut down in 2016 to focus on couture. Over the years, Deacon has worked with an impressive  list of celebrity clients including Drew Barrymore, Cate Blanchett, Sarah Jessica Parker, Linda Evangelista and Scarlett Johansson. However, one of the most noteworthy was Pippa Middleton, whose wedding dress he designed back in 2017.
Interestingly, Deacon admitted to The Guardian in 2010 that he wasn't a huge fan of designing bridalwear. "It's a totally different discipline. [The brides] don't actually want to listen to you because they've been planning it for years and years — it's almost like you've become just a dressmaker," he explained. "And they can't make up their minds, and then their mother wants to see it, and my head starts spinning at that point." However, his experience working with Middleton was different. "She has a great eye, she knew what she wanted," he said in an interview with The Business of Fashion.
Giles Deacon considers Gwendoline Christie his muse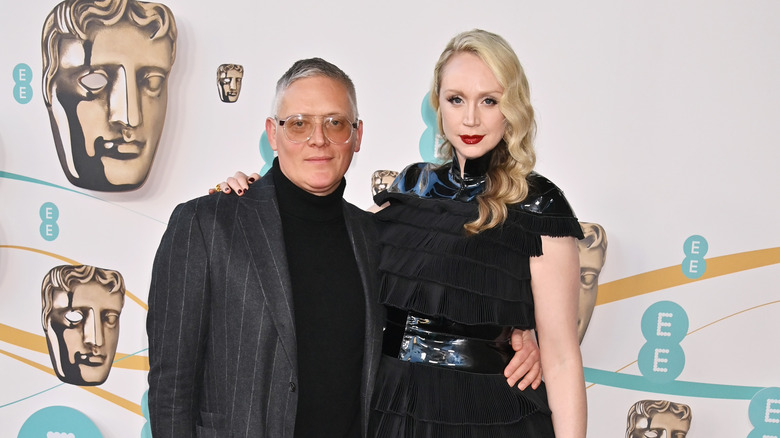 David M. Benett/Getty Images
Giles Deacon and Gwendoline Christie have a long history together, not just as romantic partners but as collaborators. The two have worked together on some of the actor's iconic red carpet looks (including this black gorgeous gown she wore to the BAFTAs 2023 in February), and on her costumes for shows including Netflix's "The Sandman." Opening up about their working relationship to the Telegraph in 2016, the renowned designer described Christie as "a fantastic muse." Deacon continued, "She's a character herself, and her trail of various characters is brilliant. She's pretty transformative, which is always an interesting thing from a designer's point of view ... It's a pleasure to work with [her]." 
For her part, Christie likewise described Deacon as one of her favorite designers and explained why she loves wearing his creations. "He has two of my favorite attributes in artists: wild imagination and technical rigor," she told the outlet. "[His designs] can be practical, otherworldly, sculptural and mind-bending, but you always feel celebrated as a woman when you wear them." She noted how Deacon's creations seem to possess a certain type of magic, in that wearing them gives her instant confidence. "It's quite a power for a designer to have. His clothes have personalities," the actor said. Similarly, she praised her partner's craftsmanship in a 2019 interview with Vogue. "He's an extraordinary person," Christie said. "He works with such great sensitivity, and he's unafraid of making woman bold and intelligent."