Mila Kunis Reveals She 'Almost Died' During Disastrous Ashton Kutcher Honeymoon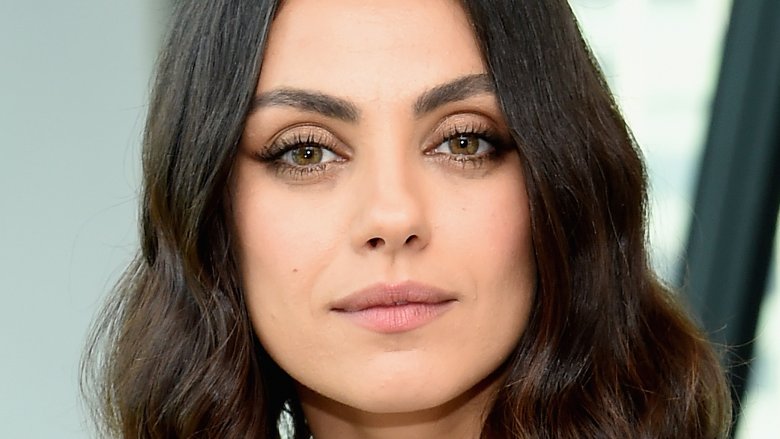 Getty Images
Mila Kunis' marriage to former That '70s Show co-star Ashton Kutcher wasn't always smooth sailing.
During her Monday, July 30, 2018, appearance on The Tonight Show Starring Jimmy Fallon, the actress revealed that the Hollywood power couple, who recently celebrated their three-year anniversary, honeymooned in an RV — but it was anything but romantic.
"If you've ever seen the National Lampoon movies, our honeymoon was like a real-life National Lampoon's honeymoon," the Spy Who Dumped Me star told host Jimmy Fallon. "I'm not exaggerating. I'm not saying it for a laugh!" Explaining that her in-laws and the newly married pair's daughter, Wyatt, had tagged along for the trip, the actress said, "With our 10 month old, [we] are in a tin can on wheels. That's how it starts."
This set-up was clearly a disaster in the making. And it wasn't long before things took a bad turn. Less than a day into the vacation, their air conditioner broke. While braving 110-degree weather, Kunis said, "We almost died on the side of a road."
After six days of travel, their targeted Napa Valley, Calif. destination, chosen by Kunis' mother-in-law, was in sight. The problem? Her research included out-dated books instead of the internet, and the group found themselves at an RV park, which featured two prisons, about an hour outside of Napa by the end of their trip. "My husband looked at me and goes, 'I quit,' and I was like, 'Me too,'" the actress concluded her hilariously harrowing story. 
She added, "And that was our honeymoon and three years later, we really like each other." To which Fallon quipped, "Yeah, you really do. That's proof." Indeed.
On the positive side, things could only go up from there, and Kunis, 34, and Kutcher, 40, have since gone on to build a beautiful life together. The two were first spotted together in late 2013, after the actor had finalized his highly-publicized divorce from Hollywood icon Demi Moore. In addition to their 3-year-old daughter, Wyatt Isabelle, the happy couple also share son Dimitri, whom they welcomed in November 2016.
Kunis, who recently opened up about her nasty breakup with ex-boyfriend and Home Alone star Macaulay Culkin, made headlines earlier this week when she spoke out about her husband's previous marriage to Moore. The former couple had tied the knot in a secret ceremony in September 2005 — when Kutcher was 27 years old and Moore was 42. Their 15-year age difference was the stuff of tabloid fodder until they announced their divorce in November 2011. While the two clearly weren't meant to be, Kunis has maintained that their real-life relationship was anything but fake.
"They had, like, a normal, real relationship," she shared during her appearance on the podcast WTF with Marc Maron. "They had three kids they were raising. It was, like, a normal life." 
Of her own relationship with Kutcher, the actress emphasized that — contrary to popular belief — the married pair surprisingly shared "no feelings whatsoever" when they'd acted opposite one another on That '70s Show. "It's the weirdest story that nobody believes but it's the God's honest truth," she said. During the show's tenure, Kunis and Kutcher respectively played love interests Jackie Burkhart and Michael Kelso. "You know, he and I talk about it and we're like, 'God.'"
While she admitted "it's just such a bummer that we missed out on 20 years together," Kunis believes their slow burn romance was for the best. "We would have never been together if we didn't both go what we went through in order to be the people that we were when we met."
Between taking the long way round to their blossoming romance and enduring a terrible honeymoon, the odds seemed to have been somewhat stacked against Kunis and Kutcher — but we're just glad this perfect celeb pairing wound up together in the end.