Brooke Shields And John Travolta's Relationship Didn't Start By Their Choice
Art Zelin/Getty Images
Back in the day, John Travolta was quite the lusty lothario. Before marrying his late wife, Kelly Preston, Travolta's dating life kept the tabloids busy with an ever-changing list of leading ladies on his arm. In the early '80s, Brooke Shields was one of them, despite her only being 16 and Travolta 27. People reported that Shields and Travolta's relationship was squeezed in between her seeing Scott Baio and Michael Jackson.
However, as is often the case in LA LA Land, things aren't always as they seem. Shields and Baio were both child stars-turned-teen idols when they were reported to be dating in the late seventies. Shields had just starred in the controversial 1978 flick, "Pretty Baby," where she played a pre-pubescent girl forced to work in the sex trade. Meanwhile, Baio was a household name thanks to his role as Chaci in "Happy Days."
Still, despite them making a super cute couple, it had all been for show. Shields later confessed in her memoir, "There Was a Little Girl: The Real Story of My Mother and Me," that her pushy momager orchestrated most of her supposed relationships. They were arranged to gain her daughter maximum exposure. "She didn't focus on romance (never mind love) but instead wanted to associate me with names that connoted fame, money, and power. These were the relationships she supported." So, it's little surprise that Brooke Shields and John Travolta's relationship didn't start by their choice either.
Not so endless love...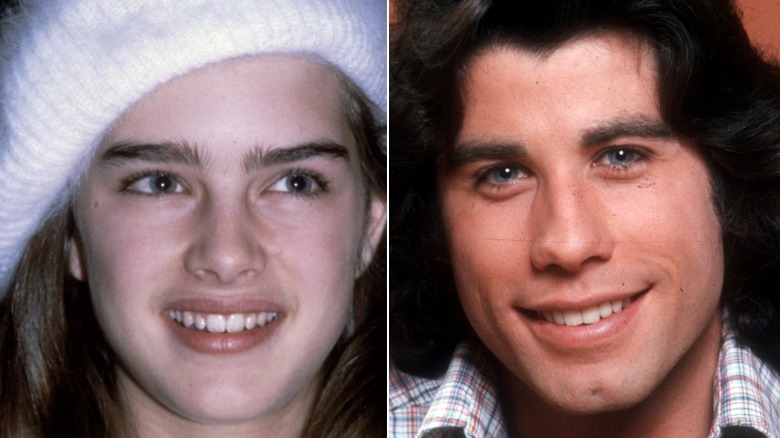 Images Press & Michael Ochs Archives/Getty
The hot news of 1981 was that John Travolta was dating Brooke Shields. This would have been a little creepy given their age difference, but it turns out it wasn't true. Her Travolta "romance" was just a friendship, as with most of Brooke's teenage dalliances. Per The Washington Post, Travolta rang Teri Shields to ask if he could take Brooke out to dinner, and even though she wasn't usually allowed to "date," her momager immediately spotted a publicity opportunity.
People reported that "Endless Love" and Travolta's "Blow Out" were about to be released, so a fauxmance made for good tabloid fodder. However, their relationship was strictly platonic. In her autobiography, Brooke admitted she lost her virginity to Dean Cain when she was 22. Funnily enough, Brooke blamed her toxic relationship with her mother for her subsequent split from Cain. However, despite Brooke and Travolta not dating, they developed a close friendship. "Mom encouraged friendships with people like George Michael, Michael Jackson, and John Travolta because I believe she was impressed by their genuinely sweet natures as well as their level of fame," she wrote in her book.
"It is [the most stage-managed liaison] since Kermit and Miss Piggy, but once thrown together, John and Brooke seem to have developed a genuine fondness for one another, even if it is just platonic," People wrote. "Brooke exudes goodness," Travolta said. "She's untainted. You don't want anyone to hurt her or say the wrong things because she's special."
The real thing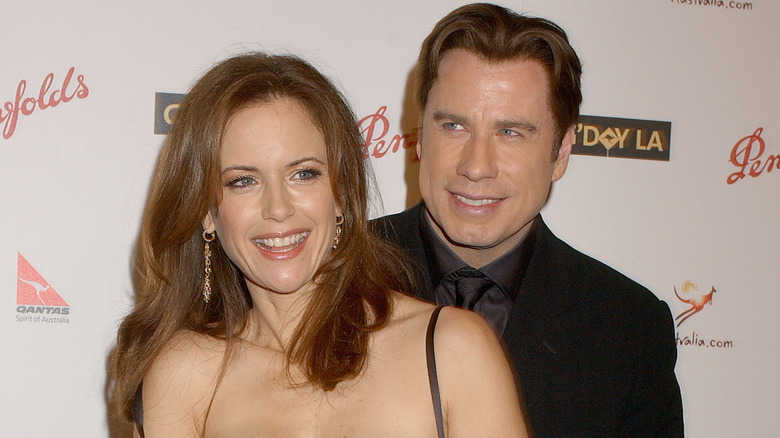 Gregg Deguire/Getty Images
Brooke Shields eventually moved on to real romances. She married her husband, Chris Henchey, in 2001. The couple has two daughters, Rowan, and Grier Henchey. Meanwhile, John Travolta married Kelly Preston in 1991. US Weekly reports that Travolta and Preston's relationship started out platonic, as she was married to Kevin Gage when they met in 1987. "Would you say it was love at first sight?" Andy Cohen asked Preston. "Kinda," she replied, pulling a face. "Well, I was not that happily married; put it that way, I was really with the wrong person."
By all appearances, her and Travolta's marriage was very happy, right up until Preston died at 57 after a breast cancer diagnosis. "It is with a very heavy heart that I inform you that my beautiful wife Kelly has lost her two-year battle with breast cancer," Travolta posted on Instagram. "She fought a courageous fight with the love and support of so many." 
He talked about his grieving journey to Esquire España. Travolta admitted he'd focused on his healing and allowed himself the space to mourn his loss. He said if you didn't take time to process your feelings, it was like multiple "boats plummeting to the bottom" of the ocean. "That is my experience. Because even though it's great to have company [in grief], sometimes it becomes like you're helping them, rather than putting yourself to work overcoming feelings of loss and grief."