Jamie Foxx Was Linked To A Famous Actor Quickly After Katie Holmes Split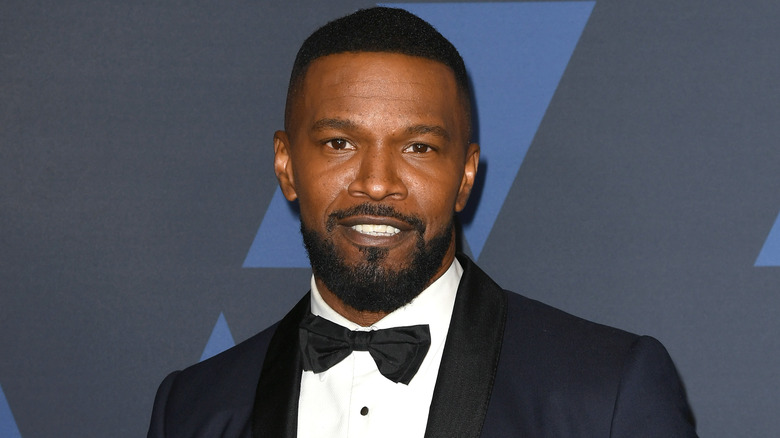 Kevin Winter/Getty Images
Since the early 1990s, Jamie Foxx has been a tour de force in the entertainment industry. Getting his start in the stand-up comedy realm, the "Ali" actor crafted a mainstream name for himself after starring in the acclaimed sketch comedy series, "In Living Color." Alongside his television career, Foxx has also made a mark in the film and music worlds, earning a Best Actor Oscar for his performance in "Ray" and Grammy award for his T-Pain collaboration "Blame It." Alongside his expansive career and numerous groundbreaking accolades, Foxx has gained attention for his dating life.
One of his most high-profile yet private relationships that consistently made headlines was his love affair with Katie Holmes. While the former lovers refrained from making official statements regarding their relationship, the two dated for six years, with the pair first spotted in The Hamptons in 2013. After years of fostering their love through birthday celebrations, business openings, quaint dates, and the occasional public appearances, the two called it quits in 2019. "Jamie and Katie split," a source told People in June 2022. Following their breakup, Foxx has been linked to an array of industry women, including "Underworld" star Kate Beckinsale. However, the rumors of their reported romance didn't last long.
Jamie Foxx and Kate Beckinsale dating rumors only lasted a day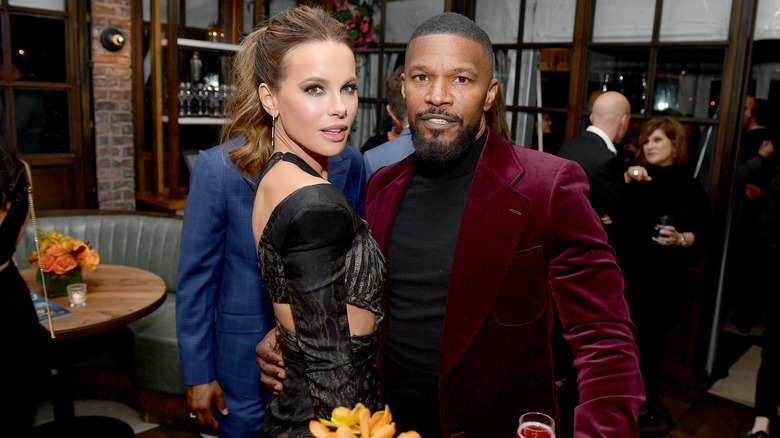 Matt Winkelmeyer/Getty Images
Following Jamie Foxx's breakup with longtime girlfriend and "Dawson's Creek" star Katie Holmes, the "Ray" actor was swiftly linked with other women in Hollywood. One of the ladies paired with the "Dreamgirls" star at the time was Kate Beckinsale. On November 15, 2019, the two actors made headlines after numerous reports claimed that they were getting cozy at a Golden Globes Ambassadors event. The pair also posed for a few photos at the West Hollywood gathering, which sparked further speculation among pop culture enthusiasts and news outlets. However before their "romance" could spread like wildfire, the Underworld actress shut down the rumors the following day.
"[Last] night at #hfpa party with @therealadewale @iamjamiefoxx and @jsauluck. I would like to point out that standing next to someone does not mean I am dating them," she wrote on Instagram alongside their pictures from the event. "Currently in line at the dry cleaners, and if that's true, I've got a hell of a problem." While Foxx refrained from releasing his own statement at the time, there appear to be no hard feelings between the two. In July 2022, the "Day Shift" actor wished Beckinsale a happy birthday in the comment section of her post celebrating her 49th birthday.
Jamie Foxx is no stranger to false relationship reports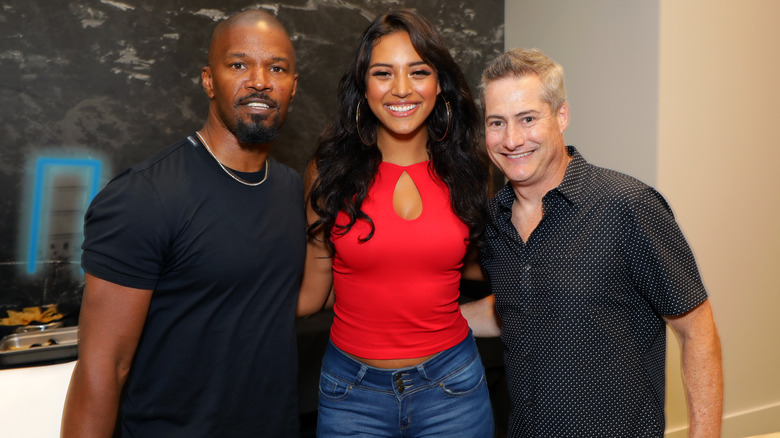 Tiffany Rose/Getty Images
Jamie Foxx's rumored relationship with Kate Beckinsale isn't the only romance pairing that was proven false. Shortly after his break up with Katie Holmes, the "Spider-Man: No Way Home" star turned heads after he was spotted "holding hands" with singer Sela Vave. According to a report from E! News, Foxx and the emerging singer were spotted leaving rapper Lil Pump's 19th birthday party when photogs captured the two climbing into the former's car. However, the "Ray" actor shut down rumors on Instagram Live a few days later. When asked about the photos, Foxx revealed that he was taking Vave under his wing to jumpstart her music career. "I'm escorting her to my car, to put her in the car – my artist, who hangs out with my kids, who's as young as my daughter. I know what business I'm in," he explained (via USA Today). "People try to make mountains out of molehills."
Foxx also shared his past experience helping other music talents at the start of their careers, including Ed Sheeran, Nick Cannon, and Ne-Yo. "We want to treat her the same way and give her the opportunities. I told her it's going to be this way. It's a double standard when it comes to women," he added. Vave echoed similar sentiments at the time, uploading a recorded video of Foxx's Instagram Live to her own profile, per Entertainment Tonight. "I'm out here to work and do what I love most," she wrote in her caption.