Lady Gaga Mourns The Loss Of Zombie Boy Model Rick Genest From Born This Way Video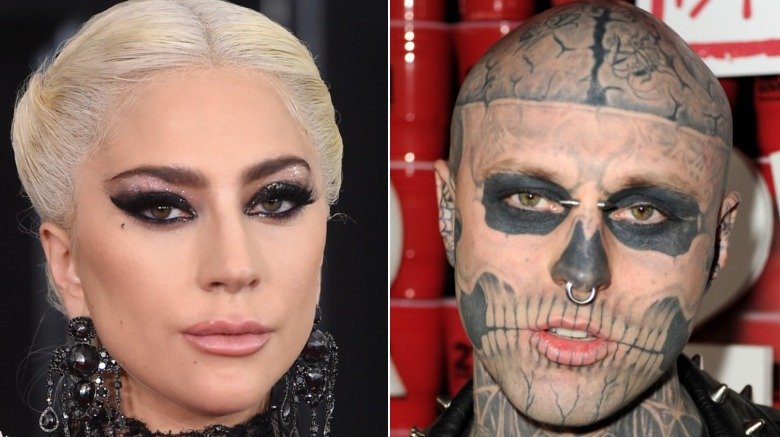 Getty Images
Rick Genest, the "Zombie Boy" model who starred in Lady Gaga's "Born This Way" music video, has sadly passed away.
On Thursday, Aug. 2, 2018, the Mother Monster took to Twitter to share a heartfelt tribute, which revealed that her friend had died of an apparent suicide on Wednesday. He was 32 years old.
"The suicide of friend Rick Genest, Zombie Boy is beyond devastating," Gaga wrote to her 76.5 million followers, captioning snapshots of Genest. "We have to work harder to change the culture, bring Mental Health to the forefront and erase the stigma that we can't talk about it. If you're suffering, call a friend or family today. We must save each other." 
In a follow-up tweet, the "Million Reasons" singer, who has raised awareness about mental health in the past, encouraged those who are struggling with mental illness to seek help.
According to CBC, Genest was found dead by police in his Montreal, Canada home. At the time of this writing, further details surrounding his death have yet to be revealed. His management company, Dulcedo Management, paid tribute to the artist on Facebook, writing in part that he had been "loved by all those who had the chance to meet him and know him."
The heavily tattooed model rose to fame in 2011 following his memorable appearance in Gaga's music video, and went on to model for the likes of GQ and Vanity Fair, People noted. The multi-hyphenate holds two Guinness World Records: Most Insects Tattooed on the Body and Most Bones Tattooed on the Body. 
Genest's last Instagram post included a poem titled "The Well." "O Damballa / lo we howl upon stars hung above / we soul cast down the well of stone / as fire laid betwixt two fates / of most drear less dire straights / each breath cuts ice as flesh is weighed / in front of deaths old narrow gates / where bold and brazen last rites crate," it read, captioning an image of a ring of light surrounded by darkness. "Lo heed our wish of madness / deep from os / our prayers we kissed / so stern and cold / on metal shells / release by moonlight glow."
Genest is survived by his parents, Roch Genest and Catheryne Chappelle, as well as two siblings.
Our thoughts are with Genest's loved ones during this difficult time.
If you or someone you know needs help, please call the National Suicide Prevention Lifeline at 1-800-273-TALK (8255).