Julia Louis-Dreyfus' Husband Brad Hall Has Been By Her Side Since College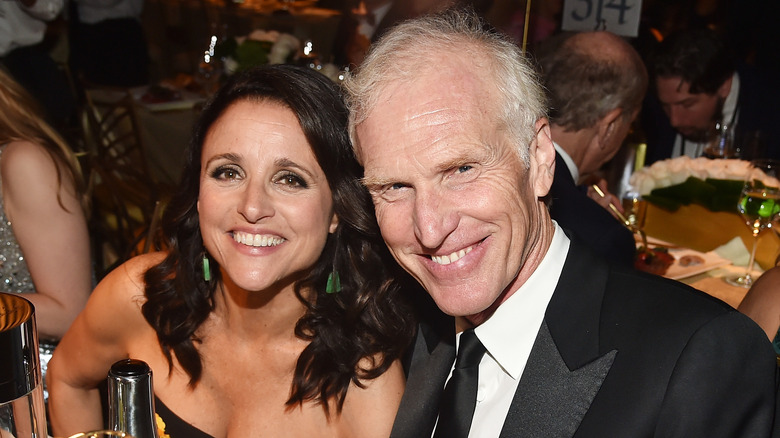 Alberto E. Rodriguez/Getty Images
Hollywood and long-lasting marriages don't always go together, but every now and then, we hear of an A-list couple who've truly stuck by their vows — like Julia Louis-Dreyfus, who's been married to Brad Hall for more than three decades. 
Given many of Louis-Dreyfus' past roles, that she's been in a committed relationship for so many years may come as a surprise to some. Her "Seinfeld" character, Elaine Benes, has been lauded for her single-and-unbothered attitude. Meanwhile, the very premise of "The New Adventures of Old Christine" saw her character go through life as a newly divorced woman. As for "Veep," Selina Meyer had multiple flings, across the show's eight seasons. Let's place some more emphasis on characters, though, because when it comes to the woman behind them, she's been hitched since 1987.  
Sure enough, when it comes to Louis-Dreyfus' personal life, in real life, she has only been linked to one man throughout her time in the spotlight. In fact, theirs is a love story dating back to before either one of them made it in showbiz. So, what do we know about the funnywoman's decades-long marriage to fellow comedian Brad Hall — and where did their love story begin? 
She joined his college comedy troupe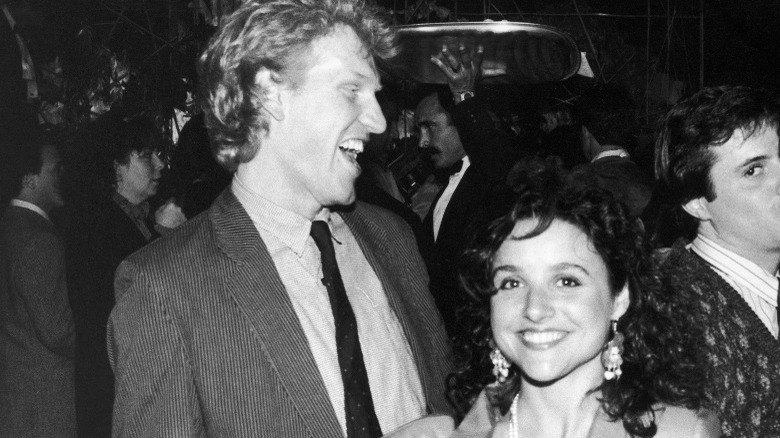 Robin Platzer/Getty Images
Julia Louis-Dreyfus and Brad Hall might have met pre-fame, but it's safe to say comedy has always played a role in their relationship. In fact, their shared love for making others laugh is what brought them together in the first place. 
In a 2013 interview on "The Late Late Show with Craig Ferguson," Louis-Dreyfus revealed that the first time she laid eyes on the man who would become her husband, she was in college and auditioning for his comedy troupe, The Practical Theater. "He had a theater company, and he hired me to be in a show," she smiled. At some point along the way, they started dating, and though she didn't go into detail as to how and when their romantic relationship began, she revealed that she'd always felt like they'd end up together. "I knew almost immediately," the actor gushed. 
She wasn't kidding there. In fact, her crush on Hall was so strong early on, that speaking to Grist, she joked that it was the only thing she could really remember from her time at The Practical Theater. "I don't even remember those skits! I was about 19 at the time and had fallen in love with Brad. He was a senior with a big old beard and Jesus hair," she reminisced. Luckily, their time together as college-age colleagues was just the first time they'd work together. 
They've continued to collaborate over the years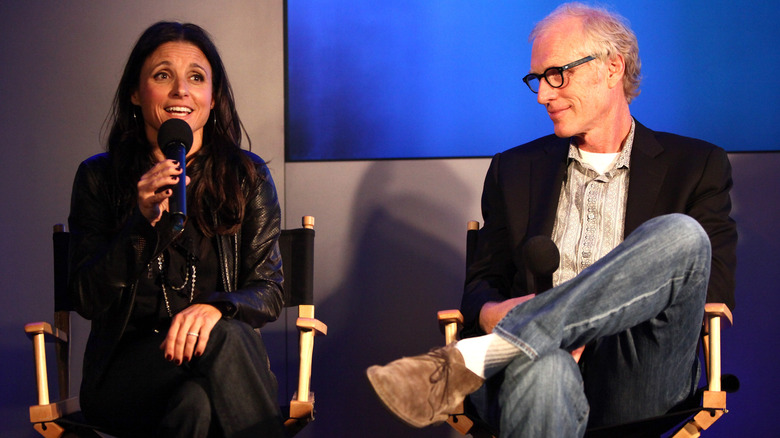 Paul Zimmerman/Getty Images
Julia Louis-Dreyfus may have a foggy memory when it comes to the earliest skits she did with The Practical Theater, but she's gone on to collaborate with her husband on several occasions since then. 
Back in 1982, the troupe was hired by "Saturday Night Live," and both Louis-Dreyfus and Brad Hall remained on the show for several years. And although both left "SNL" — with Louis-Dreyfus opening up to Stephen Colbert about her experience on the show being difficult at times (via Variety) — they also worked together on "Watching Ellie" and the 2011 film "Picture Paris." Of the latter, both have gushed over the great time they had working together. As Hall told HuffPost of the experience, "It turned out to be spectacularly fun." Louis-Dreyfus, meanwhile, told the outlet that her highlight was re-living their early days as collaborators. "We both felt like we were back in Chicago doing theater — like we were, 25 or 30 years ago. We were our own bosses then, and if he was happy and I was happy, we'd move on together," she reminisced. 
Well, even if Louis-Dreyfus doesn't remember the first skits she and Hall did together, she certainly remembers the feelings she had at the time, both romantically and creatively. Almost 40 years later, it's safe to say, these two are a dream team in every sense of the word.