What Arnold Schwarzenegger And Linda Hamilton's Relationship Is Really Like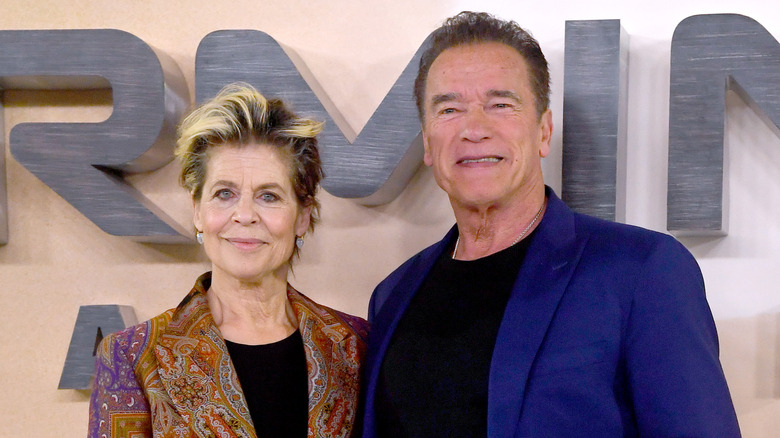 Dave J Hogan/Getty Images
Arnold Schwarzenegger and Linda Hamilton have known each other for decades. The two met on the set of the sci-fi action thriller "The Terminator," which is widely considered a cult classic and has since spawned a billion-dollar franchise. Released in 1984, the film starred Hamilton as Sarah Connor, a young woman who suddenly finds herself the target of an indestructible cyborg killing machine, played by Schwarzenegger. Despite the massive success of the movie — and its 1991 sequel "Terminator 2: Judgment Day" — Hamilton revealed that she initially had reservations about working with the "Austrian Oak" on the franchise. "Yeah, not at all. Only because I was a snotty New York actress, you know?" she said on "The Graham Norton Show."
"So, here's Arnold starring this film, and my people were very excited," she continued. "And I was, 'I don't know, I don't know, I'm gonna see for myself.'" Hamilton said it was after she saw Schwarzenegger as the Terminator that she came around and agreed to do the film. "I went to see him at work and watched him as that robot. I said, 'All right, this might be alright,'" she recalled.
Despite her initial impression of Schwarzenegger, she and the retired bodybuilder ended up hitting it off and developing a serious bond on-set. To this day — almost 40 years since "The Terminator" hit the big screen — the two remain good friends.
Arnold Schwarzenegger and Linda Hamilton are fond of each other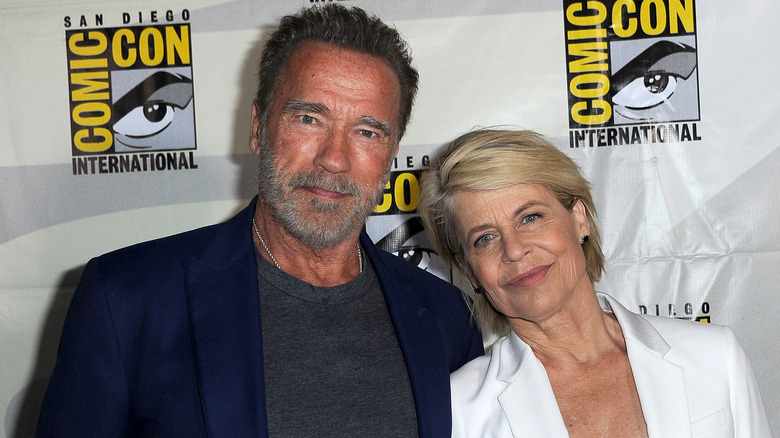 Albert L. Ortega/Getty Images
Arnold Schwarzenegger and Linda Hamilton have maintained a steady friendship in the years since they last starred in "Terminator 2: Judgment Day." Despite going their separate ways, the two have kept in touch and continued to support one another in their personal lives and respective careers — including their endeavors outside of acting. In fact, when Schwarzenegger was elected governor of California in 2003, Hamilton was there to support him at his inauguration, she revealed in an interview on "Jimmy Kimmel Live" in 2019. "He's just become the greatest elder statesman," said Hamilton of her co-star. "You know, he's an amazing mind and agenda and I have just developed so much respect for him."
In a separate chat with Entertainment Tonight, Hamilton reflected on her solid partnership with Schwarzenegger more than three decades since they first worked together. "I loved working with Arnold. I actually was just pleased as punch when I saw him again. It had been a number of years," the "Beauty and the Beast" actor said. "And I just have this affection for him that is so deep and biting." Similarly, Schwarzenegger has sung Hamilton's praises on several occasions, such as his touching birthday tribute in 2018. "Happy birthday to my dear friend Linda Hamilton. One of my favorite co-stars, a true badass, and a wonderful human being," he wrote.
They reunited for another The Terminator movie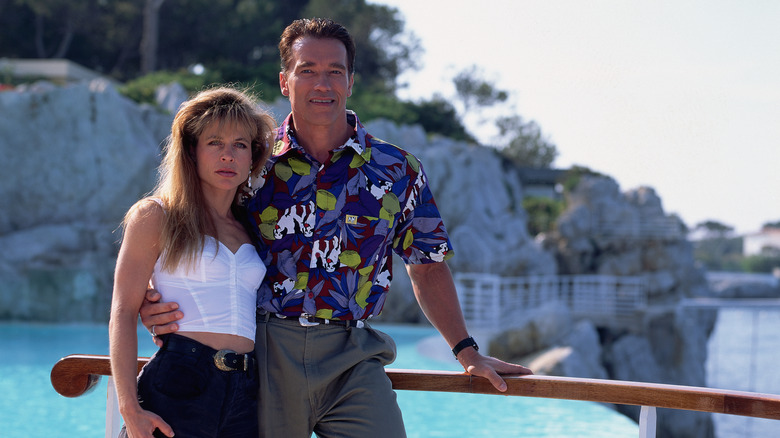 Kurt Krieger - Corbis/Getty Images
In 2019, 28 years since they headlined "Terminator 2: Judgment Day," Arnold Schwarzenegger and Linda Hamilton reunited once more for another "Terminator" reboot. The duo joined forces in "Terminator: Dark Fate," the latest in the "Terminator" film franchise which serves as a follow-up to their 1991 box office installment. James Cameron, who directed the first two "Terminator" films, also returned as the sequel's co-writer and producer. While promoting their movie on "Good Morning America," Schwarzenegger expressed his excitement to be reunited with his original co-star in "Dark Fate." "I was ecstatic that Cameron was interested in doing it again. He was thinking about maybe bringing Linda back, and I said, 'That would be brilliant. That would be fantastic,'" he said. "It was really great to have her back in this project."
For her part, Hamilton said that while she was happy to reprise her role as Sarah Connor, she had to give it some thought. "I gave it probably six weeks of intense thinking and consideration before deciding to do it," she told Variety. "I wasn't sure if I wanted to. I didn't want it to look like a shameless money grab." Despite the reboot being a commercial and critical bomb, Hamilton said she had a blast working with Schwarzenegger again. "I loved working physically with him," she told ET. "I loved seeing him in the trailer, I loved toying with him ... You know, it's the very top of a 35-year relationship, and that really means something to me."