How To Watch Luann And Sonja: Welcome To Crappie Lake (With Or Without Cable)
We may receive a commission on purchases made from links.
Bravo's new spin-off, "Luann & Sonja: Welcome to Crappie Lake," is basically "The Simple Life" but with Manhattan housewives instead of Hollywood socialites. "What do you know about Benton, Illinois?" a producer asks Sonja Morgan in the premiere sneak peek. "What does anybody know about Benton?" She replies in peels of laughter.
"All I know about Benton is that it's very hot," Luann de Lesseps admits. "I know they have some lakes." Well, they also have a lot of crappie fish (that's the species' name, not a derogatory observation), tons of livestock, and a lot of fetes, including the "testicle festival," so that should make for at least some of the "hijinks and hilarity" that Bravo promises will ensue when the "Real Housewives of New York City" alums are placed "in charge and out of their element."
The COVID pandemic decimated the small Franklin County city, home to under 7,000 residents. But never fear! Sonja and Luann are here to save the day and make Benton great. "Oh my god, we'll sweat like w**** *in church here," Sonja mumbles as she disembarks from a private jet. "We're going to have sex," Luann decrees before playing with a man's braided beard in a dark bar while bleating like a goat. "There's no reason to believe we're going to [get anything] done," Sonja admits. "We love you, Benton," she later sings into a vibrator. Oh, dear. Here's how to watch Luann and Sonja: Welcome to Crappie Lake (with or without cable).
Brave it on Bravo
So, if you're hankering for some Manhattan hijinks in small-town Illinois, here's how to watch "Luann and Sonja: Welcome to Crappie Lake" (with cable). If you haven't cut the cord, you can feast your eyes on the show the good old-fashioned way—on Bravo, the home of all things "Real Housewives." According to NBC, Bravo's parent company, "Luann and Sonja: Welcome to Crappie Lake," premieres two special half-hour back-to-back episodes on July 9 at 9 pm ET/PT. After the premiere extravaganza, from July 16 onwards, the series will move to its regular timeslot of Sunday nights at 10 pm ET/PT, directly after the new season of "The Real Housewives of New York City."
Reality fans were horrified to learn that the NYC spinoff of the ever-popular "Real Housewives" franchise would be rebooted with an entirely new cast for Season 14. So, they'll likely be overjoyed to learn they can still watch OG Luann and 11-season veteran Sonja doing their thing — albeit in decidedly different surroundings than the usual penthouses, posh restaurants, and Bergdorf Goodman elevators.
Meanwhile, Andy Cohen is absolutely foaming at the mouth about the new concoction. "When you see Luann and Sonja at Crappie Lake ... Guys, I'm not overselling this show, and I have nothing to do with it. I didn't produce it. It wasn't my idea. I watched it as a fan, just like you. It's so funny," he swore during a recent episode of his live Sirius XM show, Radio Andy.
Go to the peacock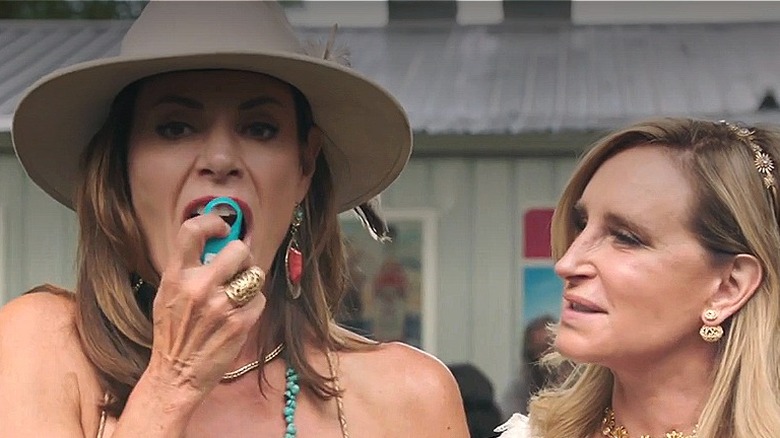 If cutting off the cable was one of the ways you decided to save some much-needed Benjamins in these challenging times, then keep calm; you can carry on and watch Luann de Lesseps and Sonja Morgan. Per NBC, the show will run on its streaming service, Peacock, the day after it airs on Bravo.
Peacock offers two different customer plans, premium, and premium plus. The former allows viewers to "stream 80,000+ hours of the best in TV, movies, and sports" for $4.99 monthly. The latter costs $9.99 a month. It gives you all the same benefits as premium plus the advantage of no pesky ads, the ability to download and watch programming offline, and access to your local NBC channel live 24/7. Both plans can be canceled at any time in customer settings, allowing you to pay monthly rather than shell out for an entire year.
You also have the advantage of accessing Bravo's entire back catalog of shows, so that's one heck of a lot of housewives bang for your buck. Once you've chosen and paid for your subscription, you can access Peacock on all mobile devices, laptops, desktops, and smart TVs. If you don't want to commit to a monthly payment, you can buy episodes of the show via Prime Video or VUDU for $1.99 a pop. Both are viewable on all devices and smart TVs.