What Ryan Gosling And Emma Stone's Relationship Is Like In Real Life
Dave J Hogan/Getty Images
Ryan Gosling and Emma Stone have an on-again, off-again relationship, but not the romantic kind. The two actors are known to be frequent collaborators in the film industry, having worked together in not just one, not two, but three separate films, much to fans' delight.
They worked together on the cult favorite romantic comedy "Crazy, Stupid, Love" alongside Steve Carrell and Julianne Moore, in which they got to showcase their palpable chemistry for the first time (the "Dirty Dancing" scene was improvised, FYI). Two years later, they reunited on "Gangster Squad," and while the film was forgettable despite a star-studded cast, their chemistry definitely wasn't. Then in 2016, Gosling and Stone top-billed the Academy Award-nominated film "La La Land," where they played star-crossed lovers Sebastian and Mia.
In many ways, the two are considered a Hollywood power couple, even though their movie romance didn't translate in real life. They owe that to the fact that their chemistry is unmatched, with "Crazy, Stupid, Love" director Glenn Ficarra noting that the on-screen lovebirds genuinely love working together. "They're so much fun to work with, willing to try anything," he told Entertainment Weekly. "They both like to laugh, so that's a great plus when you're doing a comedy, but they're not outside the characters because they're serious actors." And while some fans are disappointed they didn't end up being together in real life, you may be delighted to know they are the best of friends.
Ryan Gosling and Emma Stone are on-screen lovers but real-life besties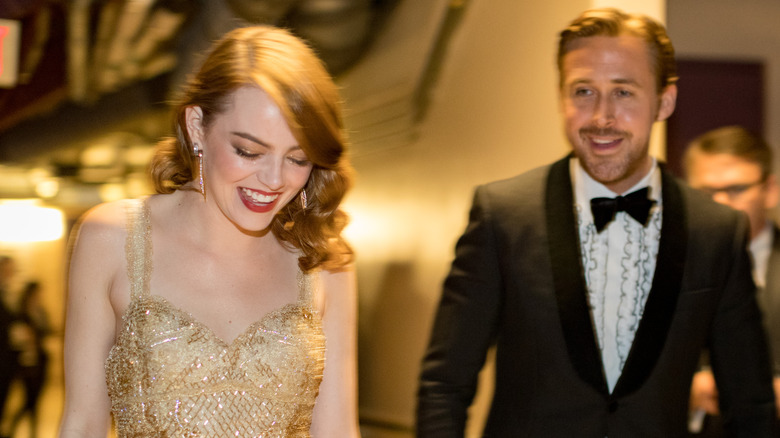 Christopher Polk/Getty Images
Ryan Gosling says it's difficult working opposite Emma Stone, not because they butt heads, but because they crack each other up all the time. "Well, it's tough with Emma because we are such knuckleheads, and we have to work hard to be serious," the "Barbie" star told Shortlist in 2013. "Especially as we got to know each other on a comedy." Stone shares the same fondness for Gosling, telling Entertainment Tonight that he is a joy to work with. He is a good co-worker, but it turns out that he's an even better friend. "He's so genuinely funny and such a good... I keep calling him teammate, but he is! He's a good teammate," the "Easy A" actor noted. "He's really fun to act with and hang out with. He's just... I don't know. He's the best!"
It's easy for some actors to feign closeness to promote their films, but Gosling and Stone are adamant about the authenticity of their bond. In an Interview Magazine feature, Stone even dished that they hit it off from the get-go. "I immediately felt a kinship with him," she said, adding that she even consults him on projects outside of their shared ones because she values his opinion that much. "I've asked him to read a couple of scripts. I just really like hearing his viewpoint because I know that it's never going to be tainted. He's very much his own person. ... It was like meeting a member of your team or something. I really like his brain."
Will Ryan Gosling and Emma Stone work together again?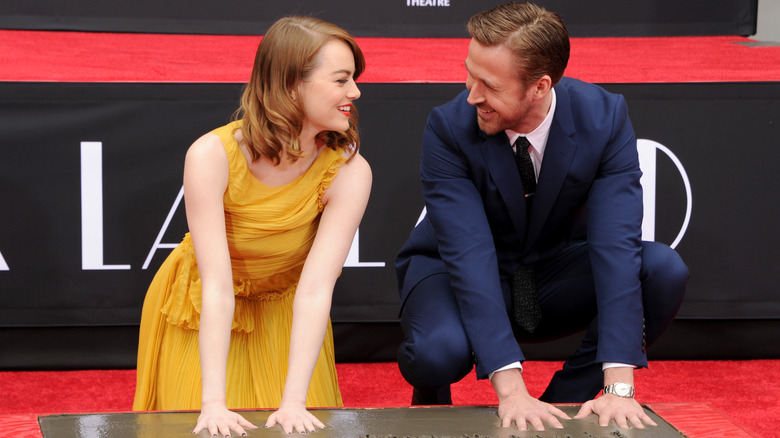 Gregg Deguire/Getty Images
Despite having already collaborated on three separate projects, Ryan Gosling and Emma Stone would work with each other again in a heartbeat if given the chance. "The truth is, Emma Stone owes me money," Gosling quipped to E! News. "If I show up here or I have to do another movie with her to get it, I will." Seriously speaking, though, it's gotten to the point that he knows Stone so well that working opposite her has become child's play. "We made two films together and now three, and so you know it's great to work with people you know," he shared with the outlet. "I think it brings the best out of them because you know one another, and you are able to help each other in a way that you can't if you're strangers."
Meanwhile, Stone joked that Gosling is probably sick of her at this point, but that won't stop her from working with him again in the future. "He has a restraining order against me now," she mused. "I'm just going to have to stay like a hundred feet away at everything else we do together. No, it's so much fun to work with him [but] I don't know if they'll let us do anything."