Did Sparks Ever Fly Between Margot Robbie And Leonardo DiCaprio Off Screen?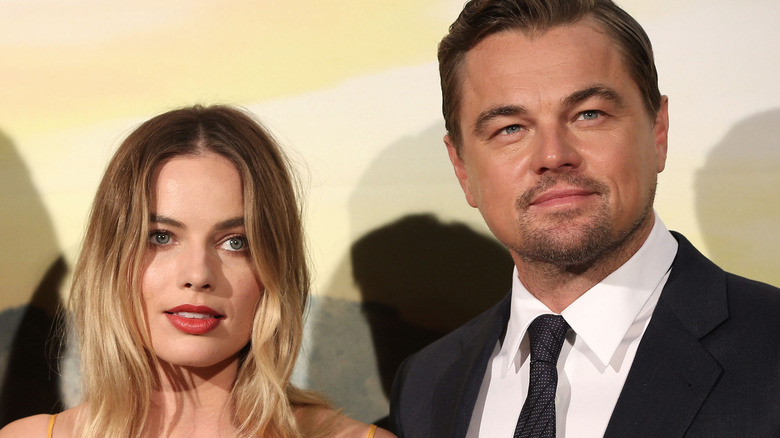 Franco Origlia/Getty Images
Margot Robbie is a hot commodity in Hollywood, but she hasn't been on the acting scene as long as, say, Leonardo DiCaprio. The Aussie actor got her big break in 2013's "The Wolf of Wall Street," alongside DiCaprio. She was up against some major star power for the role, but Robbie convinced DiCaprio (and director Martin Scorsese) that she was the right woman for the job by going off-script. "She clinched her part ... during our first meeting — by hauling off and giving Leondardo a thunderclap of a slap on the face," Scorsese told Time. "[It was] an improvisation that stunned us all."
In the film, Robbie portrayed Naomi Lapaglia, the character based on Jordan Belfort's ex-wife, Nadine Caridi. In a 2023 interview with Vogue, Robbie explained that Naomi's "sexuality was her currency." Hence the designer bandage dresses, the fancy lingerie, and in one memorable scene, no lingerie at all. This made for some racy scenes between the onscreen husband and wife, leading viewers to wonder whether there was sexual energy when the cameras stopped rolling. 
Robbie is married to producer Tom Ackerley, but was she DiCaprio's girlfriend before that? Fifteen years younger than her co-star, the blond bombshell is exactly his type — and their on-screen chemistry was off the charts.
DiCaprio and Robbie spent quality time together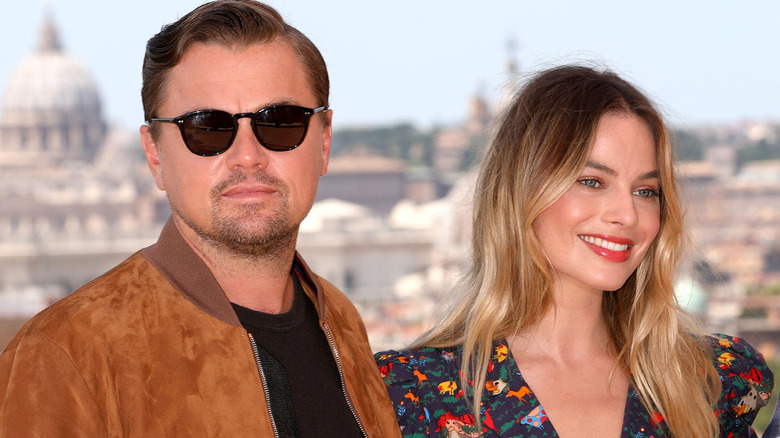 Franco Origlia/Getty Images
According to a 2012 report from Page Six, Margot Robbie and Leonardo DiCaprio weren't faking a mutual attraction. "[Leonardo] stayed overnight [at Margot's apartment]," a source dished in December. Robbie was also DiCaprio's guest of honor at his 38th birthday party in Vegas where a witness said, "There looks to be some strong chemistry between Leo and his leading lady. They spent a lot of time at the party together." DiCaprio additionally praised Robbie's acting skills, telling The Sunday Project that he'd always known she'd become a big star. "On 'Wolf of Wall Street,' seeing Margot come in and read that scene with me, I just knew I was witnessing a dynamic presence in cinema that was about to be," he said.
This all points to fireworks between the two, but reps for Robbie and DiCaprio debunked relationship rumors. DiCaprio's rep shot down the alleged sleepover, explaining, "That didn't happen. Leo worked late and stayed home." Meanwhile, Robbie didn't have much to say on the topic of DiCaprio's smooching. "All of my girlfriends interrogated me and asked, 'Is he an amazing kisser?' I'd sit them down and say, 'All I know is his screen kissing is great,'" she told People. According to Robbie, the dynamic with DiCaprio wasn't romantic because kissing him was all in a day's work. "You do the take in 17 hours and it's just hot and sweaty," she added. Just because they're not together though, doesn't mean they can't be good friends.
Leonardo DiCaprio and Margot Robbie are friends IRL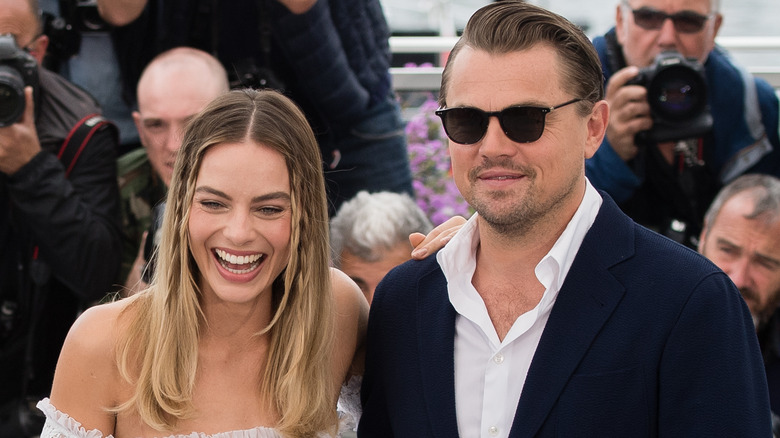 Samir Hussein/Getty Images
Jordan Belfort and Naomi Lapaglia's toxic, romance couldn't be further from Leonardo DiCaprio and Margot Robbie's real-life friendship. Robbie even credits the acting legend for being a formative presence in her career. "To work with Leo was unbelievable," she told People. "He has always been my favorite actor, and he became this wonderful big brother. He took me under his wing and always looked out for me, which is really nice." This positive experience meant that she was thrilled to work with him again when they crossed paths on the set of 2019's "Once Upon A Time In Hollywood." "Leo is so incredibly talented," she gushed to WHO. "I saw that firsthand when we did Wolf. ... So to watch him in this role is again just an absolute joy, and kind of like an acting class just watching him work."
In 2020, Robbie and DiCaprio shared a "touchy-feely" reunion at the 92nd Academy Awards. The pair's close friendship even prompted rumors that Robbie's husband Tom Ackerley was jealous of DiCaprio, though it was proven to be nothing but hearsay. Robbie herself publicly discussed her aversion to dating actors. "People take such an interest in your love life when you have a profile that it puts a lot of stress on a relationship," she told Marie Claire (via Entertainment Tonight). "So, two people with profiles ... I'd like to avoid that."
We can rule out a Robbie-DiCaprio romance, but future collaborations are still on the table.