Real Housewives Alum Jacqueline Laurita's Daughter Marries Longtime Boyfriend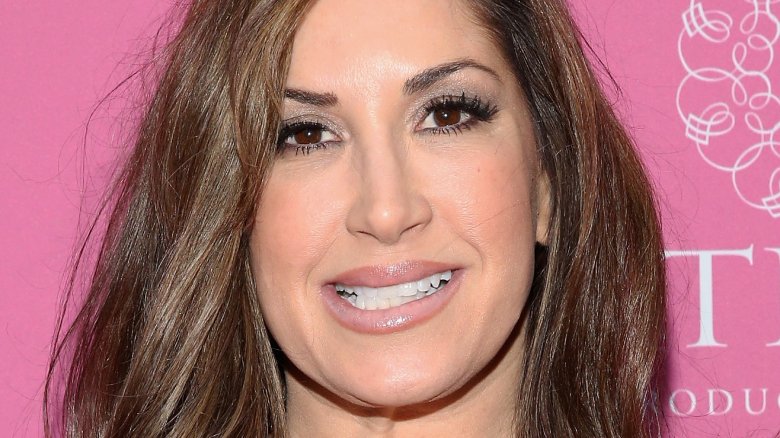 Getty Images
Former Real Housewives of New Jersey star Jacqueline Laurita had a big reason to celebrate this week — her daughter got hitched!
On Wednesday, Aug. 8, 2018, the reality TV star's daughter, Ashlee Holmes, married her longtime boyfriend, Pete Malleo. The couple's low-key wedding took place at City Hall in New York City.
Holmes, donning a casual yet gorgeous, short white dress, posted an Instagram snapshot of the two on their big day, adding the caption: "It's official... Mr. & Mrs." She completed the caption with a pair of champagne bottle and glasses emojis. Meanwhile, Malleo, who wore a dapper blue suit, shared the same pic, writing, "As Borat would say, 'My Wife.'" 
For her part, Laurita, who shares her daughter with ex-husband Matt Holmes, took to Twitter to comment on the happy wedding news. "I couldn't be more thrilled for them," she wrote in a heartfelt post, captioning the same photo as the newlyweds. "May they have a beautiful life together! A.M./P.M. Love you both! Congratulations! #Family It's official... Mr. & Mrs." 
While posting Bravo TV's article about the newly married pair's chic wedding attire in a separate tweet, the proud mom summed up her emotions about the day with a heart-eyes emoji.
According to Us Weekly, Malleo, 32, proposed to Holmes, a 27-year-old makeup artist, in February 2016. While speaking with Bravo TV's The Daily Dish shortly after, Holmes gushed about the romantic proposal, which took place on a bridge in Frank Sinatra Park in Hoboken, NJ, as the two overlooked the Manhattan skyline. "I was just in shock. I was like, 'Is this happening right now?' I was just all smiley, and then he cried. He tried to say it was the wind, but it wasn't," she said, adding, "It was really cute. It was so perfect."
The cute pair welcomed their first child together, son Cameron Hendrix, that August.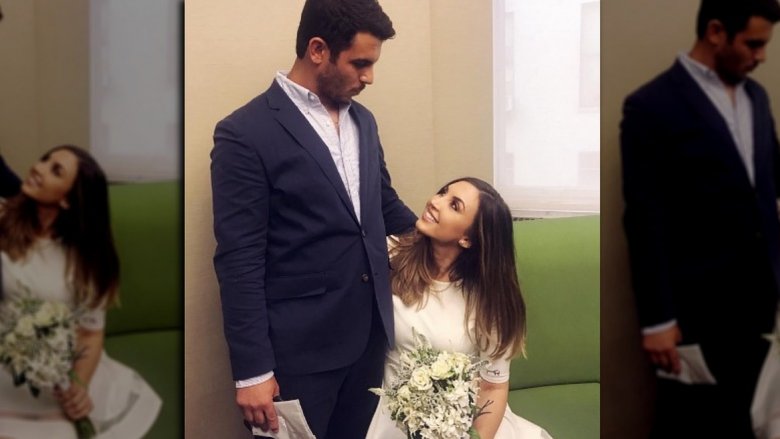 Laurita previously made headlines this year amid reports about her possible return to the hit Bravo series. She had officially called it quits on her Real Housewives journey in 2017 after an on-and-off eight-year run. "Love how the media gets everything twisted," the 48-year-old TV star tweeted in March 2018. "I was asked by an executive producer what it would take for me to come back to #RHONJ...I said full time and a whole new cast. Lol! (Dolores [Catania] can stay.) I don't like the direction it's going in anymore."
The television personality had initially left the series in 2014 before temporarily returning two years later. In a follow-up tweet, she emphasized that she was perfectly content focusing on her personal life off of the small screen, writing, "I'm a very positive person & I'm very happy with my life. I love my family & I love my friends. I want to do positive things. I love sharing my journey & knowledge I've gained along the way. I love helping people and that's what I am going to continue to do."
Holmes and Malleo aren't the only ones in the Real Housewives sphere to share big marriage news this summer — however, not all of it's been so positive. As Nicki Swift previously reported, former Real Housewives of Orange County stars Alexis and Jim Bellino announced their divorce in mid-June 2018. In his divorce filing, Jim cited irreconcilable differences as the reason for their shocking split, while asking for spousal support from Alexis. Both are requesting joint legal and physical custody of their three children: 12-year-old son James and 10-year-old twin daughters Melania and Mackenna. 
Amid rumors surrounding why they decided to called it quits on their 13-year marriage, the former couple released a joint statement later that month. "It's important to us that you know we made this choice together, with love, and as the best decision for our children's future," the Bellinos stated, in part. "We hold one another in the highest regards as spouses, and especially as parents." Noting that there's "nothing provocative, alluring, or sordid about the dissolution of [their] marriage," they added, "we strongly support each other" but "simply grew apart over time."
Meanwhile, Real Housewives of Beverly Hills star Camille Grammer and her fiancé, David C. Meyer, were reportedly in the midst of planning their destination wedding in Hawaii in mid-July. Grammer, who divorced Frasier star Kelsey Grammer after 13 years of marriage in 2010, will reportedly tie the knot for a second time this October.
Congratulations to Holmes and Malleo on their wedding news!