Real Housewives Star Danielle Staub Seeks Restraining Order Against Husband Marty Caffrey
Reality TV star Danielle Staub of The Real Housewives of New Jersey fame has filed for a restraining order against her husband of three months, Marty Caffrey.
Page Six reports that Staub sought a temporary restraining order against Caffery following an altercation on Sunday, Aug. 12, 2018. According to the celebrity news site, Staub came home at night to find that Caffrey had disengaged their home's garage door, so she was unable to open it from the outside. When she managed to get inside, she allegedly found an intoxicated Caffrey in the garage, and he was reportedly "agitated and confrontational."
Though Staub claimed to have initially gone to their bedroom in an effort to avoid a fight, she reportedly later again found her way into Caffrey's presence when she heard "a disturbing noise" somewhere in the house. According to Staub's filing, she then "realized that several of her family portraits of her children and other sentimental framed photographs had been taken down," which allegedly upset her.
Despite Caffrey having been the one to call police, the authorities reportedly ordered him to gather his things and leave the property within 20 minutes. Staub claimed that her husband is attempting to "tarnish her reputation and career by making repeated false reports to the media."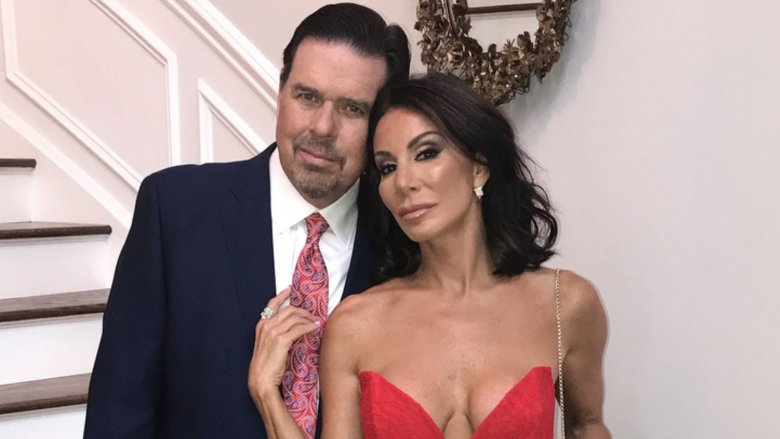 Caffrey told Us Weekly that he called the authorities after Staub had physically threatened him when he'd moved pictures in the house, claiming that she'd "reached for an iron and a stapler as if to throw." He also alleged that Staub, with whom he'd been having marital problems, had been mad at him ever since his lawyers sent her a letter urging her to seek representation.
Per the restraining order, Caffrey must stay away from Staub and her two daughters, as well as NBC Studios' Rockefeller Plaza location and New Jersey's Monmouth University. The restraining order will reportedly remain in effect until Staub and Caffrey appear in court on Aug. 20.
Staub, 56, and Caffrey, 66, previously married in the Bahamas back in May, after having dated since April 2016.
Hopefully, Staub and Caffrey can work things out, but, considering how Caffrey has publicly bashed his wife (he left a comment on a Reality Wives post, claiming that Staub wasn't who she'd "pretended to be"), we doubt reconciliation is in their future.