Newly Engaged Justin Bieber And Hailey Baldwin Reportedly Pushing Off Wedding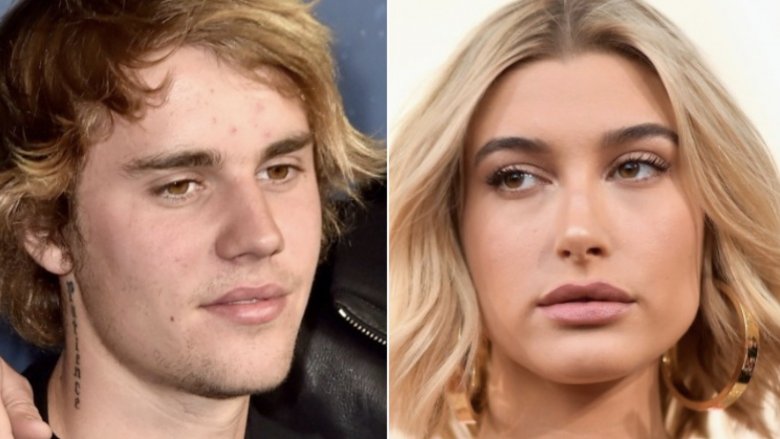 Getty Images
Singer Justin Bieber and model Hailey Baldwin, who got engaged in July 2018, might be delaying their future wedding.
A source close to Bieber told People magazine that the pop star and his lady love have "slowed down" on their wedding planning. "They still don't want a long engagement, but they are also not rushing the wedding," the insider shared.
Bieber and Baldwin's apparent decision to put off scheduling their big day isn't due to cold feet. Rather, the two just want to "enjoy being engaged," which means taking some more time for themselves before they exchange vows. "It was getting quite intense," the source explained. The insider added, "It's not like they need to rush — they are both so young. They aren't slowing things down though because they are unsure if they want to marry; they definitely want to get married."
News that Bieber, 24, and Baldwin, 21, are hitting the brakes on their wedding comes just a week after the "One Less Lonely Girl" crooner was photographed crying while on a New York City bike trail while being comforted by his fiancée. Later that same day, Baldwin was spotted looking teary-eyed while in a cafe with the Biebs.
Bieber later addressed the emotional moments with TMZ. Holding up his copy of the book The Meaning of Marriage: Facing the Complexities of Commitment with the Wisdom of God by pastor Timothy Keller, Bieber told TMZ's photog, "You've got good days and you've got bad days," adding, "It's not real if it doesn't have any bad days."
A source told People magazine that Bieber's breakdown in the city wasn't because he was upset but rather because he is so happy. "He wonders if he deserves the happiness, and that's partly why he is emotional," the insider stated.
Well, it would appear that Bieber is trying to show Baldwin just how much she means to him — and how happy she makes him — by taking her to visit Ontario, Canada for an ice cream date on Aug. 11. According to Elle, the two enjoyed some sweet treats and spent time with Bieber's family. Sounds like the pair truly do just want to enjoy their engagement without worrying about wedding planning.