Winona Ryder Says She And Keanu Reeves Got Married While Filming Dracula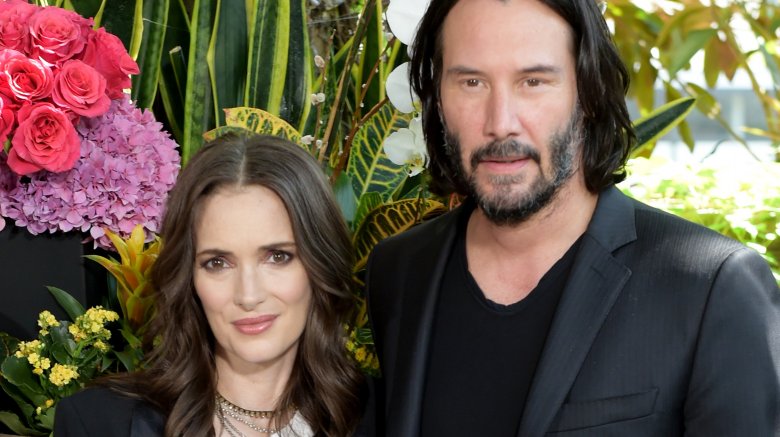 Getty Images
It sounds like congratulations may be in order for Winona Ryder and Keanu Reeves — about three decades too late.
While speaking with Entertainment Weekly on Saturday, Aug. 18, 2018, the Stranger Things star revealed that the longtime collaborators might have actually tied the knot while shooting a wedding sequence for Bram Stoker's Dracula back in 1992.
"We actually got married in Dracula," Ryder told the magazine while she and Reeves promoted their upcoming film, Destination Wedding. "No, I swear to God, I think we're married in real life. In that scene, Francis [Ford Coppola] used a real Romanian priest. We shot the master and he did the whole thing. So I think we're married."
However, her co-star's recollection of the matter was a little fuzzy. "We said yes?" Reeves asked, to which Ryder replied, "Don't you remember that? It was Valentine's Day." At that, the Matrix star simply quipped, "Oh my gosh, we're married."
Coppola, who directed the '90s horror flick, has since weighed in on the actors' alleged nuptials. On Monday, Aug. 20, he explained to The Guardian that he'd decided to reshoot the movie's wedding scene with a real priest in a Los Angeles Greek Orthodox church. "This is pretty authentic and, I think, very beautiful because we actually did the ceremony and had the priest do the ceremony," he said. "So in a sense, when we were all done, we realized that Keanu and Winona really are married as a result of this scene and this ceremony."
As Nicki Swift previously reported, Ryder, who's currently dating fashion designer Scott Mackinlay Hahn, has openly spoken out against the prospect of marriage. "I'm a serial monogamist. I was single for a while and dating and ... I just didn't know how to do it!" she told Net-A-Porter in 2016. "But marriage? I don't know. I'd rather never have been married than been divorced a few times."
At the time of this writing, it's still unclear whether Ryder, 46, and Reeves, 53, actually did unknowingly get hitched nearly thirty years ago. However, they were perfectly candid about their "big healthy" crushes on one another during a recent joint interview with Entertainment Tonight. While we wait for more answers on their seemingly complicated history, fans can look forward to seeing their on-screen chemistry play out yet again when their new rom-com, Destination Wedding, hits theaters on Friday, Aug. 31.