The Strangest Things About Winona Ryder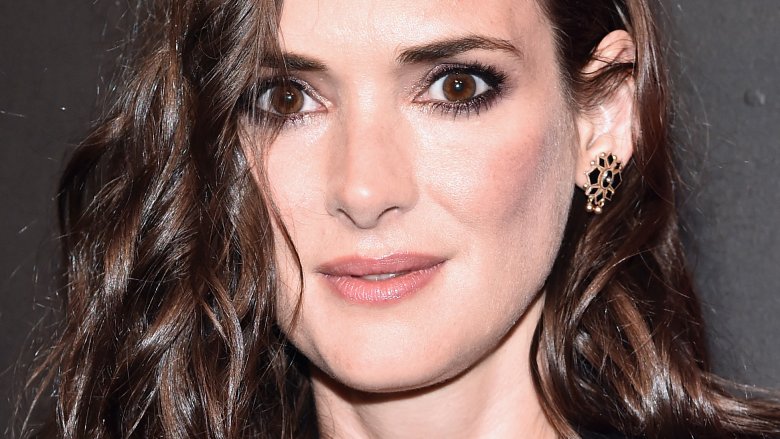 Alberto E. Rodriguez/Getty Images
As a rising star in the late '80s, actress Winona Ryder was the picturesque manic pixie dream girl long before that became a fad. The doe-eyed, droll-witted ingenue quickly dashed into the Hollywood spotlight thanks to her memorable Gothic turns as Lydia Deetz in Beetlejuice (1988), as Veronica in Heathers (1988), and as half of an unlikely romantic duo alongside Johnny Depp in Edward Scissorhands (1990). 
Although she slipped from the radar after the turn of the millennium, her career has since jumped back on track with her role in the popular sci-fi Netflix series Stranger Things (2016-). In many ways, Ryder's lifestyle has personified her hit show's title. Even her much-memed array of odd facial expressions at the 2017 Screen Actors Guild Awards pales in comparison to some of the highlights of her history. Let's take a look at some of the stranger things about Winona Ryder you may not know. 
Winona Ryder was raised in a commune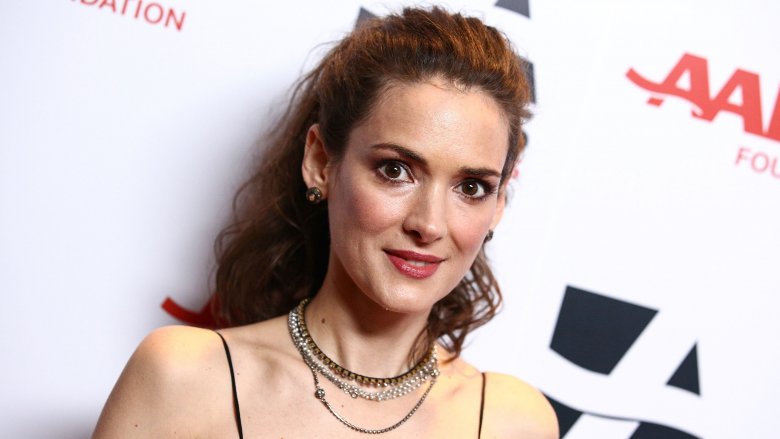 Imeh Akpanudosen/Getty Images
At the time of this writing, Winona Ryder resides in California, but she was born in Olmsted County, Minn. (near the town of Winona, for which she was named) and raised with a gaggle of other families on a commune in Elk, Calif. "It was pretty incredible. We were in 380 acres of redwoods and there was no electricity," she told The Telegraph. Her parents, authors Michael Horowitz and Cynthia Palmer, rubbed elbows with the likes of writers Aldous Huxley and Allen Ginsberg, and her godfather was LSD advocate Timothy Leary.
Ryder insists she wasn't exposed to drugs when spending time with Leary. "He was my godfather and that's what he did: he took me to ball games, he made me do my homework; I was never exposed to any weird drug. It was very, very protective, and very fun," she told The Independent, but she also admitted that her parents took "all of the mystery stuff" and encouraged her to consult an adult if she ever did want to try something. "I never wanted to because they were telling me exactly everything about it, that you could freak out in a crowd, in a concert." That's certainly an interesting approach to parenting.
Winona Ryder had a bizarre reaction to bullies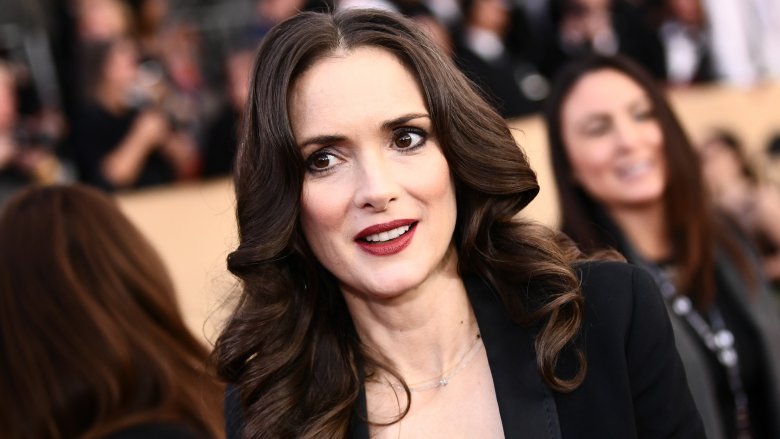 Emma Mcintyre/Getty Images
Winona Ryder's off-kilter persona has delighted moviegoers for decades, but when she was younger, her idiosyncrasies caused kids around her to react in very unkind ways. About her Edward Scissorhands alter ego, Kim, she told The New York Times, "Kim was like the girls in eighth grade who called me a weirdo and threw Cheetos at me. I had a crew cut, and I liked the Sex Pistols." While that in and of itself is less strange than sad, it was Ryder's reaction to the bullying that strikes us as a little zany. "I got beat up in seventh grade by some boys. That was kind of great in a way. I was so into movies it seemed dramatic. I felt like a gangster," she said of a second such incident.
Winona Ryder can thank Macy's for her role in Heathers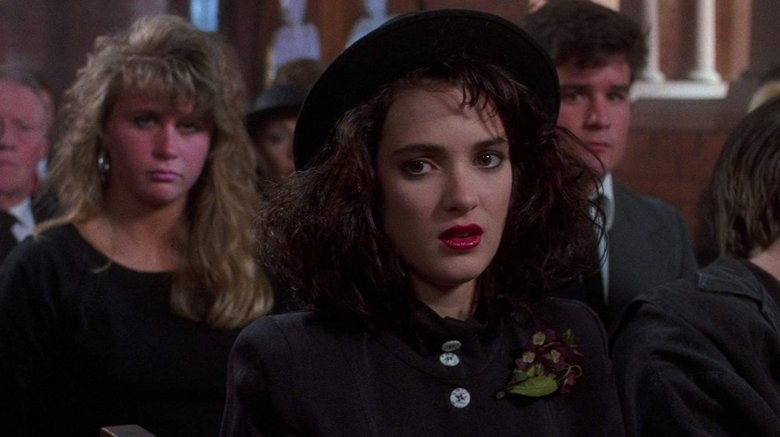 Although Winona Ryder was and still is an unquestionably beautiful woman, there was a time when her look wasn't considered ideal for the screen dream. She told Interview magazine that in her earliest days, she found it tough to compete with fellow actresses, such as Running on Empty (1988) star Martha Plimpton, and admitted that her role as the social fence-walker Veronica in Heathers was almost given to another up-and-coming brunette, but Ryder refused to give up the part without a fight.
"I really didn't foresee me having any type of career as a leading lady at all because it was just blonds. I just wasn't the type—I was told that by casting directors," she said. "I was not the first choice for Veronica in Heathers. I auditioned and they were like, 'Oh, thanks.' And I went to the Beverly Center to Macy's and had them do a makeover on me...I went back because I kind of knew that they thought I wasn't pretty enough. They were trying to get Jennifer Connelly...I remember actually saying to them, 'I don't care if it even comes out. I just want to say the words. You don't have to pay me.' That was the only time that I wanted something so bad." The effort ultimately paid off. Ryder's work in Heathers became a signature line in her running filmography.
Did Winona Ryder shoplift to sabotage her own career?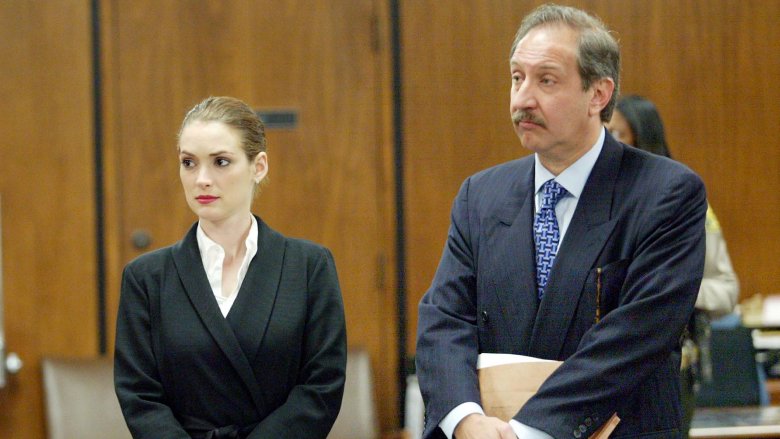 Mel Bouzad/Getty Images
In 2001, just as Winona Ryder was riding high on a wave of starring movie roles—including Girl, Interrupted (1999), Autumn in New York (2000), and Mr. Deeds (2002)—she created a tabloid frenzy after being caught shoplifting at Saks Fifth Avenue in Beverly Hills, Calif. According to The New York Times, she was convicted (but not jailed) on grand theft and vandalism charges for taking more than $5,000 worth of merchandise from the store. She later told Porter Magazine (via HuffPost) that it was an act of self-sabotage. "Psychologically, I must have been at a place where I just wanted to stop. I won't get into what happened, but it wasn't what people think," she said. "And it wasn't like the crime of the century! But it allowed me time that I really needed, where I went back to San Francisco and got back into things that...I just had other interests, frankly."
Winona Ryder briefly lived in a tree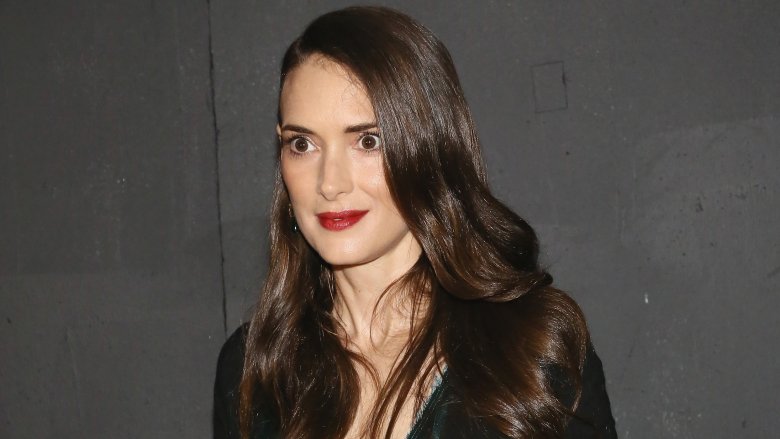 Astrid Stawiarz/Getty Images
After her arrest and public condemnation, Winona Ryder took a break from the limelight to live near her family in Petaluma, Calif., study constitutional law, and learn about environmental activism, according to The Telegraph. The first part of that endeavor merely involved sitting in on some lectures, but the second entailed sitting in a tree.
Following in the tutelage of famed environmentalist Julia Butterfly Hill, who famously lived in a tree for 738 days to prevent its destruction, Ryder said she scaled a redwood and called it home for almost a week. "I climbed 180ft up to where she was but I only lasted six days up there — [Hill] lasted nearly two years," she said. The number of days the actress roughed it might not be that impressive, but the fact that she tried it at all certainly sets her apart from her Tinseltown peers.
Winona Ryder's dream home is only slightly less odd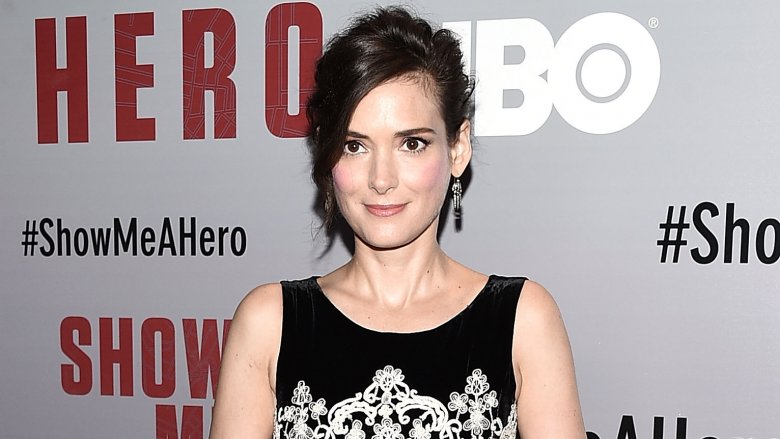 Andrew H. Walker/Getty Images
While most Hollywood-ites might long to live in a cushy mansion in Beverly Hills, Winona Ryder's dream home is more unique. She told Net-a-Porter that if she could have her druthers, she'd gut a movie theater from her old hometown and make it into a studio-style hideaway. "I used to have this fantasy—there was this old movie theater in Petaluma, where I saw The Man Who Fell to Earth, and I used to dream I could live in it," she said. "Just take the seats out, put my bed there, and a bathtub and a bicycle and a refrigerator and my books. And I'd just live there. Actually, it still sounds like an amazing fantasy." Is anyone suddenly pitching Ryder as the star of the next The Simple Life-style reality docuseries?
You don't stalk Winona Ryder and get away with it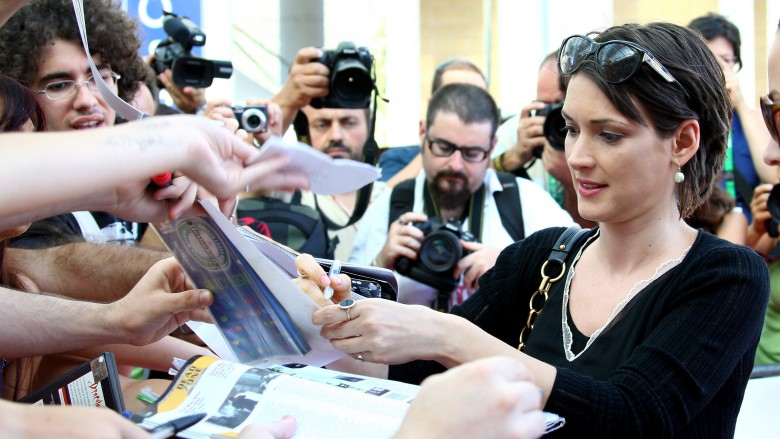 Vittorio Zunino/Getty Images
Like a lot of teen idols of her generation, Winona Ryder certainly dealt with some adulation that went a little too far. As she detailed in a chat with New York Magazine, one of her fans even went to the trouble of becoming an extra on her movies just to be close to her. "I had a few [stalkers]," she said. One was really nice. He kept showing up as an extra on movies...You have to be careful. So I told the director, because he was kinda creepy. And I got this letter in my trailer the next day that was like, 'I was just trying to get work as an extra! Just so you know, I'm not even obsessed with you anymore, I'm obsessed with Alyssa Milano now!' So he kind of left me for Alyssa Milano." Hey, you win some, you lose some.
Winona Ryder doesn't Netflix and chill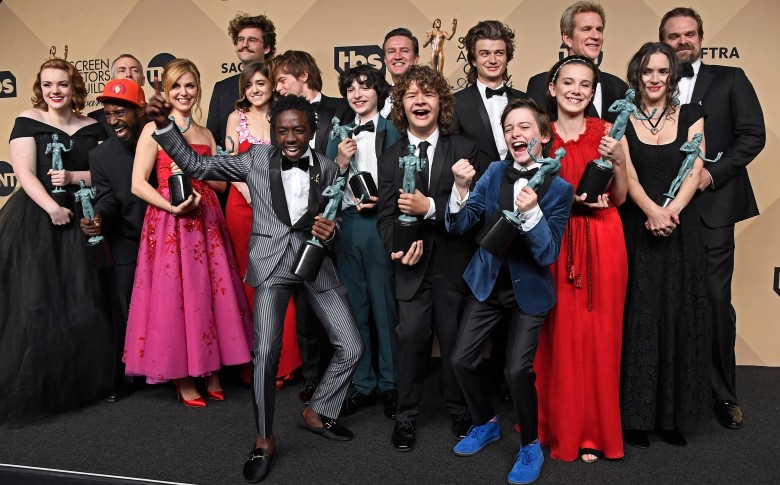 Getty Images
One of the most endearing parts of Winona Ryder's press circuit alongside her child co-stars in Stranger Things was how completely oblivious she was to the streaming platform for which the show was made. Unlike the tech-savvy tykes that star alongside her in the show, you won't find an official Ryder Instagram online. "I'm not on [social media]. I'm very private so I can't imagine what I'd want to share with the world," she told Net-a-Porter. "I can't even take selfies; I literally just learned about the button that makes the screen flip. I think [social media] is a bit dangerous, in terms of self-obsession. It's so important to look outward."
Ryder has also copped to still keeping VHS tapes of concerts and cassettes with old voicemails, confirming that she is, indeed, loyally lingering in the era that made her famous, at least where technology is concerned.
Winona Ryder's SAG Awards faces stole the show
It's too bad (or perhaps it's a good thing) Winona Ryder doesn't partake in social media because she became an instantaneous meme sensation after rolling out a bizarre series of facial expressions during an acceptance speech at the Screen Actor's Guild Awards in January 2017. While Stranger Things co-star David Harbour delivered a passionate and politically-driven speech after the cast won outstanding performance by an ensemble in a drama series, Ryder looked like she was auditioning for the most demanding role of her career—something that would require her to look sad, shocked, confused, stoked, and angry all within the span of a few seconds.
The internet loved it. She was dubbed a "human gif factory." Others requested a "Winona Ryder emoji keyboard." But kid co-star Gaten Matarazzo insisted it was no big deal, telling TMZ, "I think it's just that she couldn't hear what [Harbour] was saying." Whatever the case, you keep doing you, Ryder. We can't get enough!
Marriage isn't really Winona Ryder's bag...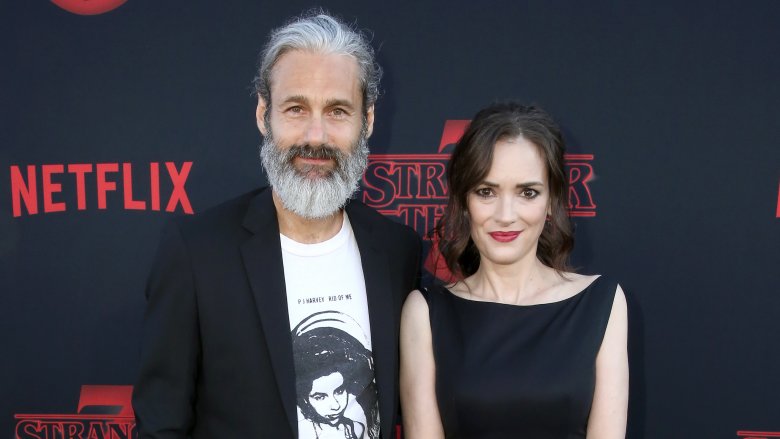 Rachel Murray/Getty Images
Winona Ryder certainly isn't the only celebrity who's avoided becoming a bride, but her motivation for doing so is a tad bit curious. She told Net-a-Porter the reason she's never wed, despite being in several serious relationships — most recently, as of this writing, with fashion designer Scott Mackinlay Hahn (above) — is that she's too afraid of it not working out. Plus, there's the fact that her parents, unusual though they might seem, have maintained a very traditional and lengthy marriage that sets the bar sky high.
"I'm a serial monogamist. I was single for a while and dating and...I just didn't know how to do it!" Ryder told the magazine. "But marriage? I don't know. I'd rather never have been married than been divorced a few times. Not that there's anything wrong with divorce, but I don't think I could do it if that was a possibility. When your parents are madly in love for 45 years, your standards are really high. But I've been happily with someone for quite a while now."
... but she does call Keanu Reeves her 'husband'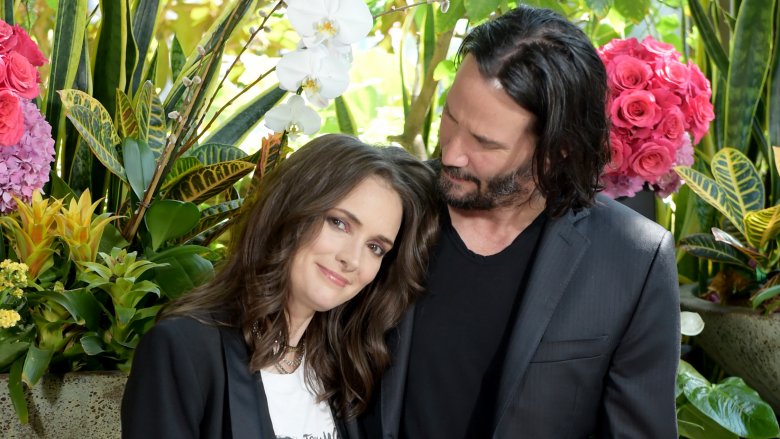 Kevin Winter/Getty Images
Venerable action star Keanu Reeves is undoubtedly the subject of marital fantasy for many of his adoring fans. But in the case of his frequent co-star and longtime friend, Winona Ryder, that fantasy became a reality in 1992 thanks to their wedding scene in Bram Stoker's Dracula. 
Ryder later explained to EW in 2018 that she and Reeves "actually got married" during the scene, because director Francis Ford Coppola "used a real Romanian priest" for the ceremony — a detail Coppola actually confirmed to The Guardian. Reeves, however, was seemingly unaware of the official nature of the nuptials, as he reportedly asked Ryder (per EW), "We said yes?" to which she replied, "Don't you remember that? It was on Valentine's Day." Amazingly, his congenial way of acknowledging his wife of 26 years was to say, "Oh my gosh, we're married." 
The news, of course, lit the internet ablaze, leaving Winona Ryder looking even stranger in the whole situation, as Keanu Reeves later revealed to The Talk that she texts him "Hello husband" from time to time. However, when asked by host Carrie Ann Inaba if the whole thing was "real," the perennial good guy answered, "Yeah, it's awesome."