Winona Ryder Won't Let Anyone Forget She And Keanu Reeves Are Married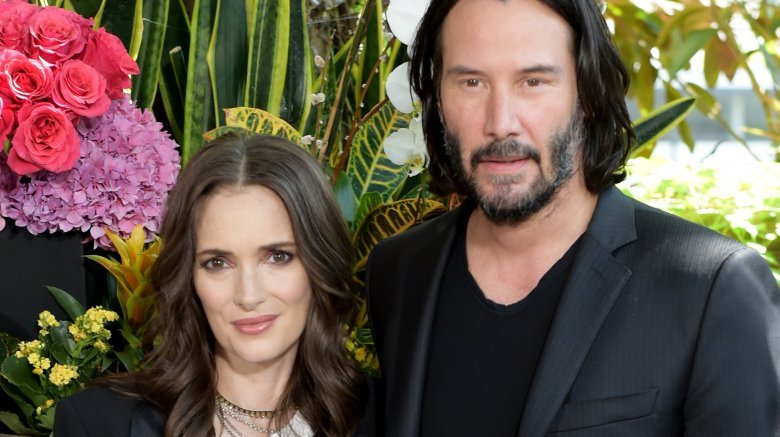 Getty Images
It sounds like actress Winona Ryder and her longtime collaborator, movie star Keanu Reeves, are still technically married.
During his Monday, Jan. 7, 2019, appearance on The Talk, the Matrix star opened up about last summer's shocking reveal that he and the Stranger Things star might have actually tied the knot in 1992 while filming a wedding sequence for Bram Stoker's Dracula.
"That's what Winona says," Reeves quipped when host Carrie Ann Inaba asked whether there was any truth to the headline-making reports. He went on to say that Ryder enjoys reminding him of the pairing's apparent marital status, explaining, "Once in a while, I'll get a text, 'Hello, husband.' I didn't really believe her, and then Francis Ford Coppola, the director of Dracula, contacted Winona and said publicly that, yeah, that actually happened. The priest did a full ceremony, and Winona and I got married."
After Inaba replied, "So, it's real," Reeves joked, "Yeah, it's awesome."
As Nicki Swift previously reported, Ryder, 47, first revealed in August 2018 that she and Reeves, 54, unknowingly got hitched on the set of the Coppola classic nearly thirty years ago. "We actually got married in Dracula," she told Entertainment Weekly at the time, while the duo promoted their latest film, the 2018 rom-com Destination Wedding. "No, I swear to God, I think we're married in real life. In that scene, Francis [Ford Coppola] used a real Romanian priest. We shot the master and he did the whole thing. So I think we're married." 
At the time, a surprised Reeves asked, "We said yes?" After Ryder replied, "Don't you remember that? It was Valentine's Day," the John Wick star simply said, "Oh my gosh, we're married."
Just days after the reveal went viral, Coppola himself weighed in on their nuptials. During an interview with The Guardian, the 79-year-old filmmaker explained that he'd decided to reshoot the '90s horror flick's wedding scene with a real priest in a Los Angeles Greek Orthodox church. "This is pretty authentic and, I think, very beautiful because we actually did the ceremony and had the priest do the ceremony," Coppola said. "So in a sense, when we were all done, we realized that Keanu and Winona really are married as a result of this scene and this ceremony."
Despite their complicated history and undeniable on-screen chemistry, it should be noted that Ryder and Reeves, who've also appeared together in 2006's A Scanner Darkly and The Private Lives of Pippa Lee three years later, are just friends in real life. 
While the Beetlejuice alum appears to enjoy playfully teasing her longtime pal and alleged hubby about their possible marriage, she's actually been romantically linked with fashion designer Scott Mackinlay Hahn since 2011. However, Ryder has openly spoken out against the prospect of getting married in the past. During her 2016 interview with Net-A-Porter, she candidly said, "I'm a serial monogamist. I was single for a while and dating and ... I just didn't know how to do it! But marriage? I don't know. I'd rather never have been married than been divorced a few times."
For his part, Reeves has been known to keep his personal life under wraps. However, that doesn't mean media outlets have been immune to speculating about his love life. In October 2018, Gossip Cop debunked rumors that he and Angelina Jolie had been allegedly "quietly dating" since July 2017. Readers may already be aware that the Maleficent star recently reached a custody agreement with estranged ex Brad Pitt following a nasty custody battle amid their ongoing divorce proceedings. The former couple, who initially called it quits in September 2016, share six children together: Maddox, 17, Pax, 15, Zahara, 14, Shiloh, 12, and twins Vivienne and Knox, 10. 
The following month, Reeves was spotted out and about with a mystery woman in Beverly Hills, Calif., the Daily Mail reports. No matter his current relationship status, the Replicas star continues to hold nothing but love for Ryder. Having previously joked to Entertainment Tonight about his mutual "big, healthy crush" on his frequent collaborator last August, he told People magazine at the time, "Winona is a lovely person and a talented actress." While discussing working on Destination Wedding together, he noted, "I think we make a good couple, and I liked that it's a two-hander. To them, nobody else matters anyway, right? We did something like five eight-minute scenes, which you don't often get a chance to do in films."
Winona Ryder and Keanu Reeves may not actually exhibit #RelationshipGoals, but these two clearly have #FriendshipGoals on lock.