Are Singer Halsey And Rapper G-Eazy Back Together?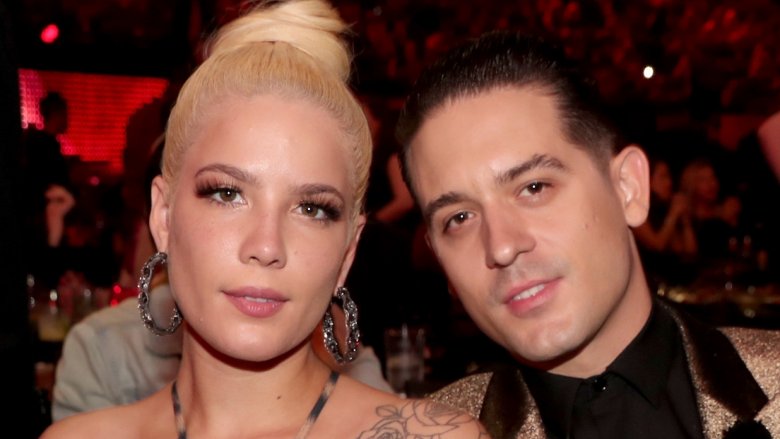 Getty Images
"Bad at Love" artist Halsey may be dating her ex-boyfriend, rapper G-Eazy, once again.
A source told E! News that the two celebs are "working on their relationship" following their separation over a month ago. "They consider each other family and are on good terms now, but not fully back together," the insider continued.
Halsey and G-Eazy were spotted together in New York City very early on Tuesday, Aug. 21, 2018, and were seen holding hands. The two had both attended rapper Post Malone's MTV Video Music Awards after-party at Avenue nightclub. E! News' source claimed that both Halsey and G-Eazy planned to meet up later in the night after they'd each partied at separate events.
"They wanted to do their own things during the night and didn't want to cause too much of a commotion by them being together, but left hand in hand after the Post Malone party at Avenue and went back to G-Eazy's hotel to continue the night," the source said. "They are being casual right now, but are definitely working on things. They are both hoping they can have a healthy friendship, if anything."
As Nicki Swift previously reported, Halsey and G-Eazy split up in early July. Halsey addressed their breakup on social media at the time, stating, "I normally keep this kind of thing private but provided our public nature I feel the need to inform my fans. G-Eazy and I are taking some time apart."
Considering Halsey and G-Eazy's recent meet-up, however, we'd say things are now looking good for the pair.
Though the two stars may have met up during the night, they did not attend the VMAs together. In fact, Halsey didn't even go to the awards show. When asked by her fans why she didn't make an appearance at the 2018 VMAs, Halsey tweeted out, "Bc I directed all my own music videos this album just to have @MTV '#wcw' me to death and not nominate me for anything so it didn't feel right to go." She continued, "I'm happy you guys liked the videos. That's all that matters to me."
Yikes. Well, at least she has her fans' support ... and maybe G-Eazy's, too.