Rapper Tyga Takes Credit For Helping Ex-Girlfriend Kylie Jenner Find Success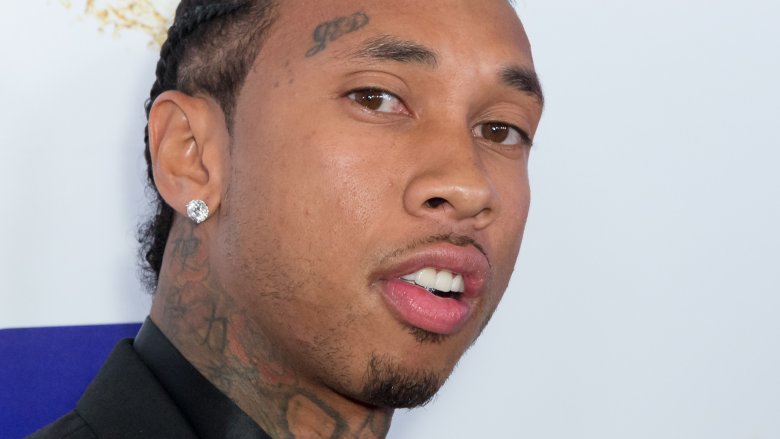 Getty Images
"Rack City" rapper Tyga claims that he helped shape ex-girlfriend Kylie Jenner, helping her to become the famous beauty mogul and social media star she is today.
On Thursday, Aug. 30, 2018, Tyga spoke with fellow rapper Nicki Minaj on Queen Radio and said that he helped put Jenner on the map. "You've got to look at the before and after. She always had a platform and she was always destined to be what she was going to be regardless, but when I stepped in, there was a lot of codes being taught," he said. "It was like, 'You could do this, you should start this, you should start doing your hair like this.'"  
He added that he encouraged Jenner to look and act a certain way in order for black society to accept her. "You should adapt because you need black people to f**k with you," he said. "You need culture."
Tyga also told Minaj that he had no reason to let people know exactly what he was doing to help Jenner with her makeup business. "I don't need to go online and tell people I did this and I'm the one helping her coming up with these colors ... and names on her ... lip line. It was a lot of stuff," he shared.
Tyga and Jenner had previously dated on and off from 2014 to 2017. Following their breakup, Jenner began a relationship with rapper Travis Scott, with whom she shares daughter Stormi. And, it's worth noting, Jenner also covered Forbes magazine's "Richest Self-Made Women" issue, having turned Kylie Cosmetics into a $800 million empire.
As could be expected from Tyga's bold words, many Jenner fans were quick to react online, laughing at the idea of him being responsible for the reality TV star's success. "TYGA thinks he helped put KYLIE JENNER on the map LOL THIS IS THE FUNNIEST NEWS I'VE EVER SEEN. i needed a good laugh before bed wow," one Twitter user wrote, adding, "Imagine having $5 and thinking ur responsible for making someone a billionaire. men are delusional."
During his interview, Tyga also claimed that he and Jenner's current boyfriend "aint got no beef." But, given his apparent desire to publicly take credit for Jenner's fortune, we're not so sure things are all good between Tyga and Scott — or Tyga and Jenner.