Diamond Expert: Ashley Benson's Engagement Ring Follows Trend Set By Kardashian Sister - Exclusive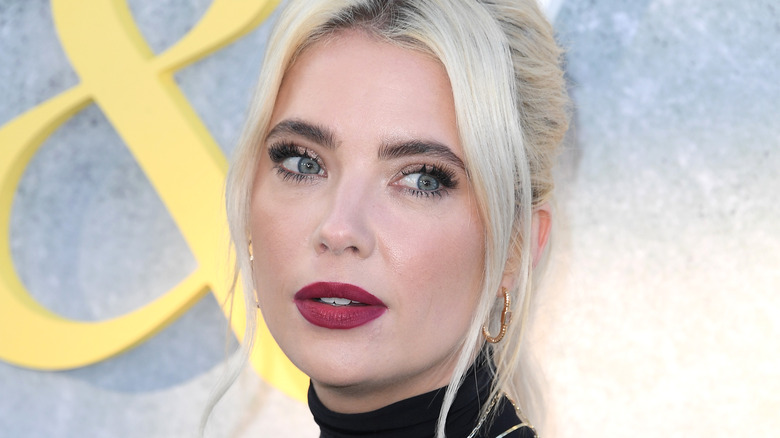 Steve Granitz/Getty Images
"Pretty Little Liars" star Ashley Benson just said "yes!" More specifically, it's a big yes to her boyfriend (now fiance), oil tycoon heir Brandon Davis, who got down on one knee as of July 2023. Benson, who has been linked with Davis since January, chose to keep this relationship under wraps. "I think it's best not to be overexposed, and you can really protect your relationship if you're not exploiting it," she previously told Cosmopolitan UK in 2021.
But such big news merits an announcement! Benson shared her engagement with the world by reposting an image from Davis' Instagram account, in which he called her the "love of my life" (via E! News). "My best frienddddd. I love you," the actor added. Benson also shared an Instagram Story from her friend and fellow actor Theresa Picciallo, who congratulated the happy couple. "Our babies are getting married!!!!!! @ashleybenson & @brandondavis1111, we love you both unconditionally, endlessly, forever and always," she wrote.
One constant across social media was Benson's giant sparkler. The actor, who is clearly proud of the rock that she's got, kept her ring finger front and center in order to show it off. With its thin, elegant band and enormous diamond, this ring follows a trend set by celebrities like Kourtney Kardashian, Hailey Bieber, and the newly-engaged Barbara Palvin. As befits these A-listers, such a signature piece doesn't come cheap! Nicki Swift spoke with an expert to analyze the trend, and how much it likely set Davis back.
Diamond Pro says Brandon Davis spent a fortune on the ring
The heir to an oil empire, Brandon Davis has a lot more money than the average man looking to settle down, but he definitely didn't skimp when it came to the ring. "I'd estimate its value to be at least three-quarters of a million dollars," Mike Fried, CEO of The Diamond Pro, told us. "[Ashley's] solitaire setting and thin band ensure that her huge diamond pops." Of course, Ashley Benson's sparkler is reminiscent of another couple's sparkler ... trust Kravis to set the (new) engagement standard! "Her ring style resembles Kourtney Kardashian's (from Travis Barker). Oval diamonds are popular among celebrities due to their elegant shape," Fried added.
That said, the "Poosh" founder's ring might edge out Benson in some categories. Fried estimates that at 12 carats, Kardashian's ring is bigger than Benson's. Her thin band is a pave style, meaning it's encrusted with tiny diamonds, while Benson's is made more simply of yellow or rose gold. What they do have in common is the massive, oval-shaped diamond set on a thin band. At the end of the day, sourcing such a gem is difficult. "Finding a high-quality 10-carat diamond is rare, and obviously expensive. It likely took weeks for [Davis] to select the exact diamond for Ashley's ring," Fried said.
It seems unfair to encourage prospective fiances to take their cues from Davis. Let's all just admire the ring instead!