Poolside Karen Terrorizes Family In Wild Rant That Ends With Police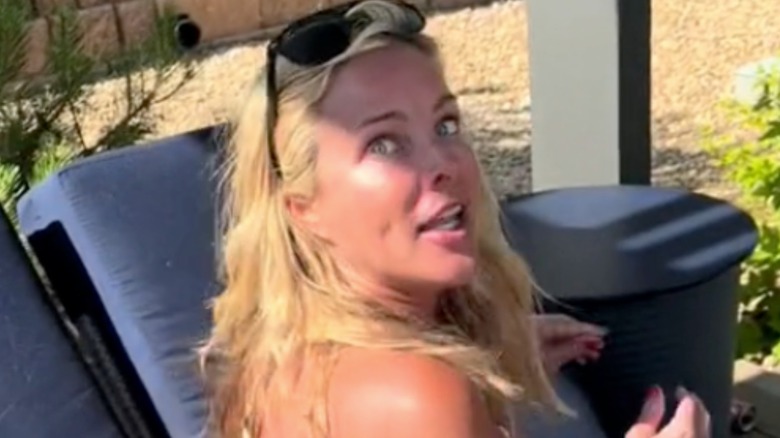 TikTok
When you think of the summer months, an array of activities come to mind. From water balloon fights and barbecues, to beach trips and lounging by the pool, the season has become synonymous with relaxation. However, these chill and quaint summer gatherings are sometimes thrown into chaos by "Karens" who are hellbent on disturbing the peace. This was precisely the case for some of the residents of a Lakewood, Colorado apartment complex. During the Fourth of July weekend, Jade Seire's family enjoyed the hot weather by flocking to the complex's shared pool amenities. Unfortunately, their fun in the sun was interrupted by a blonde Karen who started screaming racist obscenities at them.
"Yes, it's true. You have a f***ing Mexican party in the pool. Trash," she can be heard saying in the now-viral TikTok video. When she notices Serie recording, the furious woman attempts to confront her, saying, "You can't do that. You can't just record me." The video then switches over to the angry woman throwing more vile insults at the family, telling them to "get the f**k out of here" and labeling the individuals as "f***ing low-class slime." Fortunately, the disturbing behaviour was diffused after local authorities arrived at the apartment complex. Since the shocking video was uploaded, users have flocked to TikTok to share their thoughts on the racist poolside Karen.
Social media users waste no time slamming Poolside Karen for her behavior
Since Jade Serie's video of the racist poolside Karen went viral, users have taken to the comment section to share their thoughts on the disturbing incident. One person wrote, "Just read about this in Scotland it's went viral am so sorry u had to experience that sort of behavior." Another person commented, "I have second-hand embarrassment for everyone she was there with." In addition to public outcry, the identity of the poolside Karen has also started to circulate online. According to the Daily Mail, the name of the angry woman is Blair Featherman, a former employee of the Master's Gallery Denver.
As a way to avoid any backlash by association, the art gallery released a statement condemning Featherman's actions. "It has come to our attention that a former employee has appeared on social media expressing hateful and offensive statements," they wrote. "Master's Gallery Denver has not employed this individual for over 5 years and condemns any actions or statements expressing hatred or racism." While she no longer works at the art gallery, Featherman reportedly runs her business, Spatial Flow by Design Inc, as an interior designer and ironically prides herself as a Feng shui expert. As of this writing, Featherman has yet to release an apology to the family. "Justice will be served when we recieve an apology. (Which we still haven't)," Serie wrote in an additional TikTok video.