Kyle Richards' Relationship With Country Singer Morgan Wade Is Getting Juicier By The Minute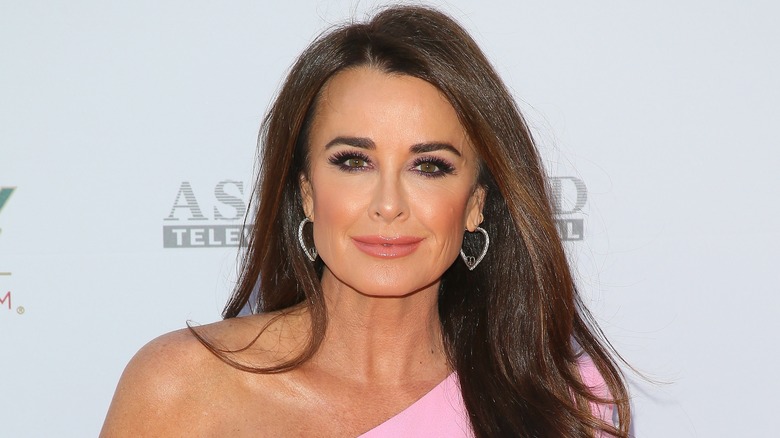 Jean Baptiste Lacroix/Getty Images
At the start of July, fans of Kyle Richards and Mauricio Umansky were left shocked when news of their separation broke the internet. "Kyle and Mauricio have been separated for a while now but are still living under the same roof," a source told People on July 3. "They remain amicable as they figure out what's next for them and their family." Amidst the separation news, fans were also hit with a bombshell rumor that Richards was involved in a romantic relationship with country singer Morgan Wade. The two talents first met in February 2022, with Richards gushing about their new friendship in an Instagram post.
"I stalked @morganwademusic on IG after listening to her music while driving solo from Utah to Colorado while making #housewivesofthenorthpole & today we met up in person for the 1st time," the "Halloween Ends" star wrote. "The most unlikely of friendships some may think, but kinship knows no bounds." Since that fateful day, the two industry professionals have showcased their friendship on each other's social media channels. However, fans have speculated that their friendship has evolved into romance due to their matching tattoos and rings. Join us as we take a deep dive into the romance rumors.
Morgan Wade's ex-girlfriend shares her thoughts on the Kyle Richards romance rumors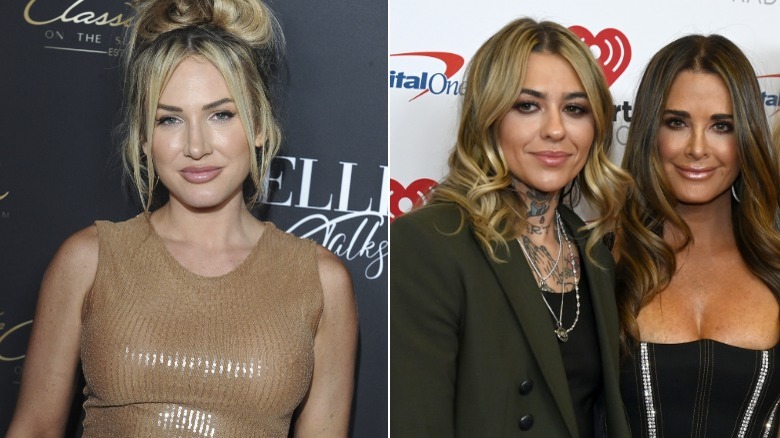 Amy Graves & David Becker/Getty & undefined
Ever since the Kyle Richards and Morgan Wade romance rumors made headlines, fans have been eager to find out more information about their pair's connection. On July 6, Wade's ex-girlfriend and "Temptation Island" star Kady Cannon delivered just that in a jaw-dropping interview with Page Six. According to the reality TV star, Cannon and Wade began a "private relationship" in November 2021, while Richards came into the picture around March 2022, after Richards reached out to Wade and sparked a friendship with the singer. While Kady admitted to the whole group developing a close connection, she said that Wade and Richards' bond "stuck out" the most. Toward the end of her statement, the social media personality told the publication that she didn't want to "add to anyone's speculation." 
"The only people who can speak on Morgan and Kyle's relationship or friendship or whatever you wanna call it — and to whatever degree that is — are Morgan and Kyle, that's it," she said.
While Cannon seemed relatively neutral in her interview with Page Six, her past social media posts have told a somewhat different story. According to the Instagram account Face Reality 19, the young reality star uploaded a note to Reddit seemingly shading Wade and her supposed relationship with Richards. "It's just the way you started a relationship with the woman [whom] you told me loved her husband very much, and I had nothing to worry about — that threw me off," she wrote.
A source close to Kyle Richards denies the Morgan Wade romance rumors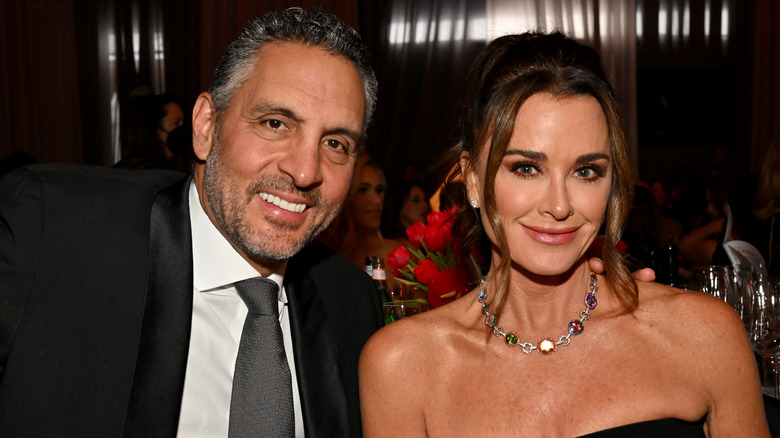 Lester Cohen/Getty Images
With Kyle Richards and Morgan Wade romance rumors showing no signs of slowing down, a source close to the "Real Housewives of Beverly Hills" star released a statement to set the record straight. "Kyle and Morgan are not together and have not hooked up. They are just friends," the insider told The Messenger. The source also added that Richards' recent marital woes with her husband, Mauricio Umansky, are unrelated to cheating. "In regards to any rumors swirling, there has not been any cheating on either side," they added. The Bravolebrity seemingly echoed similar sentiments when speaking to TMZ, in which she confirmed to the news outlet that she wasn't single and described Wade as a "very good friend."
While pop culture enthusiasts will never know if Richards and Wade shared a romantic relationship, the former recently revealed that she and Umansky are not divorcing anytime soon. "In regards to the news that came out about us today ... Any claims regarding us divorcing are untrue," she wrote in an Instagram statement in early July. "However, yes, we have had a rough year. The most challenging one of our marriage." In addition to her statement, Richards and Umansky also shut down the breakup rumors by uploading a series of photos together celebrating the Fourth of July weekend.