Tamera Mowry Defends Fox News Host Husband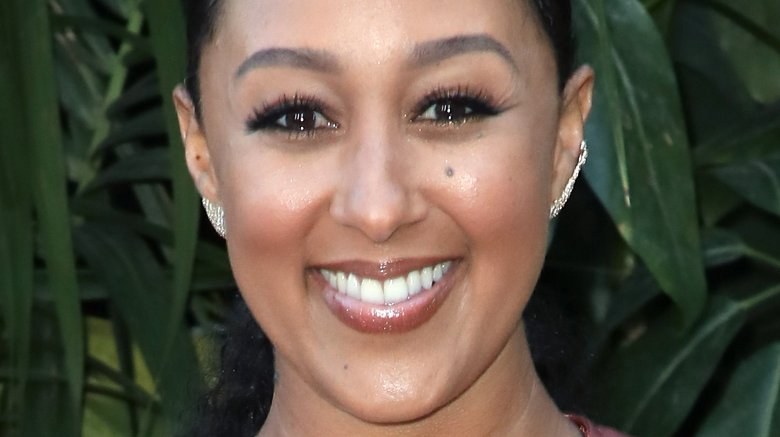 Getty Images
Former Sister, Sister star Tamera Mowry is speaking out against her husband's haters, insisting that they have the wrong idea about him.
It all started when Mowry was hosting her daytime talk show The Real on Tuesday, Sept. 18, 2018. Mowry and her fellow co-hosts — Adrienne Bailon, Loni Love, and Jeannie Mae — addressed the situation surrounding TV's Julie Chen's decision to leave her show The Talk. As many know, Chen exited The Talk after her husband, former CBS CEO and chairman Les Moonves, resigned from his position following allegations of sexual misconduct.
While Love believed that Chen made the right call to leave The Talk, Bailon disagreed, saying that Chen should have stayed in order to share her experience. She argued that if Chen really wants to clear her husband's name as she's previously said, then she should have stuck around on her popular talk show. Mowry understood Bailon's point, and she used the moment to give an example as to how she can use her platform as a talk show host to fill viewers in on the truth.
"There are some people who think that my husband is racist because he worked for a certain channel," Mowry told her colleagues and viewers both in the audience and at home. "I'm a look in that camera right there and let everybody know: My husband is not a racist."
Of course, Mowry didn't just pull that example out of thin air. The previous day, her husband, Adam Housley — a former professional baseball player who'd previously worked at Fox News for 17 years — took to Twitter to defend himself against apparent allegations that he is racist.
"This is just for clarification so if you see any stupid people spewing lies...per usual...have them refer to this tweet," he began, first noting that he and Mowry supported neither Donald Trump nor Hillary Clinton in the 2016 presidential election. Housley continued, "Also...at Fox I worked in something called THE NEWS DIVISION," stating that he'd covered fires, hurricanes, war zones, and more.
Housley had previously joined Fox News as a reporter back in 2001, according to Politico. As People reported, Housley's commentary while on Fox News was often conservative.
He later left the network in August 2018 after allegedly being unhappy with its coverage of Trump and "the tone of the conversation of the channel." However, in a statement shared by a Fox News rep, Housley said he was proud of the work he did for the network and was simply leaving in order to spend more time with his family.
"No I am not racist, or insensitive, or any other crap you spew," he tweeted out. "Yes I love people from all walks of life. I love to cook, be with my kids, coach soccer, tell stories, music of all types, people of all types."
The day after he defended himself online, Housley returned to share that "every year or so" someone calls him racist. "Every once in a while we have to fight back," he explained. "It's sad really, nobody reaches out to find the truth, or take the time to find out who we are as people." On Sept. 20, he added, "My wife, family and friends are my everything. Everything. Nothing can change that. Attack me all you want. Lie and misrepresent and takes tweets out of context all you want. I know the truth. My family and friends and the God I believe in knows the truth."
Tamera Mowry and Adam Housley, who share son Aden and daughter Ariah together, have been married since May 2011, and, unfortunately, they've since experienced their share of hateful online comments. In 2014, Mowry opened up to Oprah: Where Are They Now? and discussed the heartbreaking messages she's been sent. "It's hurtful, because my husband and I are so openly and fine with showing love, but people choose to look past love and spew hate," she said. "That's what hurts me because I've never experienced so much hate ever in my life." Sharing that she'd been called a "'white man's w***e,'" she cried, "The new one was 'back in the day you cost $300, but now you're giving it to him for free."
But while Mowry is hurt by the comments, she doesn't let them influence her relationship with Housley. "I love my husband so much," she stated. "I love our family. I love our dynamic. I'm proud to be in the relationship I am because it's based on love. Pure love."
We're glad that Mowry and Housley have one another in their corner.