CBS CEO Leslie Moonves Faces More Allegations Of Sexual Assault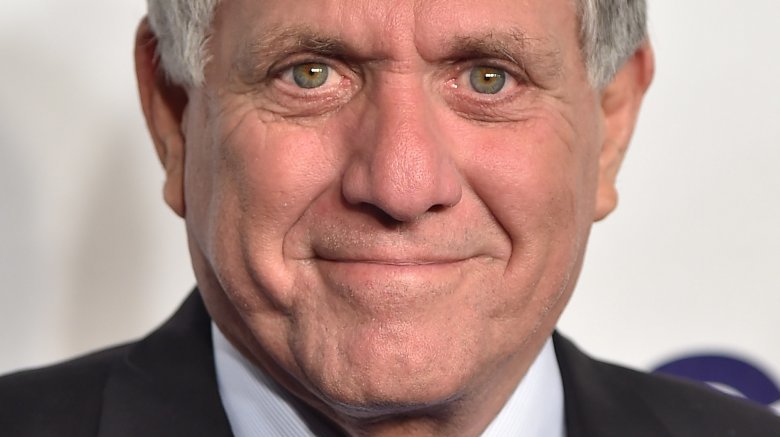 Getty Images
UPDATE:
Leslie Moonves, one of the most powerful figures in the entertainment industry, has officially resigned from his position as the chairman and CEO of CBS on Sunday evening, Sept. 9, 2018, CNN reports. 
His exit from the network came just hours after an additional six women came forward with serious allegations of sexual harassment and sexual assault against him in journalist Ronan Farrow's latest piece for The New Yorker. At the time of this writing, an investigation into the claims remains ongoing. As the Time's Up movement released in a statement, "We will accept nothing less than full transparency of the investigation's findings, a commitment to real change across all levels of CBS management, and no reward for Les Moonves."
While it was initially believed that the disgraced television exec stood to earn at least $100 million in his severance package, Farrow has since revealed via Twitter, "CBS confirmed that Moonves is leaving with no exit compensation pending outcome of investigation, and that he and CBS will donate $20 million to #MeToo charities. CBS board also being reshaped, with 6 new members appointed."
ORIGINAL REPORT:
CBS CEO Leslie Moonves is facing more disturbing allegations.
On Sunday, Sept. 9, 2018, six women accused the network's chairman of sexual harassment and sexual assault in journalist Ronan Farrow's latest piece for The New Yorker. The shocking exposé detailed several instances of Moonves' alleged inappropriate behavior and unwanted advances, including forcing the women to perform oral sex on him and exposing himself without their consent, as well as the reported use of physical violence, intimidation, and retaliation. 
Phyllis Golden-Gottlieb, for example, revealed that she'd reported her claims to the Los Angeles Police Department last year. The TV exec had accused Moonves of sexually assaulting her on three occasions between 1986 and 1988. However, since the alleged incidents fell outside the statute of limitations, prosecutors did not pursue charges against the Hollywood honcho in late July 2018.
Most of the women who spoke with Farrow went on to claim that these alleged incidents, which spanned the 1980s and early 2000s, ultimately hurt their careers.
Moonves has since denied this new round of allegations, stating to the publication, "The appalling accusations in this article are untrue. What is true is that I had consensual relations with three of the women some 25 years ago before I came to CBS. And I have never used my position to hinder the advancement or careers of women." 
"In my 40 years of work, I have never before heard of such disturbing accusations," the 68-year-old continued. "I can only surmise they are surfacing now for the first time, decades later, as part of a concerted effort by others to destroy my name, my reputation, and my career. Anyone who knows me knows that the person described in this article is not me."
For its part, CBS has since stated, "CBS takes these allegations very seriously. Our board of directors is conducting a thorough investigation of these matters, which is ongoing."
As Nicki Swift previously reported, Moonves was first accused of sexual harassment by six other women in another article published by The New Yorker in late July of this year. The piece also delved into the broader culture at CBS. Also written by Farrow — who won the Pulitzer Prize in April for exposing Harvey Weinstein's alleged 30-year history of sexual harassment, sexual assault, and rape in October 2017 — it covered over two decades' worth of alleged inappropriate behavior, including unwanted touching, kissing, and intimidation.
CBS immediately launched an investigation into the allegations, which Moonves also previously denied. While he's continued to work at the network amid the scandal, Moovnes is currently negotiating his exit, which may result in a $100 million severance package. The reported amount sparked intense backlash late last week, including sharp criticism from the Time's Up movement. 
As a spokesperson for the group released in a statement, "This is a precedent-setting moment for CBS — and culture at large. A man accused of rigorously reported allegations of harassment should not be rewarded with a golden parachute. Les Moonves walking away with a $100 million settlement sends a message to survivors everywhere that powerful men can act without fear of consequence" (via Variety). The spokesperson went on to write, "Rather than reward an alleged predator, this $100 million could fund the legal defenses of countless women and men facing workplace harassment and abuse across the country."
However, amid these recent allegations, two sources cited by the Los Angeles Times have claimed that Moonves is reportedly expected to resign from his position at the network, which he's held for 15 years, either late Sunday evening or early Monday morning, Sept. 10.
CBS has already faced intense scrutiny over the last several months due to its handling of Charlie Rose's sexual misconduct scandal, which first broke last November. Amid the Moonves allegations, the network was more recently slammed on social media for allowing controversial Big Brother contestant JC Mounduix to stay on the show after multiple accusations of sexual misconduct. To further complicate matters, Moonves' wife of nearly 14 years, Julie Chen, happens to host the reality TV series. Earlier this summer, she famously came to her husband's defense.
Of course, CBS is not an anomaly in show business when it comes to allegations of sexual harassment and sexual assault. In the wake of the #MeToo movement, multiple other powerful figures throughout the entertainment industry — mostly men — have been accused of sexual misconduct since last fall.