Sandra Bullock's Father Passes Away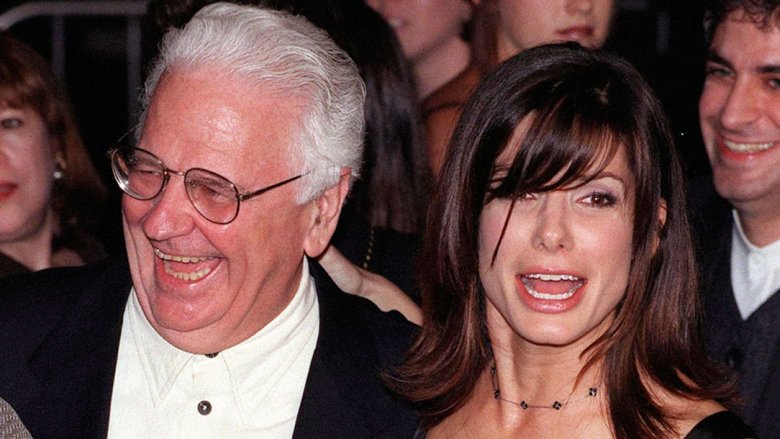 Getty Images
Gravity star Sandra Bullock's dad has reportedly died.
According to Bullock's longtime boyfriend Bryan Randall, whom she's been in a relationship with since 2015, Bullock's father, John, passed away while in the company of loved ones on Tuesday, Sept. 18, 2018. In a post on his private Instagram account (via E! News), Randall wrote, "On September 18th at 10:04 pm CST, surrounded by family and friends, John W Bullock left the building," adding, "As a father, grandfather and WWII veteran, we #thankyouforyourservice."
Randall shared a silly photo of John to accompany the announcement, showing Bullock's father smiling and holding up a sign that read, "No bulls**t." Randall also added in the caption, "PS: Hey God, we're sending you a live one!"
Bullock's younger sister, Gesine Bullock-Prado, also confirmed the news on her Instagram page. She posted a series of photos of her father throughout the years, writing, "John Wilson Bullock February 11, 1925 – September, 18 2018." She continued, "Beloved baby brother, American #WWII #bronzestar #veteran, husband, father of 4 strong women, #grandpa, adorable scamp, handsome devil, and trickster to the end."
John Bullock was 93 years old. His wife and Sandra Bullock's mother, Helga Meyer, had previously passed away in 2000, as noted by Entertainment Tonight.
At the time of this writing, Sandra Bullock has yet to publicly speak out about her father's death.
Bullock had previously opened up in June 2018 about how she wished her mother was around to see her life with her kids. "She'd love every minute," Bullock told the Today show's Hoda Kotb. "And I often sit and, like, I wish that they would just allow the person who's deceased just to beam down for a second so you can say, 'When do you want them to show up?' And I was like, 'Like, right now would be the ultimate time.' I just want her to see how everything is okay and how — how amazing — I mean, I truly think that she had a hand in it, you know? I think she had a hand in the gifts. So I just want her to see that we're okay."
Our thoughts are with Sandra Bullock and all of John Bullock's loved ones during this difficult time.