Comedian Pete Davidson Calls Out Chevy Chase Over SNL Comments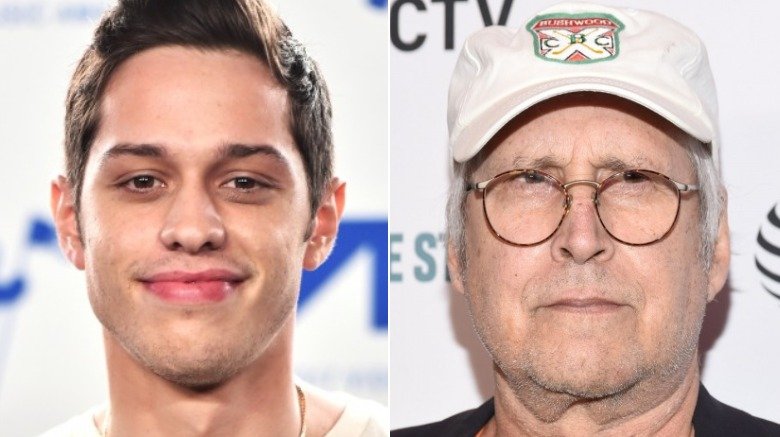 Getty Images
Comedian Pete Davidson is making headlines this week — but this time it has nothing to do with his whirlwind romance with Ariana Grande.
During his candid appearance on SiriusXM's The Howard Stern Show on Monday, Sept. 24, 2018, the Saturday Night Live star didn't bother to mince his words when it came to SNL alum Chevy Chase, Entertainment Tonight reports.
"He's a f**king d**chebag. F**k Chevy Chase. I hate that dude," Davidson, 24, told shock jock Howard Stern. "He's just a genuinely bad, racist person," the stand-up comedian continued, adding, "I don't like him."
Chase had infamously criticized the current state of the long-running comedy series, which is fresh off its win for Outstanding Variety Sketch Series at the 2018 Emmy Awards, just last week. Calling it the "worst f**king humor in the world" during an interview with The Washington Post, the 74-year-old entertainer added, "I'm amazed that [creator Lorne Michaels] has gone so low. I had to watch a little of it, and I just couldn't f**king believe it."
While speaking with Stern, Davidson defended his boss against Chase's criticism, saying, "It's disrespectful to Lorne, too, a guy who gave you a career. No matter how big you get, you still can't forget what that guy did for you."
Since the National Lampoon's Vacation star has become pretty notorious for causing drama on set over the years, Davidson isn't the only celeb to take issue with him in recent months. As Nicki Swift previously reported, Chase's former Community co-star Donald Glover accused him of regularly making racist comments during an interview with The New Yorker in March 2018. Series creator Dan Harmon backed up the multi-hyphenate's claims, telling the publication that Chase also often interrupted Glover's scenes. Harmon went on to allege that Chase once told the "This Is America" musician, "People think you're funnier because you're black."
At the time of this writing, Chase has yet to publicly respond to Davidson's recent comments. However, he previously released a statement regarding Glover's accusations, telling The New Yorker, "I am saddened to hear that Donald perceived me in that light."
Thankfully, not all actors in showbiz share Chase's bad reputation.