These Are The 9 Cringiest Ryan Seacrest On-Air Moments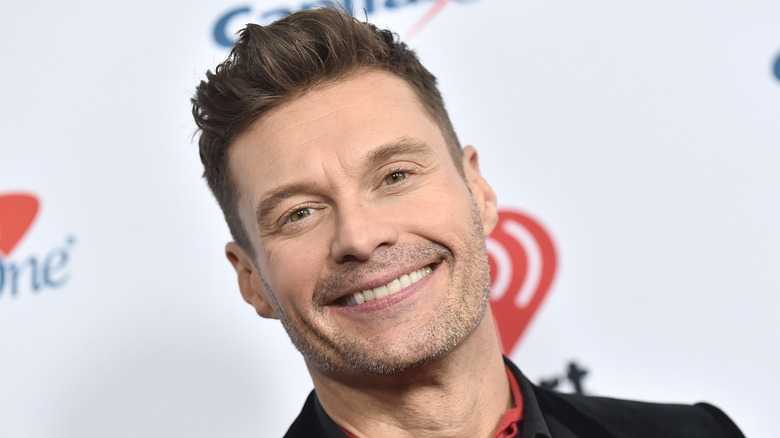 DFree/Shutterstock
Ever since he rose to fame as the co-host of "American Idol" in the early 2000s, Ryan Seacrest has been at the forefront of American entertainment both on camera and behind the scenes. The producing juggernaut has held court over a number of primetime and daytime shows like "Live with Kelly and Ryan" and hosting his very own syndicated radio program, "On Air with Ryan Seacrest." One of Seacrest's most famous roles is as a red carpet interviewer, and he has been at some of Hollywood's biggest nights for more than a decade. But as the media personality transitions into a new era of his career, including leaving both his "Live" and "Red Carpet" days behind and joining "Wheel of Fortune" as its new host, some of his past interactions with the celebrity elite have come into question. 
Seacrest has maintained his status as a go-to guide for the entertainment industry, despite being accused of both generally bad on-set behavior and even sexual abuse. "I found a relaxed, slowed-down version of myself on the air," he told Variety. "I've become more comfortable letting things just happen without thinking about what has to come next. Because it can really go in any direction."
While we don't know how his "Wheel of Fortune" gig will go, we can look back at some of Ryan Seacrest's cringiest on-air moments so far.
He got a sandy surprise from Sacha Baron Cohen
One of Ryan Seacrest's most memorable red carpet interviews became infamous for all the weirdest reasons. At the 2012 Academy Awards, Seacrest interviewed Sacha Baron Cohen, who was in character in the titular role from his film "The Dictator." Cohen, a notoriously method actor, was dressed in full "Dictator" garb and accompanied by female guards. Things started out normally but turned weird quite quickly when Cohen brought out the "ashes" of former North Korean dictator Kim Jong-Il: "It was his dream to come to the Oscars and to be sprinkled over the red carpet and over Halle Berry's chest again," Cohen said in character. 
Seacrest, clearly flabbergasted, continued on as he could, but Cohen eventually dumped the "ashes" all over Seacrest live on camera. Security guards quickly pulled Cohen, still in character, away from the scene as Seacrest turned back to the camera. "Have fun this evening," Seacrest said as he brushed the supposed dust of the North Korean leader off of his suit jacket.
Seacrest learned a valuable lesson for his future red carpet duties. "And then I [realized], for future incidents, I should pack two jackets," he confessed to the audience on "Live with Kelly and Ryan." Cohen had another surprise for Seacrest a few years later at the 2016 Academy Awards. But this time, he was out of character. "Just wanted to give you a hug," Cohen said as he interrupted Seacrest's interview with Lady Gaga. "What's in your hands?" Seacrest joked back.
Ryan Seacrest flubbed right in front of Lady Gaga
Riding on the high of her hit "Shallow," Lady Gaga appeared on the 2019 Grammys red carpet alongside her co-collaborators. When she stopped by Ryan Seacrest's station for an interview, the quick segment turned awkward toward the end. Seacrest, rushing through his talking points, began wrapping up the interview in a hurry — but Gaga called him out on it. "You're like, 'Answer my question but I'm not asking one,'" Gaga joked with the host. "Well ... we're out of time, so I have to let you go. [The cue card] says 'toss to break,'" Seacrest responded, signaling to his cue card. But he got one last line in, jokingly sticking the microphone in Gaga's face. "And here's me not asking a question. We'll be right back." Gaga, playing along but seemingly confused, stared at the camera open-mouthed, and the segment ended.
Immediately after, Twitter users called out the host for making the moment too awkward to handle. Many fans criticized Seacrest for flubbing the interview and praising Gaga for "reading" him on her handling of the situation. "Stop asking questions and pulling the mic away," one tweet read. "The Lady Gaga interview was awful. I did not hear one complete answer. Wtf?" Others online even called for Seacrest's then-co-host Giuliana Rancic to take over interviewing duties — even though Rancic has had her own fair share of red carpet faux pas.
He's made cringey comments to Katy Perry more than once
Even after working together for many years on "American Idol," Ryan Seacrest and Katy Perry have had their fair share of awkward interactions on air. Before they became a judge and host of the reality competition, Perry stopped by to chat with Seacrest on the red carpet at the 2013 Grammys. The pop star, not adhering to CBS' memo to dress accordingly for the event, appeared in a mint green gown showcasing ample cleavage — something that distracted Seacrest enough that his co-host, Giuliana Rancic, commented on his focus. How did Seacrest respond? "When you are my height you have a lot of experience staying focused at that eye line. Lots of practice."
Since then, the pair has shared more awkward moments on camera. In 2018, Seacrest was reported to be hitting on Perry while on "American Idol." Even after she mentioned that the show was back on air, Seacrest continued to speak, regarding her and her mother's looks, as well as asking her about motherhood. Perry's shocked reaction even tipped off fellow judge Lionel Richie, who advised Seacrest to move on. The moment went viral, and many criticized Seacrest for his "creepy" advances toward Perry. To make matters worse, this incident came mere months after Seacrest was accused of both sexual abuse and harassment by a former stylist. Seacrest later denied the claims.
If you or anyone you know has been a victim of sexual assault, help is available. Visit the Rape, Abuse & Incest National Network website or contact RAINN's National Helpline at 1-800-656-HOPE (4673).
Things have gotten testy with the Live crew
It's not just with A-listers that Ryan Seacrest has shared some awkward moments. He's also experienced some cringe-worthy moments during his time on "Live with Kelly and Ryan." Toward the end of his tenure as co-host, which officially ended in April 2023, Seacrest showcased some frustrations with various co-hosts and even the crew live on air. In a January 11, 2023 episode, Seacrest got snippy with co-host Kelly Ripa as he was practicing his yoga skills in a wellness segment. Ripa, who was not participating in the exercise, laughed at Seacrest as he put a resistance band around his thighs. Seacrest turned to his co-host, saying, "Would you stop? I can hear you!" in a testy tone. Seacrest continually looked over his shoulder at Ripa throughout the segment, and he eventually played into the moment by laughing. Coincidentally, this isn't the only time that Seacrest has expressed frustration with a co-host for judging his fitness finesse.
Seacrest has also gotten snippy with the behind-the-scenes crew of "Live." In one January 2023 segment, Seacrest was sharing a recent fashion purchase he made to guest co-host Carson Kressley. As he was explaining his purchase — a pattern-on-pattern beach ensemble — Seacrest suddenly focused off-camera at the crew, who were laughing. "What is so funny? I haven't even shown you the picture!" he said in a frustrated tone. The moment was later laughed off, but the awkwardness still made an impact on viewers.
His co-hosts have put the pressure back on him
Ryan Seacrest isn't the only one to make things uncomfortable on-air. His former "Live" co-host, Kelly Ripa, has gone toe-to-toe with Seacrest on more than one occasion. During one January 2023 episode, Seacrest began reading the list of America's top dog names, but Ripa corrected him, saying that he had started at the wrong end of the list. This caused the two to begin (playfully) bickering, a common occurrence over their five+ years as co-hosts. "I do the American top 40 countdown!" Seacrest protested. Ripa was quick to fire back, saying, "Oh, do you start with number one? Guys spoiler alert, Ryan starts with number one at the American top 40."
In another awkward moment, guest host Lisa Rinna (former star of "The Real Housewives of Beverly Hills") turned the tables on Seacrest as she became the interviewer. In an August 2022 episode, Rinna began pressuring Seacrest to talk about why he hadn't been married. "Really?! Really? You've never been married, Ryan?" Rinna asked in a shocked tone. Seacrest, visibly uncomfortable, tried to make light of the moment: "Do you suggest I should? Do you recommend it? You recommend. You've been married 25 years!" But Rinna didn't relent. She continued to pressure Seacrest, telling him it was "time" for him to get married. Cue awkward tittering from the studio audience — and the audience at home. (Rinna has made several more appearances on the show, with some leaving Seacrest equally speechless.)
The host has interviewed his ex live on air - multiple times
When he's not on the red carpet or behind the "Live" desk, Ryan Seacrest can be heard in cars and offices throughout the country on his radio show, "On Air with Ryan Seacrest." The show became syndicated in 2008, and it plays in markets nationwide and even on SiriusXM. Over the years, Seacrest has interviewed countless artists and celebrities, but one interviewee may have hit a bit closer to home.
In March 2022, Seacrest interviewed actress and dancer Julianne Hough, who also happens to be his ex-girlfriend. While this wasn't the first time that the exes acknowledged each other after their breakup, the two entertainers addressed any awkwardness that could come up. "[My co-hosts] have been asking me if this is awkward for me," Seacrest said at the top of his interview with Hough and her brother, Derek Hough. "And I said, 'Not at all.' Julianne, they don't understand that concept that one can remain friends after a breakup ... [Julianne] feels the same [way] I do. There is nothing uncomfortable about it because we remained friends for years and still are." Julianne agreed, sharing that the duo maintained "respect and love" for each other and that "We're friends, we chat." That didn't stop Derek Hough from joking that he was the one that was "uncomfortable," relieving any residual tension amongst the group.
Ryan Seacrest's mortifying wardrobe malfunction stories
Even interviewers to the stars are known to have their own mishaps, particularly when it comes to their fashion faux pas. While recapping the May 2022 finale of "American Idol," which Ryan Seacrest has hosted since its American premiere in 2002, he shared a particularly awkward wardrobe malfunction alongside his co-host, Kelly Ripa. "Apparently, America voted and decided there was anatomy in the shot," Seacrest joked as Ripa looked at the camera stoically. "And I said [to my stylist] 'I didn't bring any extra underwear!' and [my stylist] says 'Don't worry, I've got mine.'" The scene immediately turned awkward, with Ripa repeatedly saying "No!" as Seacrest continued to describe the ordeal, resulting in him ultimately changing during a commercial break into his stylist's tighter underwear. "Anything for the show, right?" he said to the audience. The superhero stylist, whose name is Miles Siggins, addressed the cheeky incident on Instagram, writing, "Thanks ... Calvin Klein for those interested!"
That wasn't the only time Seacrest has mentioned his fashion blunders on "Live." In August 2022, while co-hosting with Carson Kressley, he let the audience (and the viewers at home) know that he had forgotten to zip up his pants before coming out for his entrance. "By the way, my fly is down," Seacrest said after wincing while crossing his legs in his chair. Kressley was quick to joke back: "What? I guess you're just happy to see me!"
He's made things awkward with many A-listers
As an entertainment host, it's become part of Ryan Seacrest's daily routine to talk with celebrities from all walks of fame. But when it comes to interviewing A-list actors, he's had more than his fair share of fumbles. At the 2015 Golden Globes, Seacrest presented then-newlyweds George and Amal Clooney with a cheeky congratulatory gift – t-shirts emblazoned with "Game Over" and a frowning picture of a groom on them. The entire crew behind the camera was even wearing them. While the Clooneys laughed off the joke gift, fans shared their upset remarks online regarding the "disrespectful" interview. "Game over shirts on Amal Clooney's first big public event? Not cool. Not nice," one person tweeted.
Seacrest has also made some blunders in front of some of cinema's mightiest heroes, the Avengers. At the 2017 Oscars, Seacrest asked Scarlett Johansson if she had worn her high-heeled shoes during her rehearsal as a presenter. Johansson was not impressed, laughing as she remarked, "What a ridiculous question!" As for his interaction with Chris Hemsworth on a November 2022 episode of "Live," fans criticized Seacrest for continually interrupting the "Thor" star and making the interview about himself. While he didn't address the claims, Seacrest did post a selfie of him and Hemsworth on Instagram, joking, "I'm on the right btw, I know people are always mixing us up."
Ryan Seacrest's cringey 2018 Oscars red carpet appearance
After being accused of sexual abuse by his former stylist in 2018, Ryan Seacrest was still chosen to co-host E!'s pre-show for the Oscars that year. Even though E!'s parent company, NBCUniversal, conducted an investigation and concluded that there was "insufficient evidence" to the accusation, there was still caution amongst the crew regarding any potential feedback from carpet guests. Some celebrities like Jennifer Lawrence came out publicly stating that they were unsure if they would speak to Seacrest at the event. It was even reported that there would be a 30-second delay on all of Seacrest's interviews as a precaution.
As for the red carpet experience itself, which was timed at the peak of the "#MeToo" movement, Seacrest faced a number of awkward moments on top of the accusation. Actor Taraji P. Henson had some particularly telling words when she met with Seacrest, which she later claimed were "misconstrued:" "The universe has a way of taking care of taking care of good people. You know what I mean?" she said to the host. It didn't escape notice that more celebs flocked to other interviewers over Seacrest, and none of the five women nominated for best lead actress that year talked to him on the red carpet. Critics and viewers alike were quick to criticize Seacrest's every move. At least he had co-host Giuliana Rancic to tell him, "You did such a great job" — whether it was actually true or not.