Justin Bieber And Hailey Baldwin Are Reportedly Already Married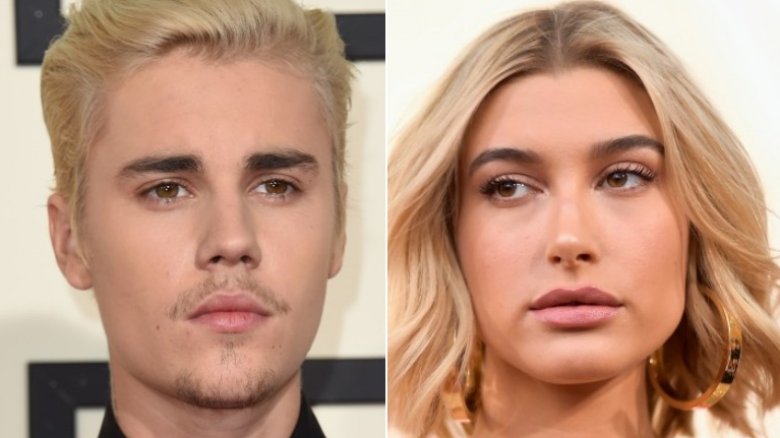 Getty Images
Celebrity couple Justin Bieber and Hailey Baldwin may have tied the knot!
According to TMZ, Bieber and Baldwin actually got married the day they were spotted at a New York City courthouse in September 2018, and, for some reason, decided to lie about it to their fans. The celebrity gossip rag notes that Bieber and Baldwin had a preacher named Jeffrey Quinn, who works at NYC's Nyack College, present for the ceremony. Bieber's pal Josh Mehl, who attends Churchome in Los Angeles with him, reportedly served as witness for the marriage.
As Nicki Swift previously reported, the A-list pairing went to NYC's Marriage Bureau office on Sept. 13, 2018. Bieber was reportedly seen crying at the courthouse and was overheard telling Baldwin, "I can't wait to marry you, baby." He also was said to have thanked a court official — who may have been a judge — for "keeping it on the DL."
A source also told People at the time, "They went ahead and did it without listening to anyone," noting that the two were "going to have a big blowout, in front of God and everyone they love" sometime in the future.
But Baldwin shot down rumors that she'd married Bieber soon after they made headlines, taking to Twitter to tell her followers, "I understand where the speculation is coming from, but I'm not married yet!" The tweet has since been deleted.
TMZ reports that Bieber and Baldwin had contacted their lawyers to have a prenup drafted earlier on the day they got married. However, since it was such short notice, the couple reportedly didn't actually have the prenup ready by the time they wed. Instead, they'll reportedly sign something called a postnup, which is essentially the same as a prenup except that it's signed after a marriage. At the time of this writing, it's unclear if Bieber and Baldwin have signed one yet. A source told TMZ that Bieber doesn't even see the need to — despite him being worth about $250 million. The power of love, huh?
Bieber and Baldwin's race to the courthouse is certainly a marked difference from what sources had previously told People about their engagement. Noting that the two wanted to "slow down" with their wedding planning, an insider shared with the magazine, "They still don't want a long engagement, but they are also not rushing the wedding."
Bieber and Baldwin — who'd dated on and off since 2015 before officially rekindling their romance in June 2018 — were said to want to "enjoy being engaged." The source continued, "It's not like they need to rush — they are both so young. They aren't slowing things down though because they are unsure if they want to marry; they definitely want to get married." We guess Bieber and Baldwin simply decided that they didn't want to wait to get hitched any longer.
Bieber and Baldwin, who announced their engagement in July 2018, are reportedly still planning to throw a formal wedding that their loved ones can attend. And now that they're married, we're sure it takes some of the pressure off of them to plan a huge wedding, though we'd bet their big day will still be a huge affair — despite them already having had wed.
Bieber has reportedly since gotten used to married life with Baldwin, as Us Weekly reported that he'd introduced her as his wife while visiting the Stratford Perth Museum in Ontario, Canada on Sept. 30. There is currently an exhibit at the museum about Bieber's music career. Posting a photo of a note Baldwin left that read, "I [love] you forever – Hailey B.," on Instagram, the museum shared, "We were so pleased to have such a warm and special guest visit the museum yesterday (along with her very special husband)." In the comments section, the museum added, "Justin very graciously introduced Hailey as his wife. Perhaps just a term of endearment? We loved their visit" (via Entertainment Tonight).
At the time of this writing, neither Bieber nor Baldwin have commented on reports of their marriage. Their loved ones have kept quiet about the news as well, though not everyone got the message to keep their wedding private in time. Back in September — just days after Bieber and Baldwin's apparent wedding — Baldwin's uncle Alec Baldwin told press, "They just went off and got married."
Congrats to Bieber and Baldwin on their marriage!