Suge Knight Ordered To Serve 28-Year Prison Sentence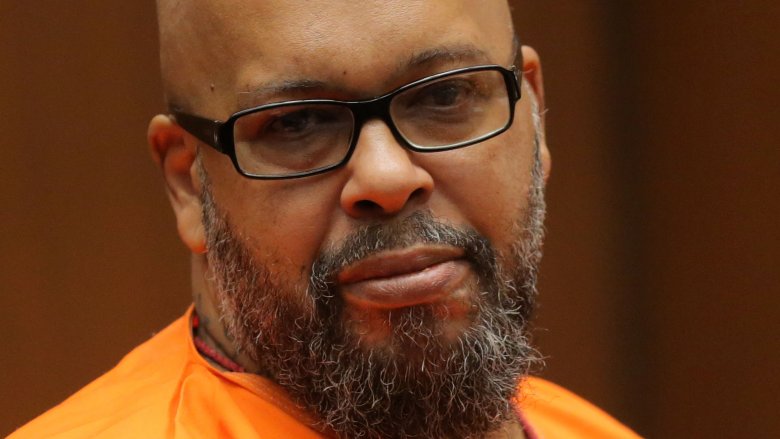 Getty Images
Music producer Suge Knight just received a hefty prison sentence from a Los Angeles judge.
On Thursday, Oct. 4, 2018, Knight, whose real name is Marion Hugh Knight Jr., was sentenced to 28 years behind bars for the death of Terry Carter during a hit-and-run, CNN reports. The incident had occurred back in 2015 near the set of Straight Outta Compton and had also resulted in the injuring of Cle "Bone" Sloan. Though the maximum sentence for voluntary manslaughter in California is 11 years, Knight was reportedly sentenced to double that due to a third strike violation. He will reportedly spend another five years in prison due to the particularly violent nature of the crime, as well as another year for use of a deadly weapon.
As Nicki Swift previously reported, Knight, 53, had pleaded no contest to manslaughter, after taking a plea deal with the Los Angeles County District Attorney's Office. The former Death Row Records co-founder had been facing life in prison for Carter's death and for the attempted murder of Sloan.
According to CNN, video footage showed Knight entering the entrance of a restaurant when he was approached by Sloan, a security guard. After speaking with Sloan, Knight appeared to reverse his truck, which sent Sloan falling to the ground, and then drive forward, running over Sloan as well as Carter, who later passed away.
"He never got out of the car, to see if my uncle was okay. This has to be in my family forever. Nothing will be the same," Carter's niece stated in court on Oct. 4, in front of a reportedly "expressionless" Knight. "Not even an apology, condolences have been made to my family."
Carter's daughter Crystal also spoke out during Knight's sentencing, calling him "a disgusting, selfish disgrace to the human species" (via CBS News).
Knight had been in jail since getting arrested for the crime in 2015.