Matt Rife And Zendaya's Awkward Wild 'N Out Moment That Still Makes Us Cringe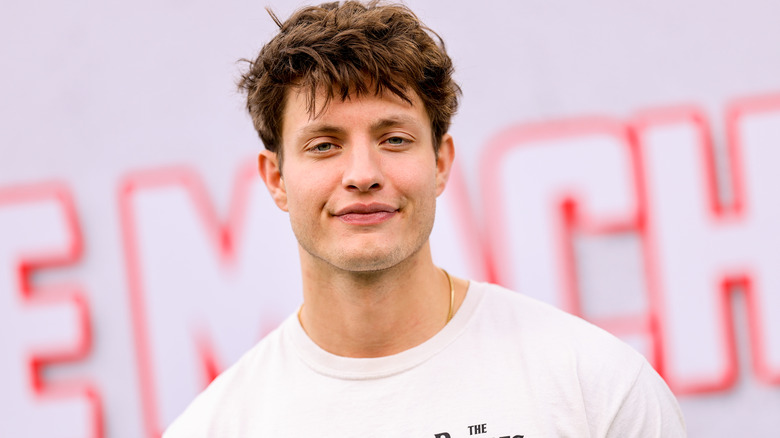 Matt Winkelmeyer/Getty Images
Comedian Matt Rife's career may have taken off in a huge way, but the internet still hasn't gotten over the TikTok star's super cringe past encounter with Zendaya. With more than 16 million followers, Rife boasts one of the most popular (and controversial) TikTok accounts. Rife uses the platform to post snippets of his standup routines, which often warrant thousands of comments. Many of his punchlines revolve around dating, friendship, and Gen Z culture. Despite Rife's popularity, he also has plenty of haters who can't fathom how he garnered enough interest in his upcoming comedy tour to crash Ticketmaster, per USA Today.
Rife has credited his recent success to his social media following. During an interview with The New York Times, Rife revealed that, in 2022, he wasn't considered famous enough for the Just For Laughs Festival to handle his accommodation expenses. Feeling defeated, he decided to post a clip of his routine to TikTok. "That video did 20 million views in two or three days," shared Rife. "It became this massive chain reaction and an explosion of an audience. From then on, every video I posted went viral." Of course, that far from the first time Rife went viral. Back in 2015, Rife was a "Wild 'N Out" cast member who (temporarily) got on Zendaya's bad side during a comedy skit.
Matt Rife's joke about Zendaya didn't go over well
In the grand scheme of Matt Rife's life, "Wild 'N Out" was a relatively short chapter of his story. His last appearance occurred in 2017. However, he made a lasting impact, as a video of his "best moments" racked up nearly three million views on YouTube. Among them, one clip features a game in which he and Zendaya participated. Rife told a series of jokes intended to make Zendays to spit out her water. Kneeling behind Nick Cannon's chair, Rife first introduced himself as the host before taking a different approach with the actor. "Look, you're mixed, I want to be Black, let's make a lifestyle movie," he said. Once Zendaya didn't break character, he said, "Spit that water out so I can get your number, please." 
Zendaya wasn't particularly moved by the line, but her teammates were quite vexed over his decision to grab her chin. "Keep your hands off her. Matt," one cast member joked. Another yelled, "She's too young," before a member of the opposing team pointed out: "She's 18. He's 19." Unfortunately, that set Rife up for another joke. "So. He got acne and his fingernails dirty," retorted the cast member. Shortly before the episode aired, Rife posted a selfie of himself and Zendaya to Instagram. "Watch me get in @zendaya's personal space tonight on #WildNOut on @mtv2!" wrote the comic, along with the hashtags "#SheDeniesMeInFrontOfAllOfAmerica" and "#StillCryingAboutIt."
How Matt Rife feels about his cringe Zendaya moment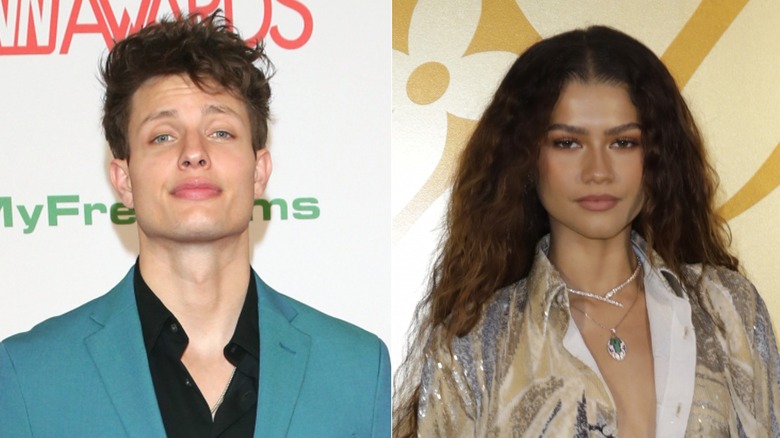 Antoine Flament/Getty & Gabe Ginsberg/Getty Images
Zendaya's "Wild 'N Out" teammates weren't the only ones who didn't approve of Matt Rife's hands-on comedy routine. The internet also took major offense at Rife's faux pas. "Every time I find myself laughing at a Matt Rife joke I just think about Zendaya," tweeted one fan in June. "How are y'all not getting the ick from Matt Rife do you not remember when he was on Wild n Out and Zendaya completely swerved him," tweeted another fan that same month.
In 2019, Rife appeared on the "No Chaser" podcast and shared his thoughts on the public's continued criticism. "What's most frustrating about that moment is that everyone was like, 'Ahh, she shot you down.' Like I was really spitting game. As if that's how I would really approach her. I got game." Rife also revealed whether he'd slid into Zendaya's DMs. "Of course," he replied. However, she didn't respond. "I'm waiting to run into her as a man." He also bemoaned the virality of the moment. "I've seen about at least 15 to 20 uploads of that video," he said. "All of them have 10 million views. It's insane and unfortunate."