Celebrities Who Were Struck By Lightning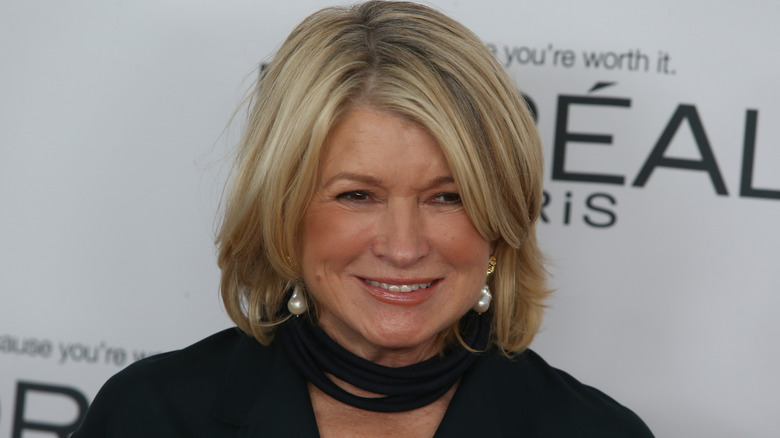 a katz/Shutterstock
They say that lightning never strikes the same place twice. While that's not even remotely true, it doesn't strike that many people. That's not to say people aren't struck by lightning all the time, but so long as folks take the proper precautions, it's relatively rare. According to the National Weather Service, the odds of getting struck by lightning are about one in 15,300. The United States sees around 43 fatalities from lightning strikes every year, so if you ever see those dark clouds moving in your direction, take it seriously, find some appropriate cover, and wait it out!
Still, considering how many people are in the U.S. and how often there are thunderstorms, lightning is a regular event. Strikes, on the other hand, are far less frequent. Seeing as that's the case, while we common folk are usually the ones getting hit by lightning, celebrities are far less likely to experience such an event. Statistics limit the possibilities because the commoners always outnumber celebrities, so the odds are in their favor.
Still, celebrities are just people we celebrate; at their core, they're people. They're subjected to the same dangers as everyone else, and every so often, one of them falls victim to a lightning strike. It happens infrequently enough that decades can go by between occurrences, and the public's memory around such things tends to wane. Every person listed here was famous for something, and they all were struck and killed or survived their unfortunate interaction with lightning.
William Friend was struck and killed by lightning near his home
William Friend may not be a name many associate with celebrity, but seeing as he was married to "One Tree Hill" star Bevin Prince, his story made international news. On July 3, 2022, Friend was on a boat with his family near Masonboro Island, North Carolina, when he was struck by lightning. People in a nearby vessel offered assistance and flagged down some deputies who performed CPR on Friend and transported him to a nearby marina to be taken care of by EMS.
According to WECT-TV reporting, he was transported to an ambulance, where EMS workers continued resuscitation efforts on Friend, but to no avail. Friend was declared dead, and family members identified his body at the hospital. Friend and Prince married in 2016, and he died less than a week before his 34th birthday. Prince remained silent until later in the year, when she told Jon Evans on his podcast, "It was like any other day that we'd done a million times. The storm was far away, we're on the boat, everything's fine. And then, in an instant, everything has changed. There's no normal, and there's no playbook for it."
In the wake of his death, Friend's family established a memorial fund on GoFundMe, hoping to raise $250,000. The GoFundMe campaign raised more than $95,000 for two causes Friend supported: his business Recess, which he and Prince established in their North Carolina Home, and the Special Operators Transition Foundation, which supports veterans entering the private sector. 
Martha Stewart was struck by lightning three times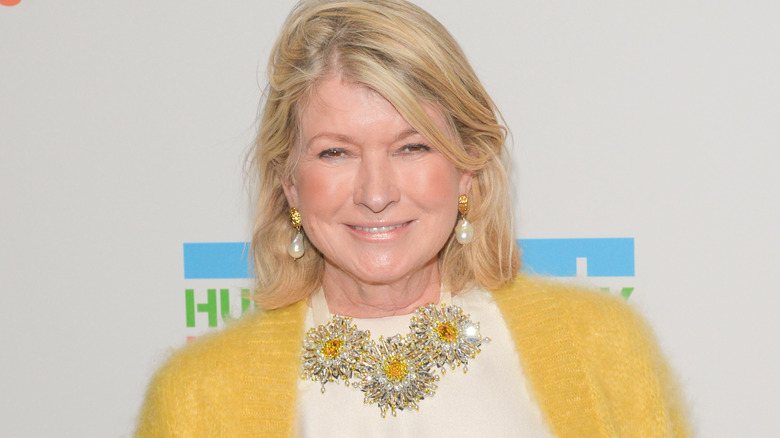 lev radin/Shutterstock
Martha Stewart has had an exciting life, becoming a media mogul, a convicted felon, and a lightning-strike survivor. According to Stewart, she's had the unfortunate luck of being struck not once, not twice, but three times and the odds of so many strikes are remarkably high (but not unheard of). Stewart revealed her miraculous story during an appearance on "The Ellen DeGeneres Show" in January 2022. Stewart and DeGeneres played a game of Two Truths and a Lie when she told some remarkable and horrifying truths.
Stewart explained that she was struck three times, adding, "I mean, it's like, crazy. I think it actually is good for you. If it doesn't kill you, I think it's good for you!" That's not an opinion many would share, but Stewart went on, detailing two of the three instances: "Once, it came out of my water faucet. I was leaning against an iron sink. I saw the lightning go down the pipe out in my garden, and then it came back up through the water and hit me right in my stomach — threw me to the floor!"
Her ex-husband found her on the floor, where she was "alive, but not very comfortable." The second time Stewart was struck by lightning was also in her house. She didn't go into as much detail but explained that a lightning bolt went through her skylight and hit her, adding, "I just attract electricity. I'm so powerful." Without further elaboration, Stewart said getting struck felt "horrible."
Hernán Gaviria and Giovanni Córdoba were struck by lightning during practice
Hernán Gaviria was a Colombian footballer who played for numerous teams in his native country for over a decade. Gaviria went to the 1992 Summer Olympics in Barcelona, Spain, and scored twice, though his national team didn't take home a medal that year. On October 24, 2002, Gaviria was on the field practicing when he and his teammate, Giovanni Córdoba, were struck by lightning. Córdoba initially survived the strike, but his teammate didn't — Gaviria was killed instantly.
Dario Sala was there that day and later spoke about what he witnessed, telling Daily Herald, "There was no cloud in the sky. We saw the sun. Then, a light rain forced the players to take their usual precautions. ... We were accustomed to those storms." Sala recalled Gaviria saying, "One lightning will not kill me," but he was sadly mistaken. When lightning hit the field, Sala was near a goal, which had a lightning rod installed, but he wasn't entirely safe from the storm.
The lightning struck a stadium light pole and crossed the field, hitting a spot near several players. Two dozen players and their coaches were knocked to the ground. Four players remained on the ground when everyone else stood, so they carried them off the field. Córdoba survived the strike for three days before dying from his injuries on October 27. Sala didn't mention who the other two players were, but they survived, while Gaviria and Córdoba did not.
Sharon Stone was struck by lightning in her kitchen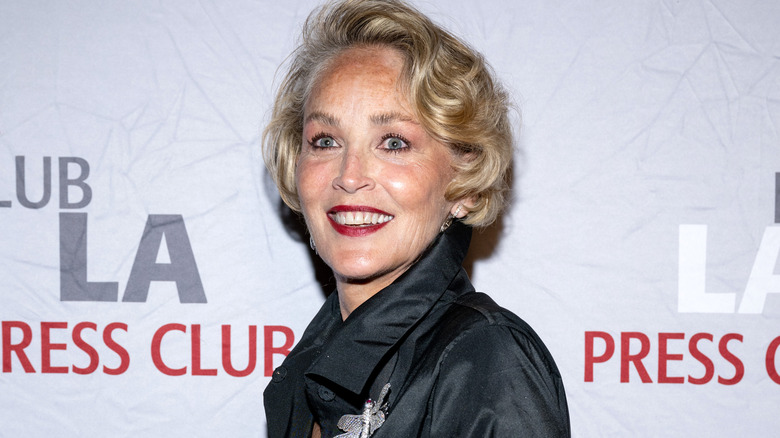 Amanda Edwards/Getty Images
Sharon Stone had a meteoric rise and fall in Hollywood, having been at the top of her game in the 1990s. Stone dominated theaters with hits like "Basic Instinct" and "Casino," but after suffering a debilitating stroke in 2001 that left her comatose for nine days, her career began to wane. Still, she's out there and continues acting in movies and television. As if Stone hasn't had enough health problems over the years, the actor revealed that she was struck by lightning during an appearance on the "Films to Be Buried With" podcast.
Stone explained what happened and how she was hit: "I was at home. We had our own well. I was filling the iron with water. I had one hand on the faucet, one hand on the iron, and the well got hit with lightning, and the lightning came up through the water. I got picked up and thrown across the kitchen, and I hit the refrigerator. I was like, "Whoa!"
Fortunately, Stone's mother was home and found her daughter in a confused and disoriented state. A quick slap across the face brought her out of it, and her mother drove her to the hospital so she could get checked out by medical personnel. Stone survived her encounter with lightning — nine out of 10 people do. During her checkup at the hospital, Sone got an EKG. It showed electricity present in her body, which Stone said was "so crazy."
John White was struck by lightning and killed while hiding under a tree
John White was a Scottish footballer who played for Tottenham Hotspur during the 1960-61 season. White played midfield and inside right and had a relatively good career, which was cut short in the worst possible way. In July 1964, the Spurs were engaged in pre-season training, so White had time to pursue other interests in addition to spending some time on the field. He played tennis and enjoyed golf.
On July 21, 1964, White was playing golf at the Crews Hill golf course on the outskirts of London, England, when it began to storm. He took shelter under a nearby tree, which is one of the most dangerous things to do in a lightning storm. The inevitable happened, and lightning struck the tree. The bolt passed through the tree and into White, killing him instantly. White's son, Rob, was only 6 months old when his father died, and after becoming a father himself, he spent time looking into his dad's past.
Rob found scant evidence of his existence, including short snippets of his playing. One thing he never managed to discover was the story surrounding his father's remains. The family story for years was that his ashes were scattered at White Hart Lane, a football stadium that hosted the Spurs until 2017. This turned out not to be the case, and nobody can recall what happened to White's ashes. Despite this, he is remembered fondly and was inducted into the Scottish Football Hall of Fame in 2005.
[Image by Library of Congress via Wikimedia Commons | Cropped and scaled | CC BY-SA 3.0 NL]
Jim Caviezel was struck by lightning while filming Passion of the Christ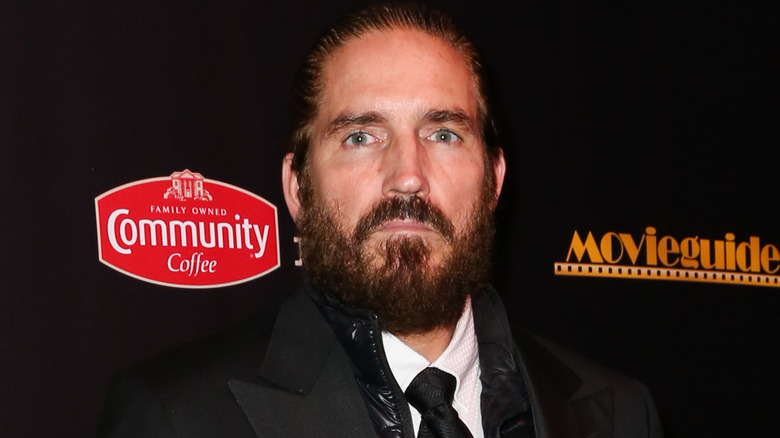 Paul Archuleta/Getty Images
Jim Caviezel starred as Jesus in 2004's "Passion of the Christ," which details Jesus' last days and the 12 hours leading up to his execution. If you know anything about the story, you know Jesus was beaten, tortured, and crucified about as horribly as possible. The movie approximates this brilliantly with excellent makeup and beautifully orchestrated cinematography — two categories the film was nominated for at the Academy Awards. Unfortunately for Caviezel, he suffered considerably while filming the movie due to an unexpected series of accidents.
Accidents happen on movie sets despite everyone's efforts to avoid them — sometimes, mother nature mucks it all up. On the last day of shooting, Caviezel was performing the Sermon on the Mount, and during the fifth take, Caviezel and assistant director Jan Michelini were struck by lightning. That wasn't the only injury the actor sustained because he had a 150 lb cross slam down on his head. The actor told FOX News, "It [the cross] fell on my head, and I bit through my tongue and cheek."
Not only was he hurt, but that moment is in the movie. "You see blood streaming out of my mouth. I had really struggled with that film." The lightning strike caused damage to Caviziel's heart, requiring two surgeries, one of which was an open-heart operation. Fortunately, Caviziel survived and has fully recovered, thanks to medication and time. The actor explained that all of his issues related to the strike were corrected by 2014.
Geremi González was struck by lightning and killed while on vacation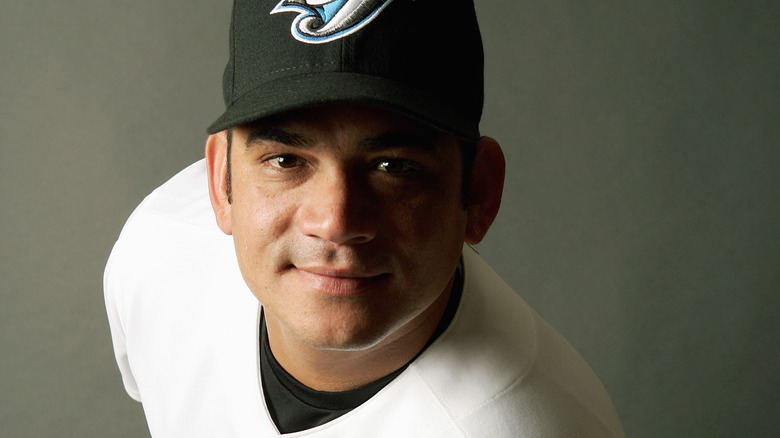 Elsa/Getty Images
Geremi González was a pitcher in the Major Leagues, having played for the Chicago Cubs, Tampa Bay Devil Rays, Boston Red Sox, New York Mets, and the Milwaukee Brewers during his decade-long career. González then joined the Toronto Blue Jays and remained with the team through Spring training. After being released from the team, González pitched five games for the Yomiuri Giants in Japan before unofficially retiring as an active player.
González had an exceptional career in the Major Leagues, and among his many highlights, he's the only pitcher to face off against Barry Bonds to keep him from taking a base. That's an impressive feat, considering he faced Bonds six times in his career, and the man hit a lot of home runs. González's pitching abilities began to wane following his six seasons with the Major Leagues, and while he didn't officially retire from baseball, he wasn't active with any team when he died. On May 25, 2008, González was vacationing on a beach in Venezuela when he was struck by lightning.
When news of González's death broke, the various outfits he pitched for posted tributes, including the Cubs: "The Chicago Cubs are very saddened today to learn of Geremi Gonzalez's sudden passing. Geremi began his career as a Cub, leading our pitching staff with 11 wins as a rookie in 1997 ... The organization sends its heartfelt condolences to his family." Other tributes described González as a nice, competitive, and good-natured fellow, and his death at 33 came far too soon.
Ray Caldwell was stuck by lightning mid-game and led his team to victory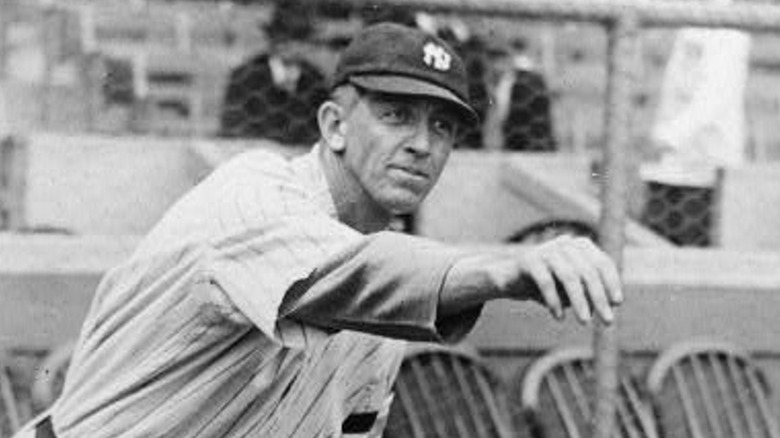 Wikimedia Commons
Ray Caldwell was a pitcher who played for the New York Yankees, Boston Red Sox, and Cleveland Indians during his 11-year career in the Major Leagues. He was exceptionally talented at throwing the Spinball and was one of a scant few allowed to continue using the pitch after it was outlawed in 1920. Caldwell is a baseball legend, but not because he was exceptionally better than his peers; it's to do with his being struck by lightning mid-game.
While playing for the Cleveland Indians in a game against the Philadelphia Athletics (A's) in 1919, Caldwell was struck by lightning. The strike knocked Caldwell unconscious, but after coming to, he flat-out refused to leave the game, reportedly telling his teammates, "I have one more out to get." At that point, he'd pitched 8 2⁄3 innings and wasn't about to let someone take his place. Caldwell pitched the last inning and got the final out, helping to lead his team to victory.
The man was struck by lightning, took a breather, and helped win the game. That's a level of dedication few could match. According to SABR, Caldwell discussed the strike in a post-game interview, telling the Cleveland Press that the lightning "felt just like somebody came up with a board and hit me on top of the head and knocked me down." In addition to being knocked out, Caldwell had burns across his chest but was otherwise unhurt. After the 1921 season, he switched to the Minors and retired in 1933.
[Image by Library of Congress via Wikimedia Commons | Cropped and scaled | Public Domain]
Congressman Samuel B. Avis was struck by lightning and killed while playing golf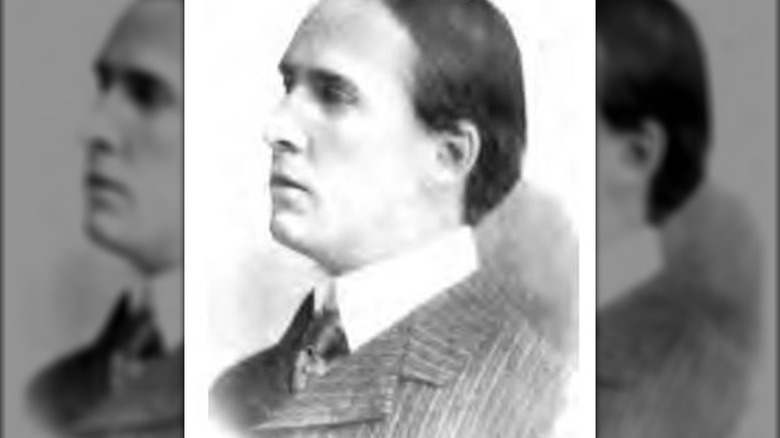 Wikimedia Commons
Samuel B. Avis was a Congressional representative from West Virginia, a post he held from 1913 to 1915. The Virginia native served during the Spanish-American War before becoming an attorney and later an assistant U.S. attorney. Avis was elected to the 63rd Congress for a single term before returning to his legal practice. Avis is one of those public servants we wouldn't know much about, as he didn't accomplish much during his service.
Still, he's remembered less for what he did in life than for what happened at the very end. According to reporting from the Charleston Gazette, on June 8, 1924, Avis was with two friends playing golf at the Edgewood Country Club in Charleston, West Virginia, when the unthinkable happened. A bolt of lightning smashed its way through the roof of an open-air building and killed two prominent West Virginia attorneys: Samuel B. Avis and R.G. Altizer. Both men were instantly killed, while a third, H.G. Scott, survived, according to West Virginia Culture.
Scott recounted the harrowing event, explaining that the group entered the structure, which overlooked the entire property. They had just finished playing their first hole when rain drove them to seek shelter. They waited for about 30 minutes as the storm intensified and passed the time, tapping their balls into a hole under the shelter when the lightning struck. Scott ran outside, fearing the roof would collapse, and when he regained his composure, he found his friends dead on the ground.
[Image by Biographical Publishing Company via Wikimedia Commons | Cropped and scaled | Public Domain]
Lee Trevino was struck by lightning while golfing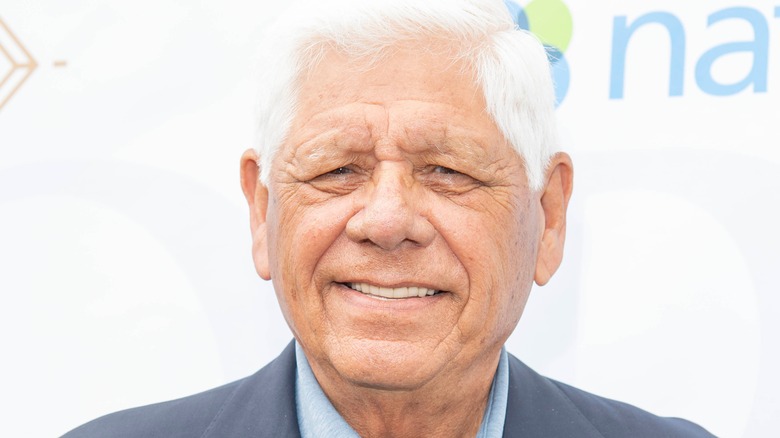 Eugene Powers/Shutterstock
Lee Trevino is a retired professional golfer and inductee of the World Golf Hall of Fame. Throughout his career, Trevino won multiple championships and 29 PGA Tour events. His accomplishments include winning the U.S. Open, the Open Championship, and the PGA Championship. Trevino played from the late 1960s until his retirement in the mid-1980s when he transitioned to working as a color analyst, covering PGA Tours for NBC. The only thing that eluded Trevino was a Masters Tournament win, though he did better than most.
While playing at the 1975 Western Open, Trevino joined the unfortunate club of people who were struck by lightning. He was standing near the 13th hole when a bolt of lightning struck a nearby lake, bounced off the water, and slammed into Trevino, Jerry Heard, and Bobby Nichols. All three were waiting together for play to resume when they were struck, and fortunately, nobody was killed. That's not to say it didn't hurt, as Trevino explained to the El Paso Times:
"When people say that everything flashes in front of you ... your whole life ... it really does. I started thinking about my wife and family before I blacked out." Trevino described the strike, saying, "It was comfortable. It was a very, very quiet sensation. I couldn't hear a thing. There was a whining noise in my ears. I know it had me when I started shaking." Trevino required surgery to repair a ruptured disk, as did Heard.
James Otis, Jr. was struck and killed by lightning while watching a thunderstorm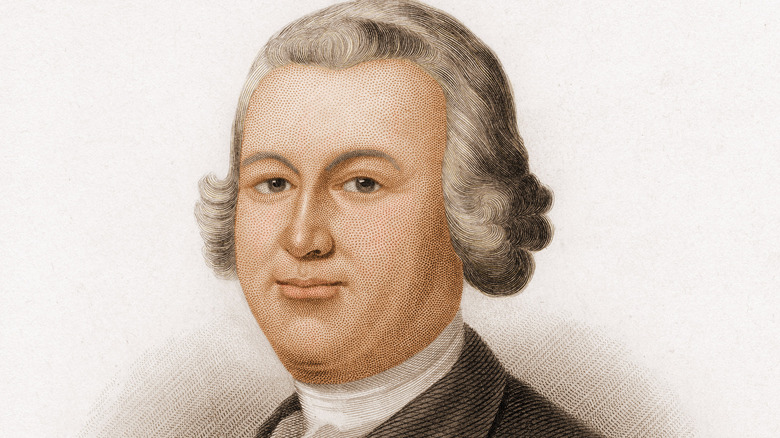 Stock Montage/Getty Images
There are many great Americans who fought for political autonomy from Great Britain during the 18th century, though not all are as well known. James Otis Jr. is one of them, though he was an activist and colonial legislator who supported the growing patriotic movement in Massachusetts. Like many of his era, Otis didn't like the British impositions on the Colonials and opposed unfair taxation. While he's often credited with coining "taxation without representation is tyranny," historians debate whether this is true.
Regardless, Otis was, at first, a respected member of the growing movement away from Britain. This changed due to mental health issues that kept him from working into the 1770s. John Adams wrote that Otis "rambles and wanders like a ship without a helm," while Adams further described Otis as "raving mad, raving against father, wife, brother, sister, friend." Otis' mental state kept him from participating in the American War for Independence, and he died five months before the United States of America defeated the British.
On May 23, 1782, Otis stepped through the doorway of a friend's house to watch a thunderstorm when he was struck and killed by lightning. Upon hearing news of his mentor's death, Adams wrote that Otis was "as extraordinary in death as in life. He has left a character that will never die while the memory of the American Revolution remains." His tombstone describes Otis as an "Orator and Patriot of the Revolution. Famous for his Argument against Writs of Assistance."