Sinead O'Connor, Nothing Compares 2 U Singer, Dead At 56
Jason Laveris/Getty Images
Acclaimed Irish singer Sinead O'Connor has tragically passed away at the age of 56, per The Irish Times. As of this writing, a cause of death has yet to be announced. O'Connor's family released a statement, saying, "It is with great sadness that we announce the passing of our beloved Sinéad. Her family and friends are devastated and have requested privacy at this very difficult time" (via the BBC).
O'Connor made her debut in 1987 with her debut album "The Lion and the Cobra," which received a Grammy nod for Best Female Rock Vocal Performance. In 1990, O'Connor would release her heartbreaking hit single "Nothing Compares 2 U," a cover of a Prince track. The song — and her controversial "Saturday Night Live" performance — quickly made her a household name. During her 1992 appearance on the live comedy show, O'Connor tore a photo of then-Pope John Paul II and yelled, "Fight the real enemy!" The shocking act was a protest against abuse in the Catholic Church, per The Independent, and left her the subject of public ridicule for years.
O'Connor was married four times between 1989 and 2011. Her fourth marriage, to Ireland-based therapist Barry Herridge, lasted less than a month. At the time she wrote about the Las Vegas wedding and speedy divorce on her blog (via The Guardian), saying, "I am a 21st century full woman and proud of living it." The musician is survived by her three children: Jake Reynolds, Roisin Waters, and Yeshua Bonadio. Her fourth child, Shane Lunny, tragically passed in 2022. She was the subject of a documentary called "Nothing Compares," released the same year.
Fans mourn the tragic loss of Sinead O'Connor on social media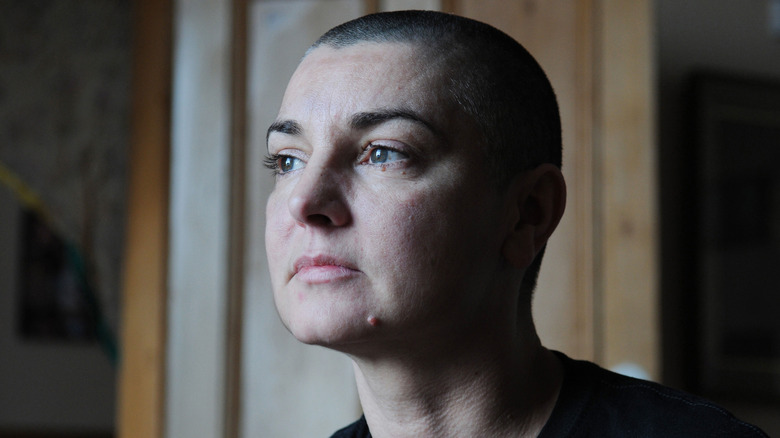 David Corio/Getty Images
Since the news was announced about Sinead O'Connor's tragic death, fans of the Grammy-winning singer have flocked to Twitter with heartbreaking tributes. One fan wrote, "Sinead O'Connor was a trailblazer. Fearless, uncompromising & a superlative talent. Proved to be ahead of her time, again & again." A fan from Ireland, O'Connor's native country, tweeted, "Rest in peace to Sinead O'Connor, one of the most beautiful musical voices to come out of our country and an even more incredible voice as an advocate for change." In addition to fans, an array of high-profile individuals released emotional messages, including musician Tim Burgess. "Sinead was the true embodiment of a punk spirit. She did not compromise, and that made her life more of a struggle. Hoping that she has found peace," he tweeted.
O'Connor's shocking death comes over a year after her son Shane O'Connor died by suicide, per Rolling Stone. "My beautiful son, Nevi'im Nesta Ali Shane O'Connor, the very light of my life, decided to end his earthly struggle today and is now with God," the "Nothing Compares 2 U" singer wrote on Twitter. "May he rest in peace, and may no one follow his example. My baby. I love you so much." Up until her death, O'Connor continued to raise awareness regarding her son's death and suicide. On July 17, the "Drink Before The War" singer tweeted a Spotify link for the song "Chenrezi" — which she said was "for all mothers of suicided children."