Is Hallmark Star Merritt Patterson Married?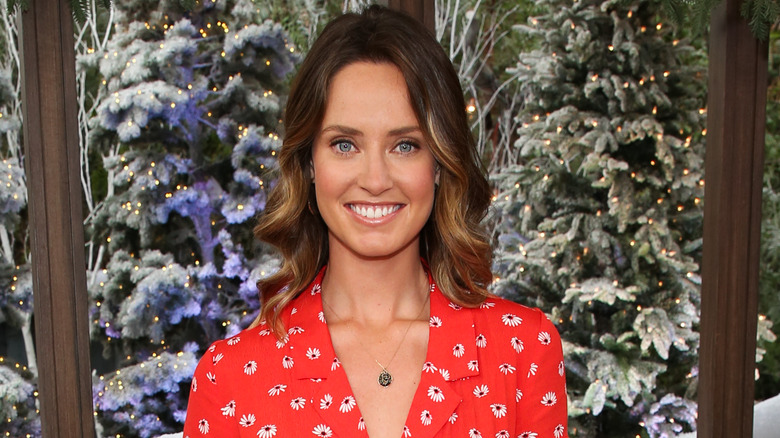 Paul Archuleta/Getty Images
Merritt Patterson is a frequent star of romantic flicks on the Hallmark Channel. Per TV Insider, the Canadian performer started out as a model before turning to acting. She gained breakthrough parts in popular TV series including "Kyle XY" and "Pretty Little Liars" before embarking on her Hallmark career. Regarding her personal life, Patterson has largely remained private. In a 2015 chat with Galore Magazine, she did mention her "boyfriend," per Live Rampup, though his name was not stated.
Patterson has appeared in Hallmark's "A Royal Winter," "Bad Date Chronicles," "The Christmas Cottage," "Forever in My Heart," and more. In a 2019 interview with GeekRockTV, which took place at the Movieguide Awards, Patterson detailed her love for entertaining. "I mean, it's enhanced my life in so many ways," Patterson said of acting. She added, "I am the most happiest on a set. So that feeling — that pure joy — I live for. So that alone is great... You get to meet a lot of really interesting people — really loving people — when you form these relationships, and you get to travel." In recent years, Patterson's current relationship has been revealed. 
Merritt Patterson is married to JR Ringer
Merritt Patterson is officially off the market. Back in October 2021, Patterson posted a picture of herself and her significant other embracing via Instagram. Patterson was visibly wearing an engagement ring on her wedding finger in the black-and-white image. She simply captioned the photo, "08.12.21," alongside a white heart emoji. Following this news, the Hallmark Channel star was interviewed for an Over the Moon blog post as she and her partner, a talent agent named JR Ringer, were tying the knot in a 2022 ceremony that took place in Italy. "You can't go wrong in Italy! The people, the food, the landscape — everything is incredible," Patterson said. 
In the post, it was also shared that the spouses had first crossed paths at a music festival five years prior to the nuptials. When the two wed, their immediate family members and just a few close companions were present. During the intimate wedding, the attendees were not occupied with distractions, as they turned off their cell phones at the event. "We wanted the ceremony to really reflect us as a couple and what we value — not necessarily what's traditional," Patterson said. In addition, the actor revealed a photo of herself and Ringer smiling on their wedding day, per Instagram. Patterson has previously shown some special moments with Ringer.
Merritt Patterson has shared glimpses of her romance with JR Ringer
Merritt Patterson mostly keeps her love life under wraps, but she has occasionally opened up about sweet memories with her partner. In February 2019, Patterson took to Instagram to celebrate a holiday of love. A photo posted by the "Christmas Cottage" star shows Patterson and her now-husband, JR Ringer, lovingly staring at one another as Patterson smiles and holds Ringer's face. "Happy Valentine's Day," Patterson wrote. 
About two years prior to this, Patterson displayed an image of herself posing in the outdoors of British Columbia, Canada, with loved ones by her side, including Ringer. "My favorite place with my favorite people," she captioned the photo, via Instagram. In addition, three months later Patterson posted a selfie with Ringer which was taken while they smooched at an event in Dallas, Texas. "Dear Dallas, you were a 24hr blur but 100% worth it," Patterson said. Ringer tends to keep a low profile, as his Instagram account is currently private. Recently, Patterson displayed an upbeat message while again spending time in her native British Columbia. "Island life is the life for me," she wrote. "Cheers to long summer nights!"