Teresa Giudice's Husband Joe Will Be Deported To Italy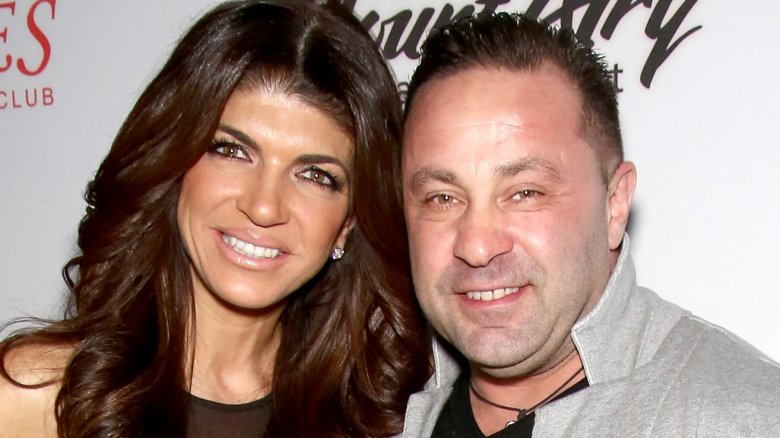 Getty Images
Joe Giudice, the husband of The Real Housewives of New Jersey star Teresa Giudice, will be removed from the United States following his current prison sentence.
On Wednesday, Oct. 10, 2018, Pennsylvania's York Immigration Court revealed that Immigration Judge John Ellington has decided to deport the Italian native back to his home country upon his release from prison on March 14, 2019, Page Six reports.
As Nicki Swift previously reported, Joe and Teresa, who are both 46, were sentenced to 41 and 15 months in prison, respectively, on charges of mail, wire, and bankruptcy fraud in 2014. While Teresa was released early in December 2015 after serving an 11-month stint, Joe is currently behind bars in a federal prison in Allenwood, Penn. The reality TV stars share four daughters together: Gia, 17, Gabriella, 14, Milania, 13, and Audriana, 9.
According to a source cited by Entertainment Tonight on Wednesday, Teresa is understandably "devastated" by the deportation news. However, she's reportedly optimistic that they will be able to appeal the judge's recent decision. It should be noted that the Real Housewives alum and his legal team will have 30 days to do so. 
"The deportation has always been a thing in the back of the family's mind, but now it's a harsh reality," the insider told the publication, claiming that the idea of uprooting the entire family to Italy seems unlikely. "As much as Teresa said she would live in Italy with Joe in the past, that most likely won't happen as her father is in the States, and so is her family and friends," the source said. "If Joe doesn't win the appeal, his relationship with Teresa is in question."
Meanwhile, another insider told ET that the decision was a "huge blow" to the Giudices, who "both felt they could do their time and then be free to continue their lives." The source also alleged, "Many of Teresa's closest friends wonder why she has stuck by Joe throughout this process. But she tells them she loves him and wants to ensure her children grow up with their father."
With some media outlets currently speculating over the state of the Giudices' marriage in the wake of the deportation news, it's important to note that their attorney, James Leonard Jr., told Page Six just last week that Teresa is standing by her husband. At the time, he told the publication, "Teresa is not talking about getting divorced, she is not thinking about getting divorced and she's not filing for divorce. It's not happening, not just now, but never. I can't be any more clear about it."
Joe first moved from Italy to the United States during his childhood. However, since he never became an American citizen after obtaining his permanent residency, the possibility of him facing deportation after serving his sentence has long been discussed in the press. In June 2018, reports surfaced claiming that he risked deportation while still in custody. However, his lawyer denied the rumors at the time, telling to People magazine, "I can state with absolute certainty that no decision has been made regarding the immigration status of Joe Giudice. The same immigration detainer that was lodged against him in March of 2016 remains in place today, but I want to be absolutely clear about this, no judicial authority has made any decision regarding what will happen with that detainer."
The statement continued, "Mr. Giudice has immigration counsel who are and have been working aggressively on his behalf so that he can return home to his wife and four young daughters and we remain optimistic that that is how this will end."
Joe's potential deportation has also followed Teresa around in the Real Housewives sphere for years. In July 2016, she famously walked out of an interview with Access Hollywood after the topic was brought up, saying, "I don't think that's something you should be asking." However, she later shared her thoughts on the difficult matter during the RHONJ season 8 reunion in January 2018. "I mean, Italy's a beautiful place to live," Teresa said at the time, while noting that she "wouldn't mind" moving abroad, if necessary (via People). She continued, "Whatever God has planned for me, that's what's going to happen. I will embrace it the best I can."