What We Know About Courtney Hope And Mark Grossman's Real-Life Relationship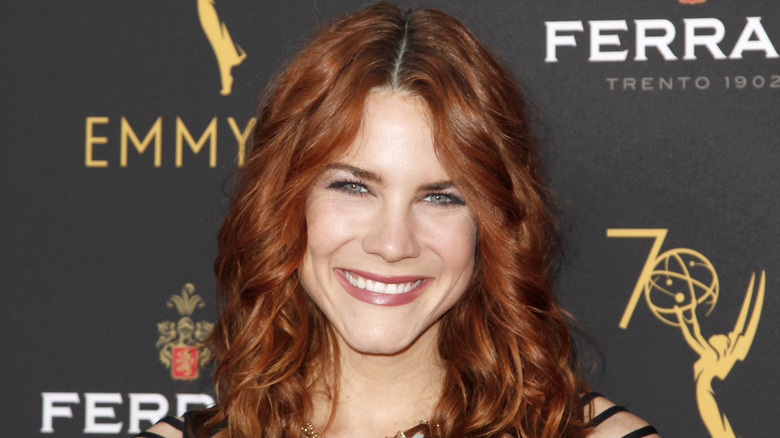 Tibrina Hobson/Getty Images
Courtney Hope and Mark Grossman seem to be living a real-life soap opera. The two actors have had a whirlwind relationship that could honestly be the plot line on "The Young and the Restless."
It all started when Hope left "The Bold and the Beautiful" for a new gig on "The Young and the Restless" in 2020. The soap actor announced the news on social media with her decked out in the show's merchandise. She wrote, "This seems like a good fit...." With Hope moving to the show, many wondered what her role would be. Well, the actor didn't have to delve into a new part completely because her character, Sally Spectra from "The Bold and the Beautiful," was making a new name for herself on "The Young and the Restless," per CBS.
Soap opera fans were eager to see what Genoa City had to offer Hope's Sally, and apparently, it was Adam Newman, played by Mark Grossman. Grossman joined the cast in 2019 and became a part of one of the biggest soap families on television, per CBS. Sally and Adam have since developed an on-screen relationship. Grossman and Hope's chemistry on-screen is undeniable, and many fans have questioned whether the spark on-screen was as real off-screen.
Soap fans believed Courtney Hope and Mark Grossman were in a relationship
Courtney Hope and Mark Grossman's romantic connection on "The Young and the Restless" was good — maybe even a little too good. At least that's what soap opera fans thought! Hope and Grossman quickly became the center of a speculated romance thanks to their characters and their hangouts in real life only seem to confirm to fans they were in a relationship.
When Grossman broke up with his then-girlfriend, Sharon Case, in September 2022, it fueled the romance rumors between him and Hope, according to The Cinemaholic. It didn't help that, not long after, Hope decided to take Grossman as her plus one to a wedding. From that point on, soap fans were convinced the two were exploring a romantic relationship.
Hope and Grossman even seemed to tease fans about a potential relationship after they took a trip to Mexico in December 2022. Grossman documented the trip on social media and several snaps featured Hope and him smiling and holding one another. But that wasn't the last time the two soap stars gave fans something to talk about. In February 2023, Hope shared several photos and videos on Instagram at dinner. And it was no ordinary dinner — while none of the photos featured Grossman, it wasn't hard for diehard fans to pick out his voice in the background of the videos. Also, the actor decided to leave a cheeky "Babe" comment under Hope's post.
Did Courtney Hope and Mark Grossman's supposed relationship already end?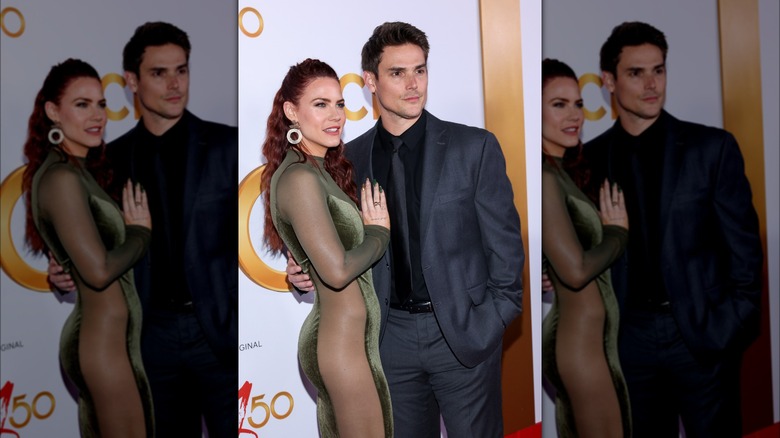 Victoria Sirakova/Getty Images
Courtney Hope and Mark Grossman never confirmed any sort of romance was going on, but now fans think they won't need to. Many viewers of "The Young and the Restless" already believe that Hope and Grossman's romance has run its course. According to Soap Spoiler, the reason fans believe the two actors ended things is because Hope has cleared her social media page of Grossman — mostly anyway. Nowadays, that seems to be all the confirmation people need to determine whether a couple has broken up. Not just that, but the two also attended the "Y&R" 50th anniversary party separately when many thought they would walk hand-in-hand (although to be fair, they did pose with one another for a quick photo.
Whether Hope and Grossman were actually a couple or not, the two still seem to be friends. Hope and Mark have posted clips from their work on "The Young and the Restless" on Instagram and have commented on each other's posts. Hope even wrote, "Couldn't ask for a better partner in this #Ally." So, while they may not be partners in real life, they are partners on-screen. And who knows, maybe they are just getting better at hiding their rumored romance.