Here's Who Hallmark Star Jill Wagner Is Married To In Real Life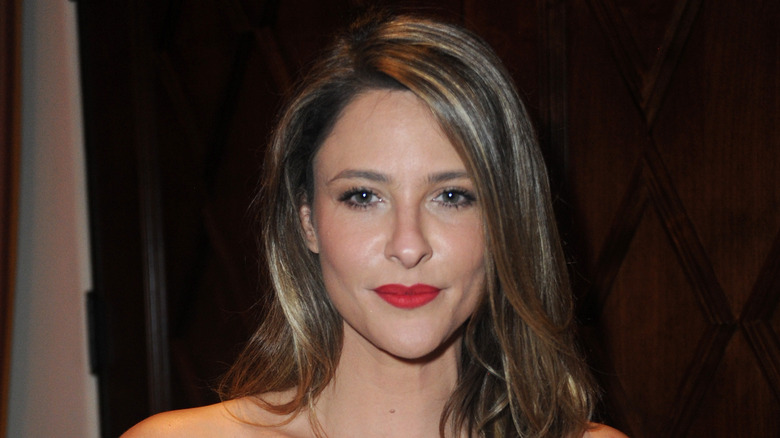 Albert L. Ortega/Getty Images
If you're a fan of the Hallmark Network, then you've heard of Jill Wagner. Since 2015, the former "Teen Wolf" star has made waves on the family-friendly network for her starring role in the "Mystery 101" series and her larger-than-life romance films, where she has great on-screen chemistry. "Here's the great thing about Hallmark is I love that they focus their attention on strong female roles. I really, really love that," Wagner told the "Hallmarkies Podcast" regarding her career with the network. "I also relate to a lot of the characters that I've played, and I think that's the beauty of these characters in Hallmark." 
In addition to her career, Wagner's personal life has also made waves with fans, particularly the Hallmark leading lady's real-life partner, husband David Lemanowicz. Back in 2017, the two lovebirds tied the knot after two years of dating. Since then they have welcomed two children and chronicled their family life on social media. While the couple have only been together since 2015, their love story dates back to their late teens. Join us as we take a deeper look into Lemanowicz and how his love story with Wagner came to be. 
Jill Wagner is married to former hockey player David Lemanowicz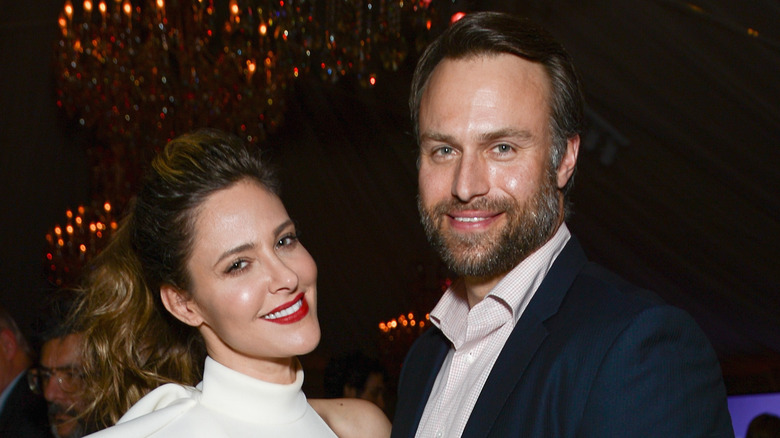 Tara Ziemba/Getty Images
Unlike his wife Jill Wagner, the former Vancouver, British Colombia native's career beginnings started in the athletic world as a professional ice hockey player for the American Hockey League (AHL). Between 1991 and 2008, David Lemanowicz played for an array of teams, including the Kelowna Spartans, Spokane Chiefs, and Rio Grande Valley Killer Bees, per NHL. In 2009, he announced his retirement from hockey and his future in the U.S. Army Reserve. "I don't want to be totally disconnected from hockey forever," he told Spokesmen. "I still love the game, but I want to be part of something bigger — to serve and be a part of a historical narrative."
In a twist of fate, Lemanowicz's career pivot to the U.S. Army Reserve led him to reconnect with Wagner. In an interview on Hallmark's "Home & Family" episode, the "Teen Wolf" star revealed that they had a brief relationship when they were 17 and 20, respectively. "I snuck out and met him. Fell completely head over heels. We went out three times, and then I never heard from him again," Wagner explained. Lemanowicz added that the two reunited 17 years later at the army base in Afghanistan, where he was an OSI agent. "I hadn't seen her in 17 years. [...] [M]y boss that day goes, 'Hey, check out who's coming to base.' And I looked and all of a sudden I go, 'I think I know this girl,'" he said. The two reunited, and in 2016 were engaged.
Jill Wagner and David Lemanowicz also are creative partners
Despite Jill Wagner and her husband, David Lemanowicz, being in two different career fields, the lovebirds collaborated on the Paramount+ latest military series "Special Ops: Lioness." The show, which premiered on July 23, follows Zoe Saldaña, the head of the Lioness program in the CIA. In addition to starring in the series as Bobby, Wagner also takes up the executive producer role alongside creator Taylor Sheridan. In a lengthy Instagram post, the "Autumn Dreams" star revealed that the idea for the "Special Ops" stemmed from a conversation with Lemanowicz. "For those of you who may not know, David and I came up with the concept for this show on our farm in East Tennessee one night over a bottle of whiskey and a bonfire," she wrote.
Wagner then said that during their conversation, they talked about the challenges of being a woman in her 40s in Hollywood. "I think at the time, I was feeling a bit sorry for myself," she explained. "David asked me what my dream role was. I said I wanted to play someone in the military." Wagner's dream role resulted in Lemanowicz telling her the story of the Lioness Team, leading the pair to reach out to Sheridan to pitch the show. "Thank you [David] for challenging me to not give up on my dream and for my way through doubt. [...] We won baby," she wrote at the end of her post.