Poosh: What's The Deal With Kourtney Kardashian's Lifestyle Brand?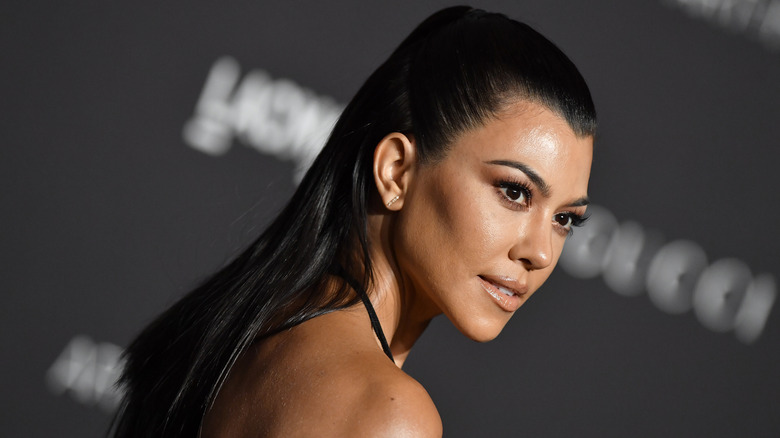 Axelle/bauer-griffin/Getty Images
If there's one family that's not afraid of overexposure, it's the Kardashians. Along with their eponymous reality show, the family has multiple brands across the board, including Kylie Jenner's makeup line and Kim Kardashian's SKIMS brand. In 2019, eldest daughter Kourtney Kardashian posted a nude picture of herself sitting on a bathroom counter and teased on Instagram, "Coming soon @poosh." With no other hints given, many fans were left in the dark about what "Poosh" was, but in a separate Instagram post, Kourtney revealed how she came about the name for this new business venture. "Name: Penelope, Nickname: Poosh," she wrote, while sharing a photo of herself in the bath with Penelope Disick, her daughter, standing next to her.
Poosh's Instagram account didn't offer many hints either. "Educate, motivate, create, curate. #pooshtheboundaries," a series of posts read. After announcing the site was live in April 2019, its Instagram seemed to indicate that the brand covered everything from interior design and skincare, to food and sex. The move came right after Kylie Cosmetics was valued at more than $1 billion and it seems Kourtney is aiming to develop a conglomerate of her own.
Kourtney Kardashian wants Poosh to be the next Amazon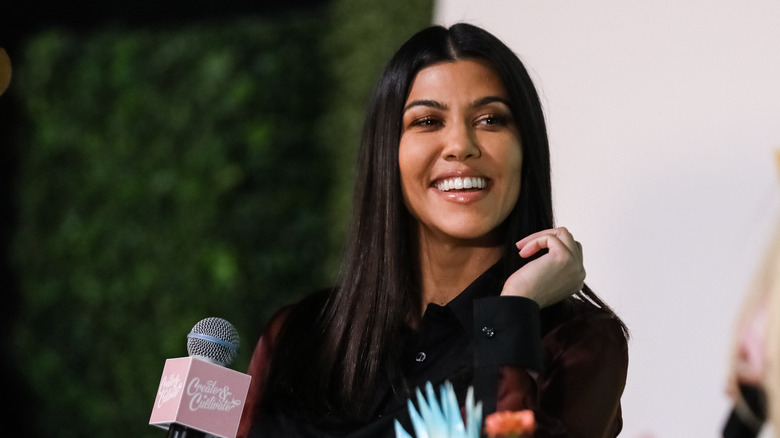 Kelly Sullivan/Getty Images
Kourtney Kardashian certainly kept fans guessing about Poosh, but before its launch, a source told Radar, "Kourtney's line is going to cover everything, basically. Everything that you see in that photo, aside from Kourtney and the Apple laptop, is part of her line." The insider continued, "Ultimately, she kind of wants to be like her own Amazon. And with Kris Jenner's support, she very well might achieve this goal. She's really just trying to cash in on the family's name while she can and this Poosh idea came about after a series of failed ideas."
According to the website, Kardashian created Poosh because she "felt that there was something missing in the healthy lifestyle space." The reality star continued, "People are constantly asking me how I do it all, from being a mom to working full-time to still maintaining a social life. I get endless questions about food, kids, beauty, and fashion, so I decided to create Poosh, a curated experience and a destination for modern living." Since its debut, Poosh has received mixed reviews, along with a lot of confusion as many found the brand similar to another celebrity's lifestyle site.
Poosh has been compared to Gwyneth Paltrow's Goop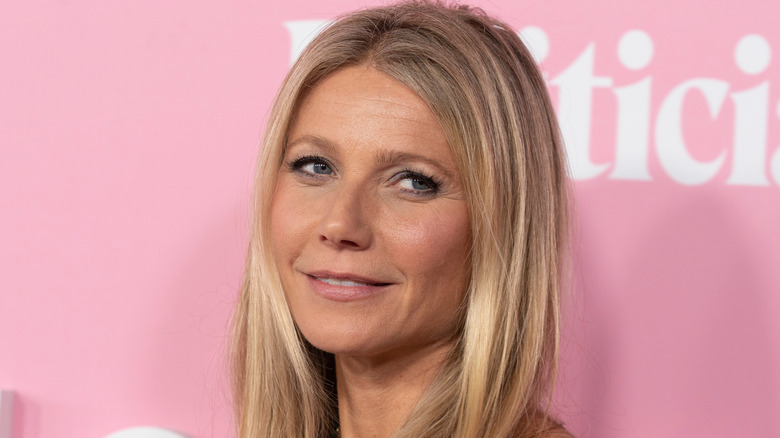 lev radin/Shutterstock
Kourtney Kardashian is not the first celebrity to create her own lifestyle brand and she won't be the last. However, her latest passion project, Poosh, is being called out by fans for being a bit too much like Gwyneth Paltrow's Goop. "If anyone else stopped to wonder why Kourtney Kardashian's new lifestyle site 'POOSH' felt all too familiar, perhaps it is because of the new site's striking [resemblance] to Gwyneth Paltrow's own brand and lifestyle blog 'GOOP,'" a fan tweeted. Another wrote, "Kourtney Kardashian's lifestyle site has actually made me appreciate Goop. Yes, Gwyn is nuts, but Poosh is so devoid of any personality at all it really is the least interesting website to look at."
Amid the comparison of the two websites, Paltrow was quick to defend Kardashian. "This idea that women need to be in competition is legacy patriarchy bull***t, there is room for EVERY woman to fulfill her dreams," she wrote in an Instagram Story (via People). "I used to fall prey to this kind of thinking years ago, so I understand where it comes from. Now I get so happy when I see new wellness businesses there is a place for all of us," the actor continued. 
Paltrow isn't the only celebrity to support Kardashian. Poosh's Instagram feed is full of famous faces, including Kardashian's sisters. The eldest has always differentiated herself from the clan and it looks like Kardashian is determined to pave her own way with Poosh.