The Cheating Scandal That Rocked Snooki And Jionni LaValle's Marriage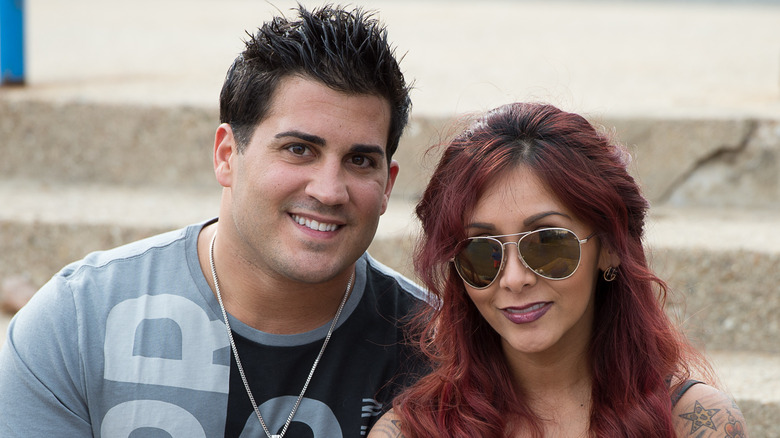 Dave Kotinsky/nep/Getty Images
The mid-2000s were full of reality television gems, and MTV's "Jersey Shore" was the gift that kept on giving. While most of the cast members left memorable marks, Nicole "Snooki" Polizzi was one meatball viewers couldn't forget, as she stepped into the scene with a loud, "Party's here!" She not only charmed "Jersey Shore" fans, but also her now-husband, Jionni LaValle. Season 3 brought them together after a drunken hookup during which she couldn't remember his name, so she called him "Bernard."
After a few ups and downs, they eventually became serious and in 2012, Snooki announced that she was pregnant and engaged to LaValle. "I have different priorities now. I don't care what anybody else thinks. As long as I know I'm ready and he's ready," she told Us Weekly. After having their first child, son Lorenzo, in August 2012, the couple welcomed their daughter Giovanna Marie in September 2014. The following November, they tied the knot in a Great Gatsby-themed wedding. 
Polizzi and LaValle seemed to be fist-pumping their way through life together, but a year after their wedding, they found themselves having to fend off cheating rumors.
Jionni LaValle was named in the Ashley Madison scandal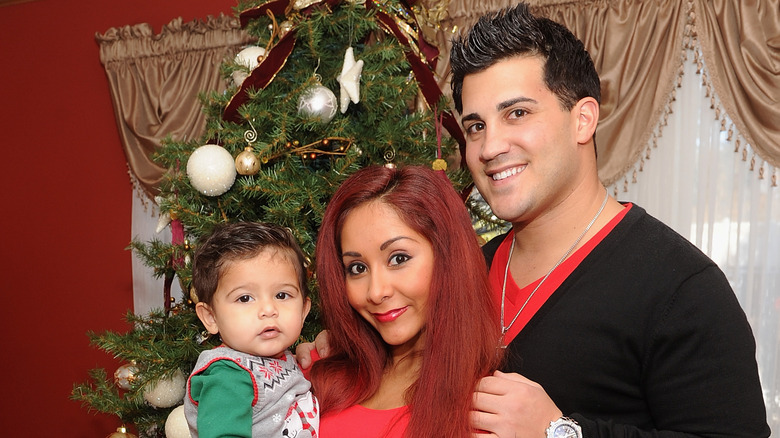 Jamie Mccarthy/nep/Getty Images
In 2015, the online cheating site Ashley Madison was hacked and more than 30 million names and email addresses were leaked — including Nicole "Snooki" Polizzi's husband, Jionni LaValle. The "Jersey Shore" star was quick to do damage control, posting on Instagram, "This morning when I got a call from my publicist that a story was going to be printed on my husband 'allegedly' signing up on Ashley Madison, I laughed- and said lets not even comment and give the story any juice, because it couldn't be any further from the truth." Snooki went on to defend LaValle, calling him a "stand up guy" and stated, "Honestly, if he wanted to cheat- he would go out and do it. Not sign up on a website and pay for it. Jionni is a good guy and doesn't need his name being tarnished."
Polizzi then went on her podcast, "Naturally Nicole," to further dispel cheating allegations. "I'm lucky if he knows how to even use a computer, yet go on Ashley Madison to cheat on me. It's so stupid, and we honestly think, like, someone is trying to f**k with us because this isn't the first story that Jionni's been cheating on me. But all these stories never have evidence," she declared (via Entertainment Tonight). Yet, despite her fervent defense of her husband, it seems that things were different away from the public eye.
Snooki was determined to make her marriage work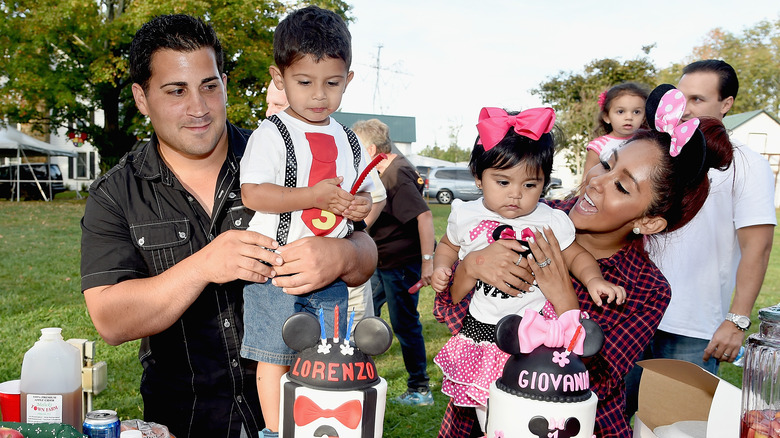 Jamie Mccarthy/Getty Images
Nicole "Snooki" Polizzi told the public Jionni LaValle would never cheat on her, but according to one source, there was trouble in paradise after the Ashley Madison scandal. "She's pissed and upset. They're screaming at each other. She thought he would never cheat on her. In her book, Jionni was always the stand-up guy. She never thought he could pull anything unforgivable or hurt her," an insider told Radar. Despite the bump, the source noted that Polizzi would never divorce LaValle, stating, "She always wanted the perfect Guido, the family, the kids. Nicole has said she wants two more kids. I wouldn't be surprised if she gets pregnant again to counter this."
As predicted, on May 30, 2019, the two welcomed their third child together, son Angelo James. "He is so sweet and a spitting image of Lorenzo as a baby. Jionni and I can't wait to see how being outnumbered turns out!" the reality star gushed to People. It seems family life has taken over for Polizzi and LaValle. On the "We Are Family" podcast, Snooki revealed that she and LaValle sleep separately and shared, "I co-sleep with [Giovanna] and my husband sleeps with my son and the baby's just in the crib." The family is still going strong after the scandal and Snooki gave her husband a Father's Day shoutout. "Happy Father's Day to the best daddy to our kids! You deserve a stress free day with golfing & fun. We love you!" she declared.