What Larsa Pippen And Marcus Jordan Have Said About Having Kids Together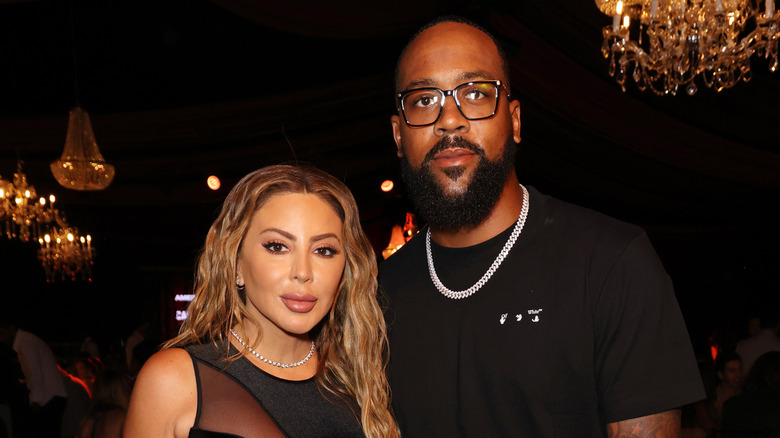 Alexander Tamargo/Getty Images
Larsa Pippen and Marcus Jordan surprised fans everywhere with their unexpected romance. The pair — who first met through mutual friends at a party in 2019 — sparked dating rumors last year after they were spotted out together to lunch in Miami. 
Jordan is the son of basketball legend Michael Jordan, and Michael Jordan is the former teammate and nemesis of Pippen's ex-husband, Scottie Pippen. Despite their complicated ties (and the 16-year age gap between Larsa and Marcus), the "Real Housewives of Miami" star defended her friendship with Jordan on Andy Cohen's "Watch What Happens Live" in 2022. She told Andy, "I think a lot of people think that our families were really close and intertwined, and they really weren't. Like I never really knew Marcus' mom or them. I just met them a couple of years ago." She also denied the dating rumors, insisting at the time that she and Jordan were just friends.
However, several months after that interview, sources close to the couple said that the two are dating. "It is still casual and they're having fun," an insider told People at the time. Another source claimed that Pippen and Jordan are "definitely into each other." Noting, "[Larsa] really likes Marcus a lot." Finally, Pippen put all speculations to rest by admitting her relationship with Jordan in January. Since then, the two have not been shy about discussing their romance in public, including their candid thoughts on marriage and having kids together in the future.
Pippen and Jordan are keeping an open mind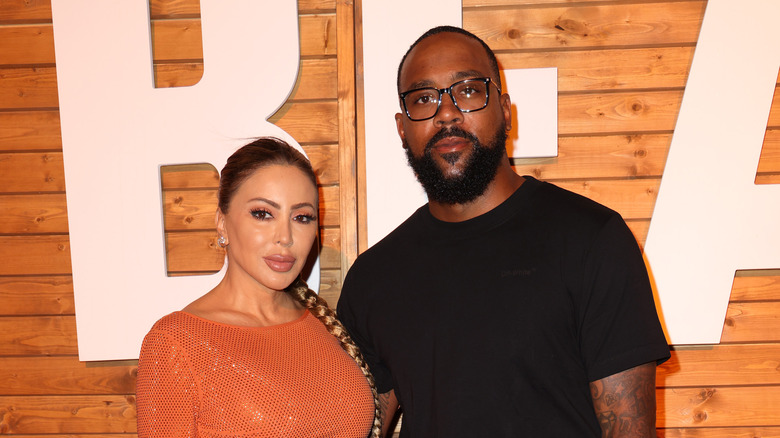 Alexander Tamargo/Getty Images
Despite the initial backlash surrounding their relationship, Larsa Pippen and Marcus Jordan appear to be quite serious about each other. In an interview with Entertainment Tonight in July, they opened up about their new romance and if they see themselves tying the knot in the future. "Hopefully. I think it's not out of the realm of possibilities," Jordan said. Pippen agreed, saying, "I think so." The Bravo star, who is already a mom to four kids, said, "I feel like I'm great, but if he wanted to have children [I would give it to him]. Because I would never want him to miss out on that."
Previously on their "Separation Anxiety" podcast, Jordan said that while the topic of kids has been brought up several times, they have yet to have a serious conversation about starting a family. "It's something that we'll have to discuss further down the road at some point," he acknowledged. Despite having kids being out of his mind for years, the Trophy Room founder admitted that he has been thinking about becoming a father recently. 
For her part, Pippen said that while she is happy with her kids, she is open to having just one more child in the future. "It's one of those things where I think time will tell, you know?" the "RHOM" alum said.
Jordan is close to Pippen's kids
Larsa Pippen shares four children with her ex-husband Scottie Pippen — sons Scottie Jr., Preston, and Justin, and daughter Sophia. In an interview on "The Tamron Hall Show" in July, Pippen talked about her kids' relationship with her boyfriend, Marcus Jordan. "My kids love Marcus," the "RHOM" star said, per StyleCaster. "We travel together... my kids really enjoy spending time with him," Pippen said. "He's really close with my kids," she shared during a chat with E! News. "We spent Thanksgiving in Chicago with our families, and they had a great time."
Speaking with E!, the son of Michael Jordan shared what it's like being a father figure to Pippen's kids. "I think, you know, the beauty of it is that Larsa's kids are a little older. And I feel like when you're dating someone with kids who are younger, maybe you need to be a little more involved ... in the relationship. Me, I'm more of a fly on the wall," he explained. He then praised Pippen for being an excellent mother, saying it inspires him to see just how close she is to her children. "They're great kids. Larsa, she's, like, best friends with them so they talk every day. And so, I just feel like her relationship with her kids really inspires me that one day, when I do have children, I want to be a parent like she is," Jordan said.