What Happened To Sam And Alyssa From Are You The One?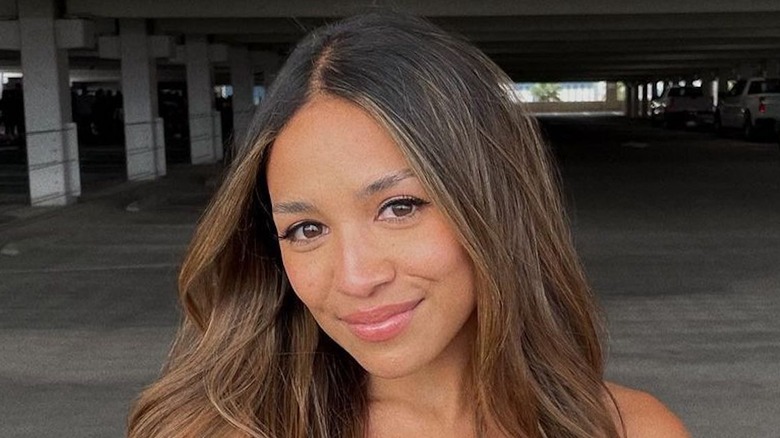 Instagram
Many would jump at the chance to find their perfect match. Some people even do it on television. "Are You the One?" revolutionized what a reality dating show looks like. The premise of the show is to bring a select number of single individuals into one big house, searching for their "perfect match," per People. The only problem is that they have no idea who it is, and each week they have to test whether the person they are coupled up with is their perfect match. If they don't decide who the entire group's perfect match is by the end of the season, they lose out on the chance of winning 1 million dollars!
As couples have come and gone on the show, there have been several that have made a lasting impression on viewers. One of those couples was Sam Handler and Alyssa Ortiz. Handler and Ortiz were on the fourth season of the hit MTV show and were ready to find a genuine connection. Handler told the Chicago Tribune, "I consider myself a gentleman that's a genuine Midwestern guy. I'm all about a true connection." And a true connection is what Handler found, immediately when he entered the villa in Season 4, he connected with Ortiz, per The Cinemaholic. 
Although they faced some bumps in the road and dated other people in the house, they always found their way back to one another. So, were Handler and Ortiz perfect matches? And what has happened to them since?
Sam and Alyssa were a perfect match until they weren't
Sam Handler and Alyssa Ortiz proved to be a true match after they were sent to the truth booth, per The Cinemaholic. Each week the rest of the singles vote to send a couple into the truth booth, which reveals if the two are a perfect match or not. Luckily for the group, Handler and Ortiz ended up being a match!
While they may have been a perfect match on the show after the show wrapped, they were anything but perfect. Handler revealed to MTV (via IBtimes) he and Ortiz had a mutual breakup as they decided they didn't want to do a long-distance relationship and instead would "let fate work its magic" if they were ever to get back together. However, at the show's reunion, Handler dropped the bombshell news that Ortiz got back with an ex after they wrapped filming. But, there are always two sides to a story, and Ortiz told hers too.
The reality star took to Twitter to share what she claims went down between her and Handler. She wrote, "For those watching the @AREUTHE1 Facebook Live, Sam left out the part that he didn't want to be with me at first once the show ended." Ortiz clarified in a separate tweet that she didn't pursue any relationship until Handler said he didn't want to be in one. Of course, when Ortiz did get into a relationship, that's when Handler wanted her the most.
Alyssa Ortiz has moved on from Sam Handler
Sometimes "Are You the One?" works, and other times it doesn't. Unfortunately, it didn't work for Alyssa Ortiz and Sam Handler. It's been over five years since they first appeared on the show, and since then, Ortiz has found her happily ever after. In October 2022, the reality star posted photos of her surprise engagement to her now fiancé, Kevin Melaniphy. She captioned the photo, "the biggest surprise + easiest yes." Since her engagement, Ortiz has kept her followers a part of the wedding process. From wedding dress shopping to engagement photos, the "Are You the One?" star has been ecstatic to share her journey. Her wedding doesn't seem too far off now, as her Instagram bio reveals that she has a date set for sometime in 2024 on the beautiful island of Puerto Rico.
Ortiz has a lot to look forward to in the coming years! As for her perfect match, Handler, after the show wrapped, the former reality star stepped out of the limelight, per Byliner. Not much is known about his personal life as he refrains from social media. Handler's personal life is so secretive that it's unclear as to whether the "Are You the One?" star is in any sort of relationship. What we do know, however, is that Handler and Ortiz were never a "perfect match."