How Blue Bloods Star Tom Selleck Landed In Legal Trouble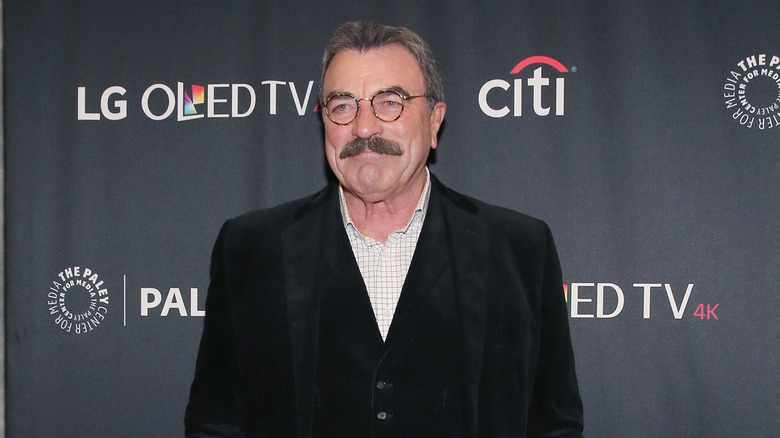 Mireya Acierto/Getty Images
Tom Selleck has played a powerful cop on TV for over a decade, but that didn't stop him from facing his own legal trouble. Although Selleck's acting run -– which includes playing Richard Burke in "Friends" –- dates back several decades, he stumbled into one of his most popular roles, Frank Reagan on "Blue Bloods," in 2010. According to CBS, the drama revolves around a father and his children (all cops) as they struggle to keep the peace in NYC and within their tight-knit family. Burke's character is the NYC Commissioner.
During an interview with CBS News, Selleck revealed his emotions about "Blue Bloods" reaching 250 episodes in 2022. "It's a big deal. It's still kind of sinking in because it seems like yesterday we were doing the first one, and I was talking to [co-star] Donnie [Wahlberg] about it today, and it's just gone so fast. I think 'cause we like our jobs and we like our show," Selleck revealed. "We have this actors' family, and it's a great big family, and we all kind of love each other. Don't tell them, but we do."
Unfortunately, Selleck's vast experience playing a law enforcement officer didn't exactly help him to stay on the good side of the law.
Tom Selleck was sued over his water usage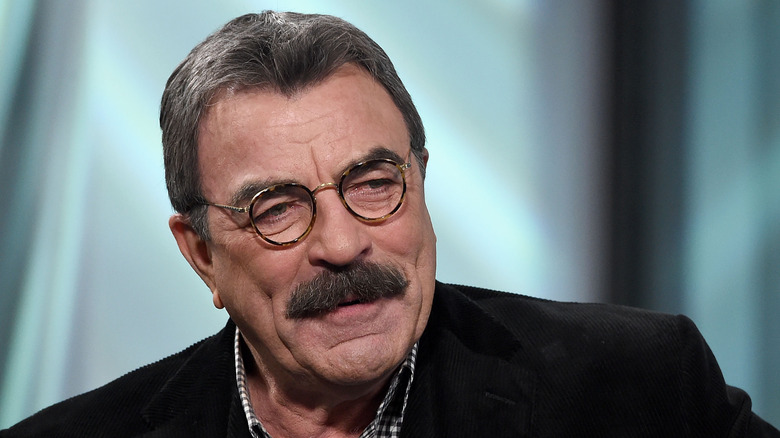 Jamie Mccarthy/Getty Images
In 2015, the Calleguas Municipal Water District sued Tom Selleck for using water from a public fire hydrant to nourish his avocado farm during a prolonged drought, according to NBC News. The P.I. assigned to the case found that Selleck had sent a truck from Ventura County – where his farm is located – to retrieve water and bring it back to his crops. The water district sought to block Selleck from accessing the out-of-district water. They also demanded that he repay them for the price of the private investigator.
In late July, Selleck and the district settled their confrontation. According to The Guardian, Selleck took responsibility for obtaining the water and agreed to write the district a check for around $21,000. At the time, Thomas Slosson, the district's president – reiterated how unfair Selleck's actions were to the locals. "Underpinning these laws is the concept of basic fairness," he said. "That is, residents and businesses within the district -– the rightful users of district water -– paid for the construction, maintenance and operation of the public works necessary to meet their water needs, not those of other landowners outside Calleguas' legal boundaries."
Tom Selleck once sued a tabloid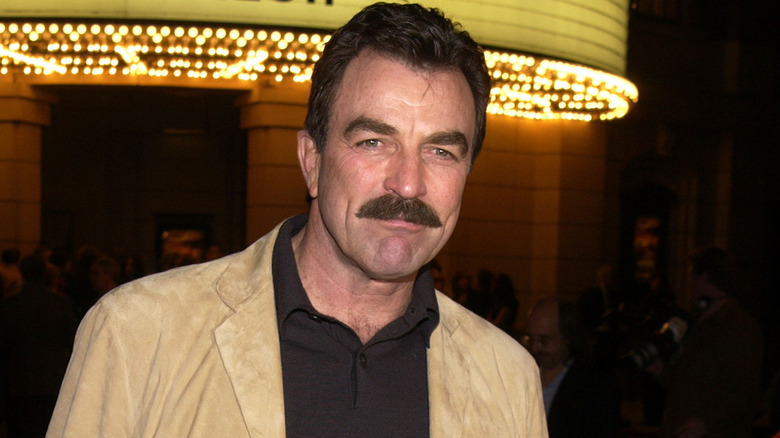 Jean-paul Aussenard/Getty Images
In hindsight, it's rather unfortunate that Tom Selleck's day job of owning an avocado farm led him toward legal trouble. Then again, Selleck was super shady for hoarding water while much of California was struggling during the drought. But this particular situation wasn't the first time Selleck was involved in a lawsuit. According to the Los Angeles Times, in 1999, Selleck challenged the tabloid The Globe to a huge lawsuit after it published a story implying that he was gay  — a situation that was oddly similar to his 1997 film, "In & Out." 
In response to the article, Selleck said, "I am as proud of my sexual preference as those who happen to be gay are of theirs." He continued, "There is not a man who has lived on the face of the Earth in my lifetime who can truthfully deny what is so obviously my choice; that is, that I am singularly heterosexual." Selleck asked for $20 million. 
During an interview with Entertainment Weekly, Selleck explained why he decided to go after the tabloid company. "I thought suing the tabloid was right," shared the star. "I didn't think in terms of giving them more publicity. There is a very important issue here about how people lie. If truth and justice can still be used in the same sentence — and I think they still can — then this thing will work itself out just fine."