Celebrities Who Made Comebacks After A Stroke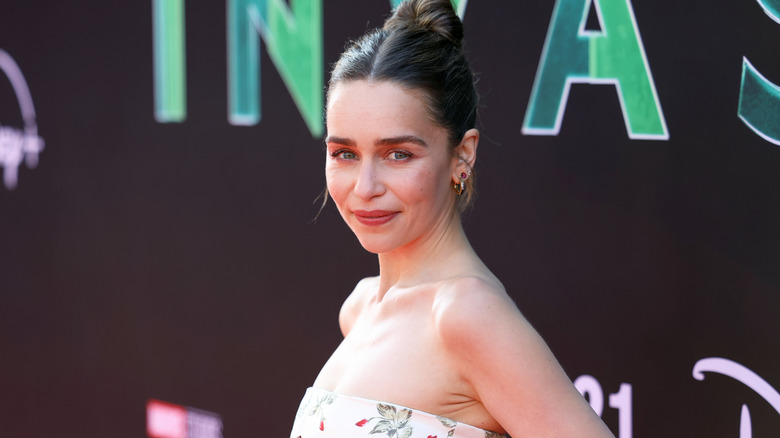 Jesse Grant/Getty Images
As superhuman as some celebrities may seem, they are, in reality, human like the rest of us. And like the rest of us, they can face serious health issues. A number of famous people have been candid about experiencing strokes, their ages ranging from their early 20s to their 70s. While a stroke can often be fatal, this group of stars worked through the condition, underwent rehabilitation to regain function, and found their way back into the spotlight.
Revealing just how scary a stroke diagnosis can be, "Game of Thrones" icon Emilia Clarke discussed her own experience with a subarachnoid hemorrhage, or SAH, in which bleeding occurs in the area around the brain. In an essay for The New Yorker, Clarke wrote, "I remember being told that I should sign a release form for surgery. Brain surgery? I was in the middle of my very busy life — I had no time for brain surgery." She continued, "But, finally, I settled down and signed. And then I was unconscious. For the next three hours, surgeons went about repairing my brain. This would not be my last surgery, and it would not be the worst. I was twenty-four years old."
Here, we take a look at some famous celebrities who have dealt with strokes and have faced intensive rehabilitation to overcome the troubling symptoms caused by the health crisis.
Hailey Bieber experienced a mini-stroke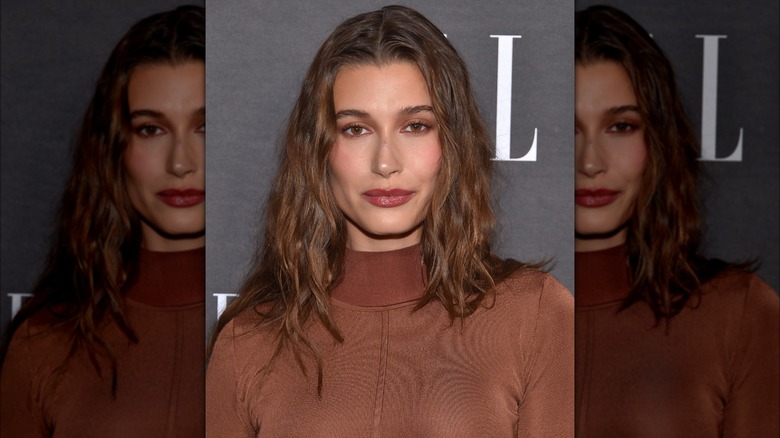 DFree/Shutterstock
Hailey Bieber is known for many things, from her marriage to pop superstar Justin Bieber to her successful skincare brand Rhode. But in April 2022, Hailey opened up about her own experience of having a mini-stroke, which caused some terrifying symptoms to develop. In an Instagram video, Hailey said that one morning over breakfast, she went numb from her shoulders to her fingers. After that, the right side of her face drooped and she realized she couldn't talk. "I thought I was having a stroke," she said on Instagram.
Hailey was rushed to hospital, where she underwent a battery of tests to try to determine what was going on. Although her symptoms dissipated while she was there, doctors revealed to the young star, who was 25 years old at the time, that she'd had a TIA, also known as a transient ischemic attack. A TIA occurs when a small blot clot forms on the brain, stopping blood flow, and creating symptoms akin to a stroke. Luckily, a mini-stroke usually only lasts for several minutes, but the experience was understandably terrifying for Hailey. "It was definitely the scariest moment of my life — there were so many things running through my head," she said on Instagram. "My body was able to resolve it pretty quickly and I didn't have any more issues for the rest of the day ... I felt thankful and grateful that it wasn't worse."
Roberta Flack faced several diagnoses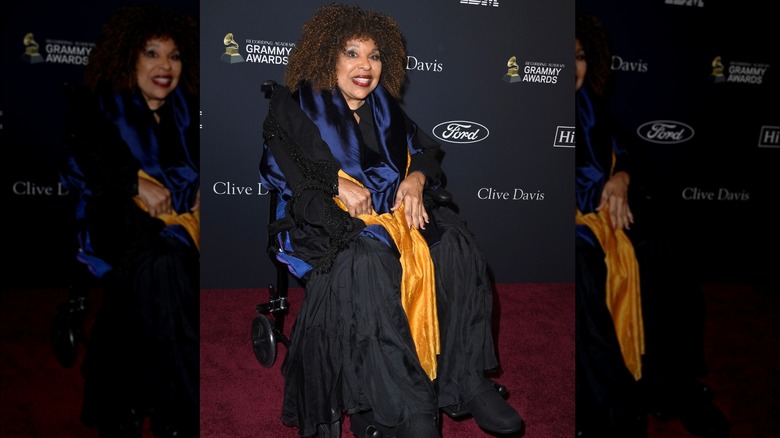 Steve Granitz/Getty Images
Legendary singer Roberta Flack experienced a stroke in 2016, but it didn't stop her from wanting to perform. In April 2018, People reported that Flack had been taken to hospital from the Apollo Theater in New York, where she had been getting ready to receive the Lifetime Achievement Award from the Jazz Foundation of America. Flack's rep told People, "She suffered a stroke a few years ago. ... She didn't feel well so it was best to take her to the hospital. She's doing fine but is being kept overnight for observation."
In 2022, Flack opened up about the challenges she'd faced in recent years during an interview with People, noting that the COVID-19 pandemic had made performing more difficult. "I don't know what the next two years will hold, but I hope to see my fans in person sometime soon," she told the publication. She also added, "The pandemic has kept most of us off the stage for two years." In November 2022, Variety reported that Flack had subsequently been diagnosed with ALS, or amyotrophic lateral sclerosis, a neurological disease which affects a person's motor neurons, affecting muscle movement. While ALS reportedly affected Flack's ability to sing and speak, her manager Suzanne Koga told AP News (via Variety), "It will take a lot more than ALS to silence this icon."
Tim Curry focuses on voice work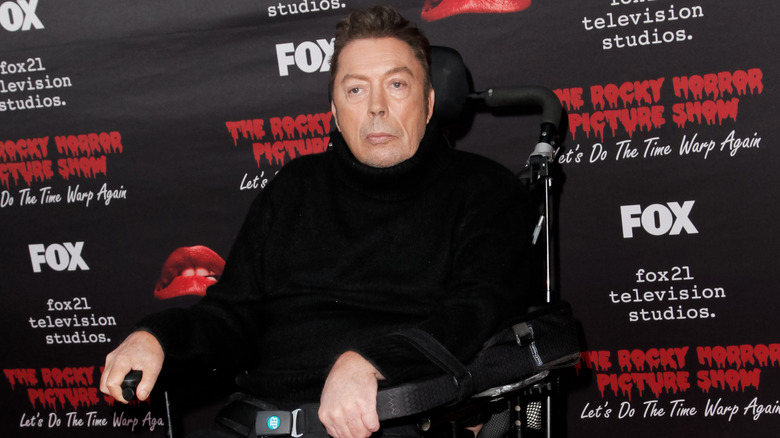 Tibrina Hobson/Getty Images
Tim Curry is best known for playing the inimitable Dr. Frank-N-Furter in "The Rocky Horror Picture Show," Pennywise the Clown in the 1990 TV adaptation of Stephen King's "It," and for his scene-stealing appearances in films like "Home Alone 2: Lost in New York" and "Muppet Treasure Island." In May 2013, The Hollywood Reporter revealed that Curry was undergoing physical therapy after having a stroke in July 2012. Marcia Hurwitz, Curry's agent, told the publication, "Tim had a stroke last July ... He has been going to physical therapy doing very well and still has his great sense of humor. He thanks everyone for sending good wishes."
Since his stroke, Curry has continued to work as a voice actor, lending his dulcet tones to everything from "Ben 10: Omniverse" to "Star Wars: The Clone Wars." While reflecting on his bountiful career in 2015, Curry discussed the importance of having a sense of humor, telling Los Angeles Magazine, "Vital. Absolutely vital. It's not tough to maintain. It is just part of my DNA."
A triumphant return to Dick Clark's New Year's Rockin' Eve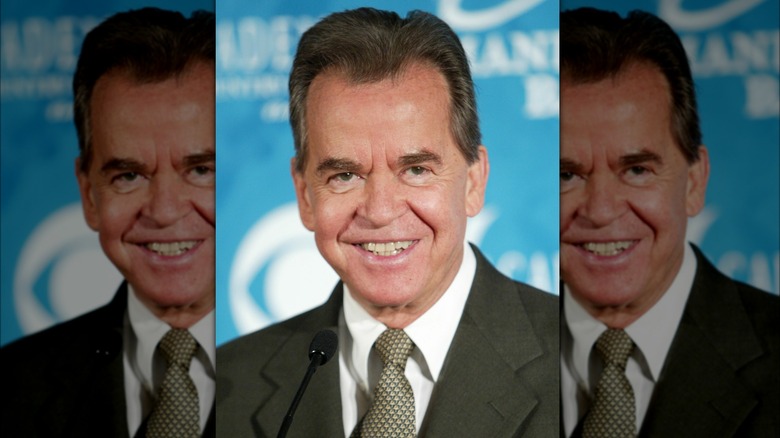 J. Merritt/Getty Images
"American Bandstand" host Dick Clark died on April 18, 2012, at the age of 82. Years before his death, Clark survived a stroke, and recounted the scary experience during an interview with the AP (via Today). The stroke occurred in December 2004, and Clark explained, "I woke up in the morning and my right side didn't work. I thought a dog had slept on my side." He continued, "My wife said, 'I think you had a stroke,' and she drove me to the hospital." He spent several weeks at Burbank's Providence Saint Joseph Medical Center, and began rehabilitation immediately. "Your life changes overnight," he told the AP.
According to the Los Angeles Times, Clark missed the broadcast of "Dick Clark's New Year's Rockin' Eve" in 2004, but returned the following year alongside Ryan Seacrest. Per the publication, Clark worked hard to regain his ability to walk and talk following his stroke, while experiencing symptoms such as slurred speech and bodily paralysis. Clearly, Clark had a determination to return to his life and career, even in the face of debilitating symptoms.
Randy Travis' return to singing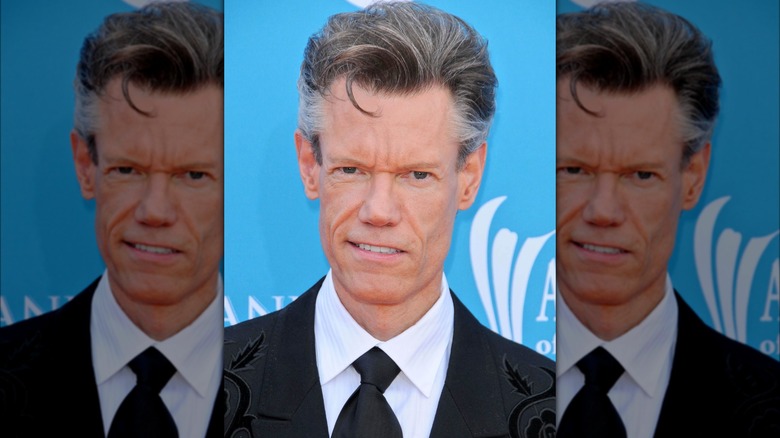 s_bukley/Shutterstock
American singer and songwriter Randy Travis had a near-fatal stroke in 2013, which resulted in a coma, with the performer needing to undergo brain surgery. Doctors even suggested taking him off of life support after Travis had developed viral cardiomyopathy and had a huge stroke, leaving him with only a small chance of survival. Speaking to Rolling Stone in 2020, the singer's wife Mary Travis revealed, "our world kind of shut down and came to a screeching halt seven years ago, when the stroke happened in July 2013. That's when we hit a brick wall and everything changed and we were isolated from everything we had known before."
With the support of his wife, Randy fought to stay alive, and the decision was made that he wouldn't be taken off of life support. Since then, Randy has even returned to singing, with the songwriter performing "Amazing Grace" while being inducted into the Country Music Hall of Fame in October 2016. "There is a perfectionist in him that knows he's not singing exactly like he used to that keeps him from enjoying it like I wish he would," Mary told The Tennessean in 2017. "I know the world when they hear him, they can tell it's Randy Travis, and the more he does it, the better it's going to get."
Emilia Clarke experienced a subarachnoid hemorrhage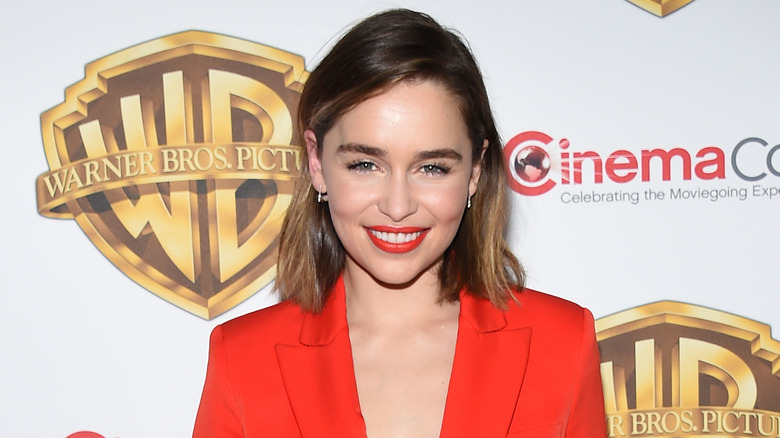 DFree/Shutterstock
Emilia Clarke shot to superstardom as Daenerys Targaryen on HBO's "Game of Thrones," but just as her career was beginning, the young actor experienced a serious health ordeal. In an essay for The New Yorker, Clarke revealed that she'd been working out when she started to experience an excruciating pain in her head, as if pressure was being applied to her brain. After being transported to hospital, Clarke quickly found out what had happened. "I was sent for an MRI, a brain scan," she wrote for The New Yorker. "The diagnosis was quick and ominous: a subarachnoid hemorrhage (SAH), a life-threatening type of stroke, caused by bleeding into the space surrounding the brain. I'd had an aneurysm, an arterial rupture." Clarke was 24 years old at the time.
Clarke survived her first aneurysm, but was left with a second smaller aneurysm, which doctors told her would hopefully not cause any problems. However, following a routine brain scan after the third season of "Game of Thrones," Clarke was told that the aneurysm was twice the size it had been, and that surgery was crucial to try and save her life. "In the years since my second surgery I have healed beyond my most unreasonable hopes," she wrote for The New Yorker. "I am now at a hundred per cent." Thankfully, Clarke was able to survive both aneurysms, but the outcome could have been very different.
Samantha Morton recovered from her stroke in private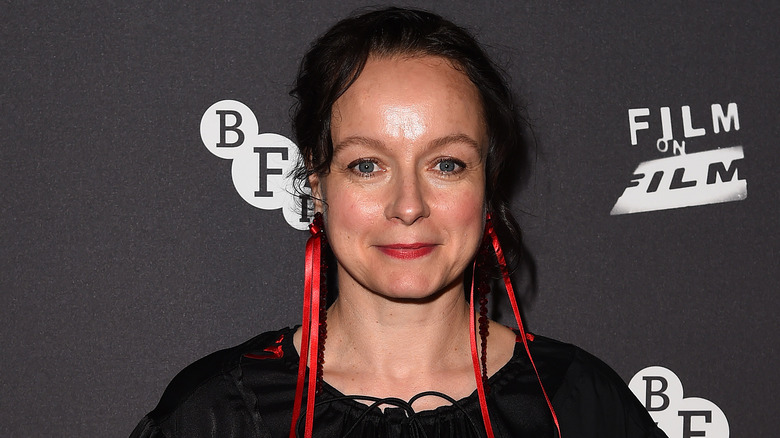 Eamonn M. Mccormack/Getty Images
Two-time Oscar nominee Samantha Morton experienced a stroke at the height of her career, after starring in 2002's "Minority Report" and "In America." In an interview with Observer Music Monthly (via The Guardian) in 2008, Morton revealed that she'd had a stroke two years prior following a severe injury, which occurred when the ceiling of her house caved in and hit her on the head. As a result, she was forced to pull out of the film "Transsiberian," which was released in 2008, being replaced by Emily Mortimer, and a long rehabilitation period followed.
Speaking to the Daily Record, Morton noted, "I think the word stroke frightens some people because they associate it with older people." She continued, "It can happen to anybody, any time." The publication revealed that Morton was forced to spend three weeks in hospital while recovering from her stroke, and that it took her 18 months of rehabilitation to regain function afterwards. "I had to learn how to walk again, had to learn how to use my hands again," she told the Daily Record. "It was a huge thing."
Sharon Stone's career changed after her stroke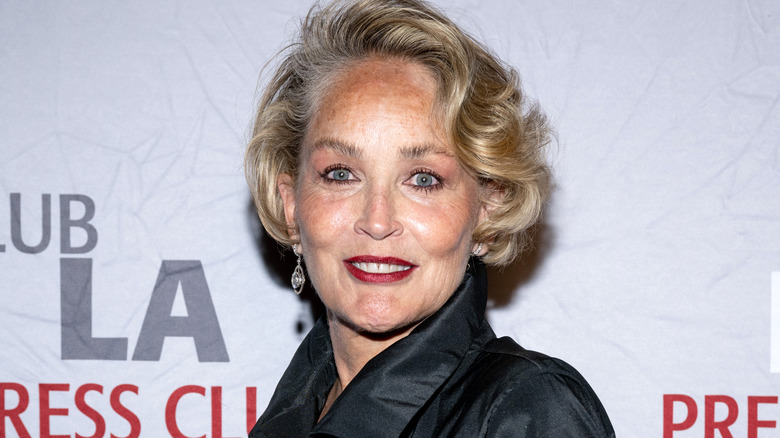 Amanda Edwards/Getty Images
In 2001, Oscar nominee Sharon Stone had a stroke and brain hemorrhage, and she was only given a 1% chance of survival. While Stone made a recovery, she's detailed the effect her health crisis had on her acting career, revealing at The Hollywood Reporter's Raising Our Voices luncheon gala in May 2023, "I recovered for seven years, and I haven't had jobs since." She continued, "When it first happened, I didn't want to tell anybody because you know if something goes wrong with you, you're out. Something went wrong with me — I've been out for 20 years. I haven't had jobs. I was a very big movie star at one point in my life."
Stone also detailed her experience of surviving a brain hemorrhage and stroke in her memoir, "The Beauty of Living Twice." While promoting her book, the "Casino" star told NPR, "I had to learn to walk and talk and function and regain all of my abilities — and I lost my family, my career, my simple abilities to function — I had to start from the ground up." Clearly, Stone's life and career were both impacted greatly when she experienced a stroke and brain hemorrhage, and she's worked hard since to rebuild. Hopefully, Hollywood will start to take notice of the talented star once more, and realize that she deserves her place as one of our generation's most wonderful performers.
Larry King was set on getting back to work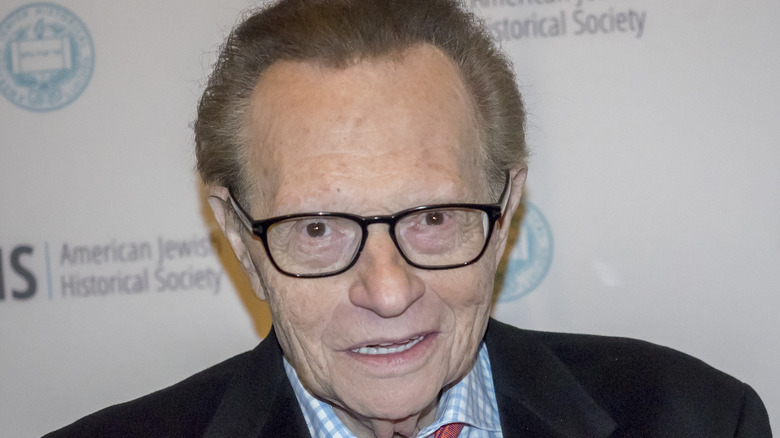 Sam Aronov/Shutterstock
In November 2019, Larry King celebrated his 86th birthday, and also revealed that he'd had a stroke, which had caused him to go into a coma for two weeks. Speaking to Extra, King explained, "Everything got better except my left foot, and I have been rehabbing that every day, and they say I will be walking by Christmas." The stroke also left King with memory loss, who said, "I don't remember anything since March ... I haven't driven a car, but I'm back at work and that makes me feel great." As noted by Extra, King returned to both of his shows, "Larry King Now" and "Politicking with Larry King," following his stroke. "My head doctor said I have an incomparable spirit," he told Extra. Basically, King was determined to go back to work and to complete his rehab, despite having been in a coma just months earlier.
While the stroke changed King's mobility and left him with considerable memory loss, the television and radio host remained in the public eye until his death on January 23, 2021 of sepsis, after contracting COVID-19. 
Susan Boyle returned to the stage after a minor stroke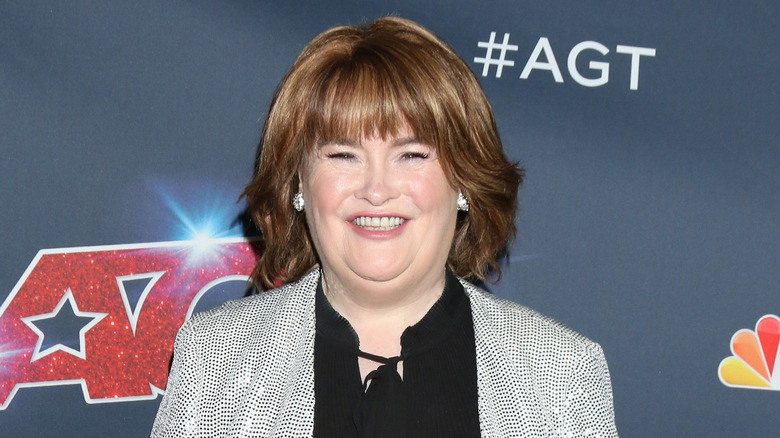 Kathy Hutchins/Shutterstock
"Britain's Got Talent" Season 3 runner-up Susan Boyle wowed the judges with her powerful voice, which has since taken her all over the world. However, Boyle has also had to contend with some serious health issues. In 2023, she returned to the "Britain's Got Talent" stage to perform "I Dreamed A Dream" with the West End cast of "Les Misérables." Afterward, she revealed that she had experienced a minor stroke the previous year. When asked what it was like to be back on the talent show stage, Boyle responded, "It feels great. It is extra special for me actually because last April there, I suffered a minor stroke." She continued, "And I have fought like crazy to get back on stage. And I have done it."
Longtime judge Simon Cowell also pitched in, saying, "Susan, we owe you so much and I knew you weren't well, but if anyone was going to come back, you were going to come back, because it wouldn't be the same without you." While it can't have been easy to deal with the symptoms of a minor stroke, Boyle proved that she wasn't going to stop singing following the health event.
Kid Cudi's unexpected stroke happened in rehab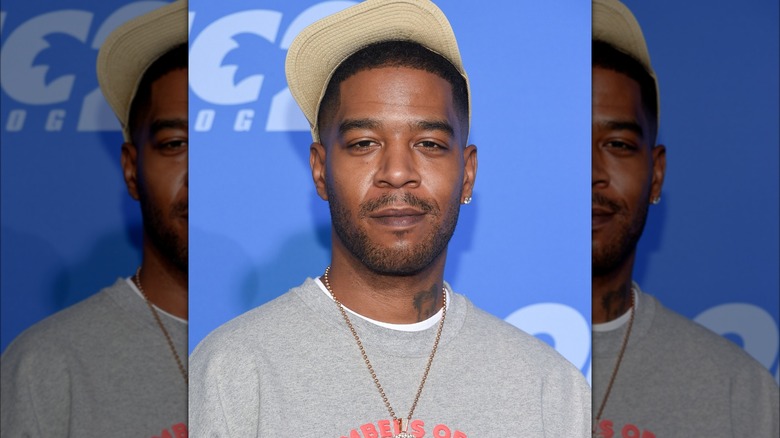 DFree/Shutterstock
In 2016, rapper Kid Cudi decided to check himself into rehab to address his mental health. However, just two weeks into his rehab stay, Cudi had a stroke, which led to him being hospitalized, with the musician telling Esquire, "Everything was f***ed." Cudi found himself dealing with many of the typical stroke symptoms, such as slowed speech and mobility difficulties. 
As noted by Esquire, Cudi underwent several months of physical rehabilitation following his stroke to regain functionality, and he didn't fully feel the effects of his recovery until 2017. It was then that he auditioned for a role in the Broadway production of "Lobby Hero," telling Esquire, "I proved to myself that I could do it. I needed that at the time." He continued, "I was happy. Like, damn, my brain is still strong. I didn't lose something in that s*** that happened." While Cudi didn't win the part, he felt accomplished after undergoing such extensive rehabilitation after his stroke.
Candice Bergen kept her stroke a secret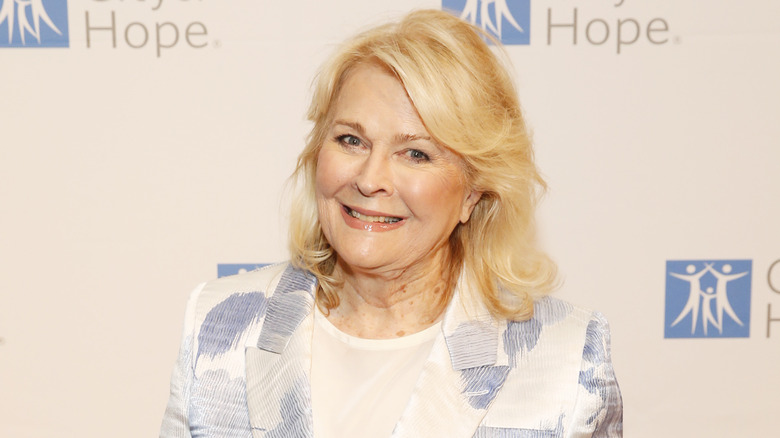 Rob Kim/Getty Images
From her recurring role on "Sex and the City" to her hilarious character in the "Book Club" movies to her award-winning work on "Murphy Brown," Candice Bergen is the very definition of a Hollywood legend. During a 2012 interview with New York Magazine, Bergen revealed that she had a stroke in the fall of 2006, but kept it quiet, even denying the news to TMZ. "I just don't want it to be a liability," she told New York Magazine. At the time, she was shooting the popular series "Boston Legal," but she managed to only miss two weeks of work on the show. Bergen also shared that her memory had been permanently affected by the stroke, telling New York Magazine, "It's not quite the same."
During an interview with CBS News' "Sunday Morning," Bergen was candid about her health once again, this time revealing that she experienced several mini-strokes when she was in her early 60s. "I kind of sat like an old thing, and people brought me tea!" she said. "So, you know, stuff happens." Now in her late 70s, Bergen has shown her ability to work through her health problems and come out the other side.