What We Know About Euphoria Star Angus Cloud's Dating History
Presley Ann/Getty Images
As a star on the rise, it's no surprise that Angus Cloud got roped into the "are they or aren't they?" conversations in Hollywood. One of the main characters in "Euphoria," Cloud's Fezco became a fan-favorite. So, too, did Cloud's dating history.
Cloud was notoriously private perhaps because he was trying to maintain normalcy as he became more famous, but it also led to a lot of rumors surrounding his romantic life. However, Cloud generally avoided the spotlight with anything regarding his personal life. "I don't like people noticing me on the street," he told Vice. "I'm really paranoid. I feel like I'm always looking over my shoulder. I do always show love to people who approach me, but some people just run up and just shove their phone in my face. Dude, I'm not a clown at a carnival."
While he was incredibly private, we do know a few things about Cloud's romantic life. Here's what we know about the heart of the mysterious "Euphoria" fan-favorite.
Rumors swirled around Angus Cloud and Maude Apatow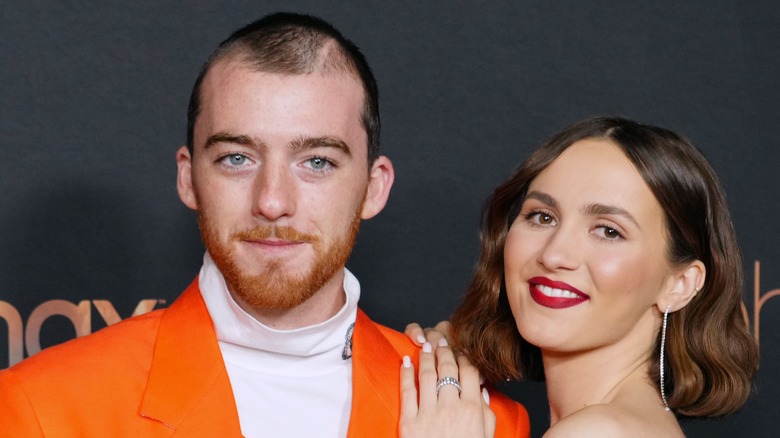 Jeff Kravitz/Getty Images
Because their characters Fez and Lexi share a romantic link on-screen, many fans speculated that Angus Cloud and Maude Apatow carried that love off-screen. While the two were awfully cute together, they never actually dated in the real world. Following a series of adorable photos together, rumors also swirled around the possibility of Cloud dating "Generation" star Chase Sui. But, once again, there was no true evidence that the two were ever romantically linked.
However, actor and model Sydney Martin appears to be the most likely to have dated Cloud. A tip was provided to DeuxMoi (via Elle) that said "she been throwing subtle hints saying going to post this secret guy (on a now deleted TikTok) they don't follow each other but apparently they're very lowkey. She even reposted a pic of angus on her insta story the other day."
Martin played a small role in the second season of "Euphoria," so it would make sense that she and Cloud connected. Neither Cloud nor Martin ever publicly confirmed whether or not they were in a relationship.
Sydney Martin seemingly responded to Angus Cloud's sudden death
With the news of Angus Cloud's death on July 31, 2023, rumored on-again, off-again girlfriend Sydney Martin appeared to respond. After the news broke, she took to Instagram to share a Story accompanied by a series of broken heart emojis. Although there were no words attached to the Story, it's pretty clear what she was responding to. She has not made any public statements regarding Cloud's death as of this writing.
Cloud and Martin never publicly confirmed their relationship, though a series of Instagram Stories over the last 18 months of Cloud's life seemed to confirm their connection. A 2022 interview with Girlfriend alluded to Cloud having someone special in his life, though he never named who that person might be. Even so, found photos of the two in adorable, casual moments remain pretty strong hints that Cloud and Martin were an item.