This Rare Photo Of Willow Smith And Rumored Boyfriend De'Wayne Is Sure To Fire Up The Gossip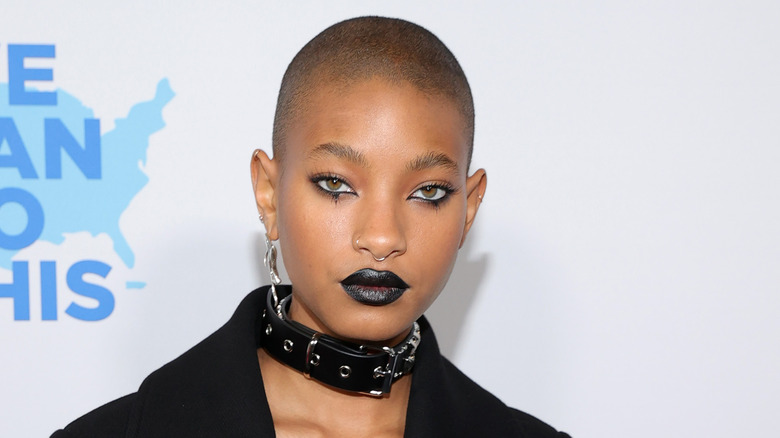 Rich Polk/Getty Images
The rumored romance between Willow Smith and indie rapper De'Wayne seems to be going strong. The pair were first linked in December 2021 after they were photographed engaging in PDA during a beach outing in Miami. According to PopSugar, De'Wayne had toured with Smith for her 2021 "LifE Tour" across the U.S., joining the "Wait a Minute" singer at her shows in Chicago, Detroit, and Philadelphia, among others. Prior to De'Wayne, Smith was reportedly in a romantic relationship with fellow musician and longtime collaborator Tyler Cole.
While notoriously private about her love life, the daughter of actors Will and Jada Smith previously revealed on "The Red Table Talk" that she is polyamorous. "It's about being able to have the freedom to create a relationship for yourself," Willow explained. "With polyamory, I feel like the main foundation is the freedom to be able to create a relationship style that works for you and not just stepping into monogamy because that's what everyone around you says is the right thing to do." She's also come out as bisexual, telling her mom and grandmother during a 2019 episode of the show that she wants to be in a relationship with both a man and a woman. "I love men and women equally, and so, I would definitely want one man, one woman. I feel like I could be polyfidelitous with those two people," she said. Now, a rare photo of Smith with De'Wayne shows that their romance is still burning hot.
Willow Smith and De'Wayne enjoy date night in Malibu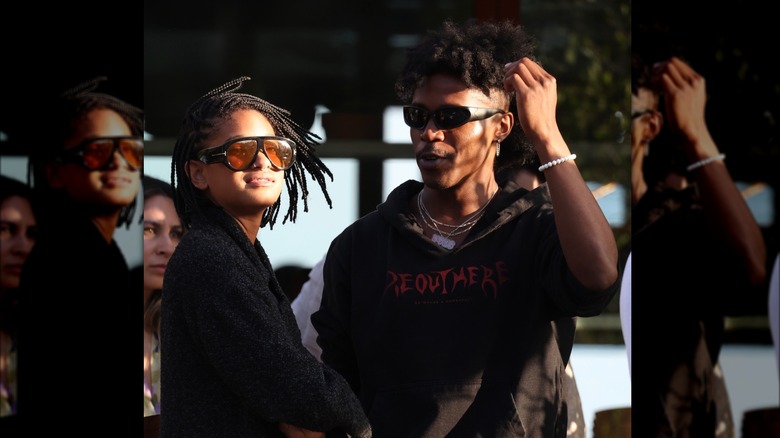 Khrome / BACKGRID
In a rare moment, Willow Smith has been photographed enjoying a night out with her rumored boyfriend De'Wayne in Malibu. As seen in the photo above, the couple stepped out for dinner wearing stylish and coordinated looks: Smith in a dark overcoat which she paired with orange-tinted sunglasses and a matching tote bag, and De'Wayne in a black hoodie, blue jeans, and a pair of black sunglasses. During the rare outing, the two were also spotted leaving a liquor store in Malibu together. The public sighting came almost a year after the singer and rapper were last seen together in New York City in October 2022. At the time, the pair was photographed rocking matching denim outfits while visiting the offices of Jay Z's Roc Nation agency in Manhattan, as reported by the Daily Mail.
So, who exactly is De'Wayne? Per PopSugar, Smith's rumored beau first emerged on the scene with his hit single "I Know Something" in 2021. He has since released his debut album, "Stains" — which is a mix of punk, rock, and rap — and includes songs like "Perfume" and "Super 8." While chatting with Alternative Press in 2022, the rapper touched on working with Smith on his new single "Take This Crown." He said, "She's one of my best friends and it's always good to have inspiring genius energy." He also teased that there are more collabs with Smith in the pipeline. "I think we'll have some stuff in the future, but regardless, she's the best in rock 'n' roll," he said.