Details About Marcia Gay Harden's Split From Her Husband Of 15 Years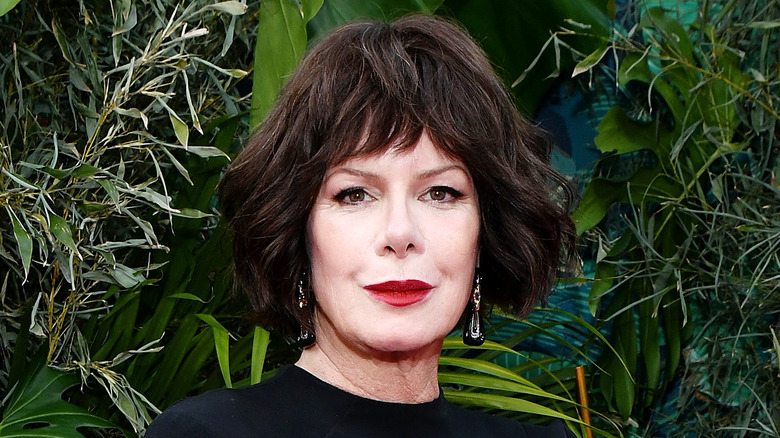 Jenny Anderson/Getty Images
Marcia Gay Harden thought she found love with Thaddaeus Scheel, but unfortunately, the couple's relationship ended. It was honestly surprising when the couple called it quits because they had been together for a long time.
It's unclear exactly when the "Mystic River" star and Scheel first crossed paths, however, Scheel did direct the project "The Spitfire Grill," which just so happened to star Harden, per Sportskeeda. The film came out in 1996, and it was that same year the couple decided to tie the knot. Just two years later, Harden and Scheel welcomed their first child, Eulala, in 1998. In 2004, at the Oscars, Scheel teased the arrival of the twins he and Harden were expecting with People. He said, "The more people yell, the more the babies move. They're not insulated in there. They hear sounds, but it's very distant." Just months later, the couple gave birth to Hudson and Julitta.
The couple truly seemed to have it all, but as the years passed, it was clear they had grown distant. In 2012, the Oscar-winning actor decided to file for divorce from Scheel after 15 years of marriage, per E! News. Much of the divorce was kept under wraps, but there are some details we know about Harden and Scheel's difficult separation.
James Gandolfini helped Marcia Gay Harden during her divorce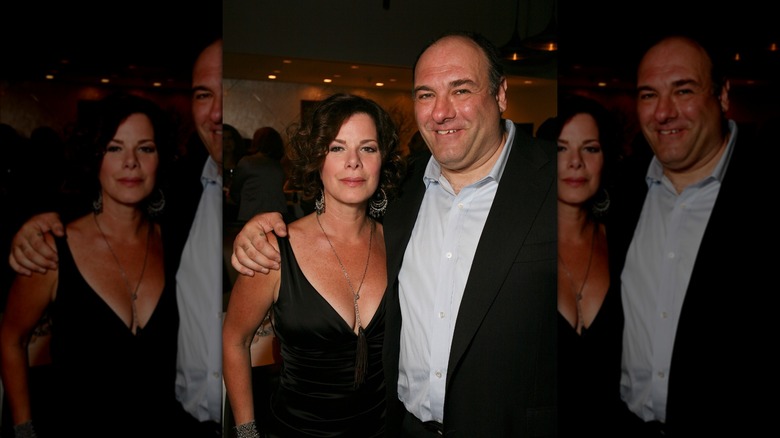 Ryan Miller/Getty Images
When Marcia Gay Harden and Thaddaeus Scheel announced their divorce in 2012, the couple hoped to keep things private. They said, "For the sake of the couple's three children, Harden would like to request that the family's privacy be respected at this time. No further comments will be made on this matter, and we thank you for your understanding." Harden kept the details of the divorce hidden but did reveal in 2013 that there was one person who truly helped her get through the situation.
The "Mystic River" actor revealed that she leaned on her "God of Carnage" actor, James Gandolfini, during this difficult time, per The Hollywood Reporter. She explained to the outlet in 2013, "...my own marriage was breaking up — and James was an absolute rock for me, he even taught me how to help my kids get through it, since he'd been through it himself." 
Gandolfini had split from his first wife in 2002 and knew the difficulties that come with separating from someone you loved, per Strictly Weddings. Harden revealed that she knew she could always count on the actor for support and would constantly keep in touch with him up until he died in 2013. During a difficult time, like a divorce, you always want a friend to lean on, and luckily Harden had Gandolfini.
Marcia Gay Harden says she'll never get married again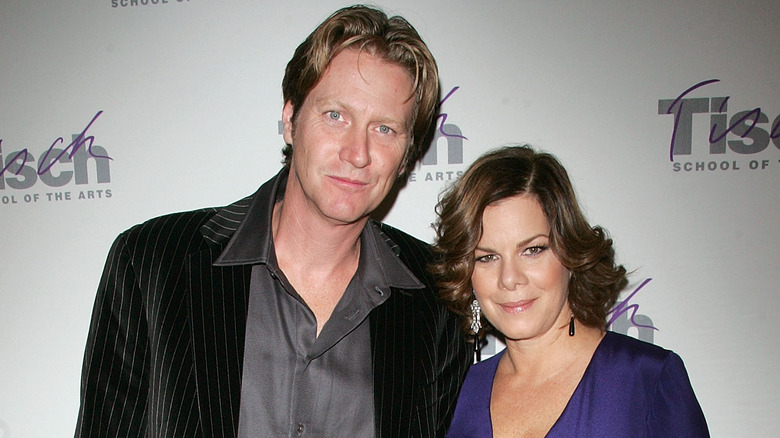 Jim Spellman/Getty Images
It's been over ten years since Marcia Gay Harden separated from her husband, Thaddaeus Scheel, but she's not even thinking about marriage. The "Mystic River" actor's love life has been kept pretty private since her divorce in 2012, and many believe that she is still single to this day, per Dating Celebs. And although you never know what the future has plans for you, Harden revealed on "The Kelly Clarkson Show" that there is one thing she knows for sure, she never wants to get married again.
During the show, Clarkson asked Harden, "Would you ever get married again?" Before the talk show host even finished asking her question, the actor confidently answered, "Hell no! Hell no." For Harden, although the divorce was difficult, it allowed her to discover something more impactful. She said, "I'm falling in love with myself. After I got divorced I fell in love with myself." With her new mentality of focusing on herself, Harden has no plans to get married.
Harden is a busy woman anyways and has been thriving since her separation from her ex-husband. Not only has she worked on several television shows, but in July 2023, she was even nominated for a Hollywood Critic Association Award for her work on the show, "So Help Me Todd." So married or not, Harden continues to be flourishing.