Zendaya Honors Euphoria Co-Star Angus Cloud's 'Infinite Beauty' In The Wake Of His Tragic Death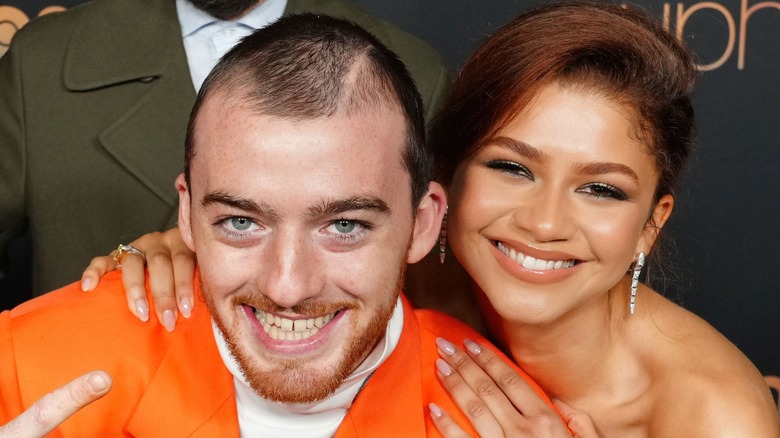 Jeff Kravitz/Getty Images
In the aftermath of actor Angus Cloud's tragic death on July 31, "Euphoria" star Zendaya dedicated a heart-wrenching homage to her cast mate.
Long before the two played the characters of drug dealer Fezco and drug addict Rue on the HBO series beginning in 2019, Zendaya and Cloud coincidentally attended the same high school in Oakland, California. The "North Hollywood" actor revealed to The Wall Street Journal in 2019 that the future co-stars had mutual friends at the Oakland School of the Arts, yet he "didn't really know her." After working together for two seasons of "Euphoria," Cloud told The Face in 2022 about his and the "Dune" actor's off-screen friendship. "We're friends for sure. We're close and I consider her family. That's my sister," he explained. The late actor called it an "honor" to work alongside the Emmy-winning actor in a 2022 interview with Access Hollywood.
In an emotional tribute, Zendaya reminisced on her memories with Cloud and his "infectious" personality.
Zendaya 'cherishes' friendship with Angus Cloud
On August 1, "Euphoria" executive producer and actor Zendaya shared her personal eulogy for her late cast mate, Angus Cloud. The "Challengers" actor uploaded a black-and-white still photo of a smiling Cloud to her Instagram. "Words are not enough to describe the infinite beauty that is Angus (Conor)," Zendaya wrote, citing his full name. "I'm so grateful I got the chance to know him in this life, to call him a brother, to see his warm kind eyes and bright smile, or hear his infectious cackle of a laugh (I'm smiling now just thinking of it)."
The multi-hyphenate recalled Cloud's magnetic quality, saying he exemplified the "'light up any room they [enter]'" cliche. "I'd like to remember him that way," she noted. "For all of the boundless light, love and joy he always managed to give us. I'll cherish every moment." The actor sent her condolences to Cloud's mother, Lisa Cloud Mclaughlin, and the rest of his family.
The cast and crew behind "Euphoria" have also expressed their reactions to Cloud's tragic and unexpected death. Cast mate Sydney Sweeney posted a carousel of pictures with the Oakland native on August 1. "You will be missed more than you know," Sweeney lamented in her caption. "But I'm so blessed to have known you in this lifetime, and I'm sure everyone who has ever met you feels the same."