Tragic Details About LeBron James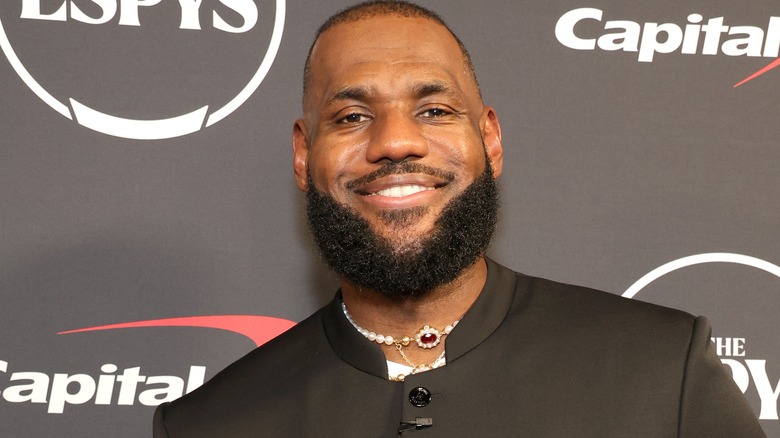 Kevin Mazur/Getty Images
LeBron James is undeniably one of the biggest basketball stars of all time. The sportsman has overtaken Kareem Abdul-Jabbar to become the highest scorer in the history of the NBA, has guided the Los Angeles Lakers, Cleveland Cavaliers, and the Miami Heat to championship titles — the latter twice — and as a member of Team USA has picked up two Olympic golds. It's little wonder that he's nicknamed King James.
Then there's the starring role in "Space Jam: A New Legacy," the part-ownership in Liverpool FC, and the eponymous foundation. But James hasn't always had it easy. Indeed, like fellow NBA icons Magic Johnson, Shaquille O'Neal, and Russell Westbrook, his personal life has been plagued by various tragedies.
From chaotic childhood moments and cancer scares to political protests and paternity lawsuits, not to mention multiple injuries, here's a look at some of the hardships that James has had to overcome both on and off the court.
LeBron James' early family life was chaotic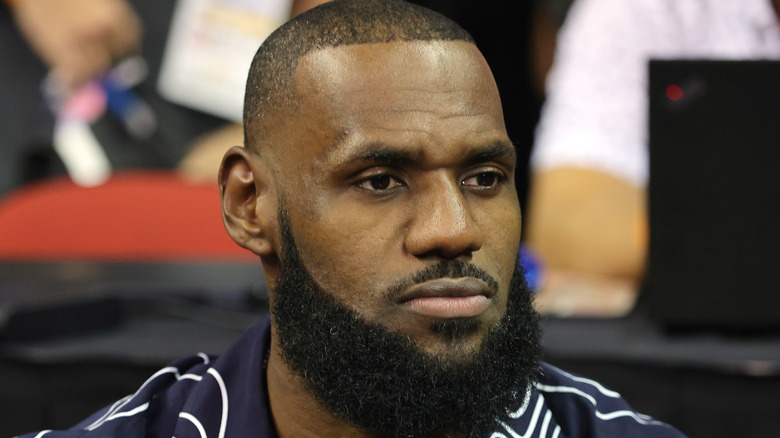 Ethan Miller/Getty Images
LeBron James was born in Akron, Ohio just after Christmas of 1984 to 16-year-old mother Gloria James and her occasional boyfriend Anthony McClelland. Perhaps unsurprisingly, the future NBA great didn't have the most stable of childhoods.
Indeed, following the death of her mother and grandmother in quick succession, the teenage Gloria suddenly found herself looking after her two younger brothers and her own baby boy alone. "I wouldn't wish some of the stuff we went through on anyone," she once remarked, as shared by The Guardian, about her and LeBron's chaotic family life. "Not on my worst enemy."
In one particular year, the Jameses relocated half a dozen times. In another, LeBron only turned up to school 62 of the 162 days required. And Gloria eventually found herself in trouble with the law, too, racking up arrests for everything from trespassing and disorderly conduct to contempt of court, and she ended up spending a week in prison. "I saw drugs, guns, killings; it was crazy," LeBron told The Guardian of his adolescent years.
LeBron James was sent to live with another family when he was 9 years old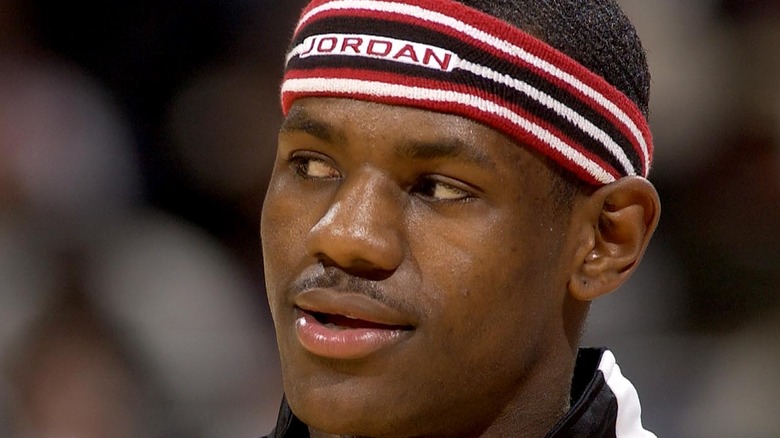 G Fiume/Getty Images
With his mother Gloria struggling to look after both her son and two younger brothers, LeBron James was sent off to live with a different family until she could get her life back on track. The future NBA star was only 9 at the time and so understandably took the absence of his beloved mom hard.
In his book "LeBron's Dream Team" (as shared by The Palm Beach Post), the Los Angeles Laker recalled this particular period of his life: "I became afraid that one day I would wake up, and she would be gone forever. It's really all I cared about when I was growing up, waking up and knowing that my mom was still alive and still by my side. I already didn't have a father, and I didn't want to be without both parents."
The power forward might not have had a father (Anthony McClelland abandoned him as a tot), but he did have a father figure in the shape of Frank Walker. It was the youth football coach and his family who agreed to take a young LeBron on. And he was also the man who essentially set the youngster on the path to glory. Indeed, Walker was responsible for introducing the newest member of his household to the world of basketball.
LeBron James was almost kicked out of high school basketball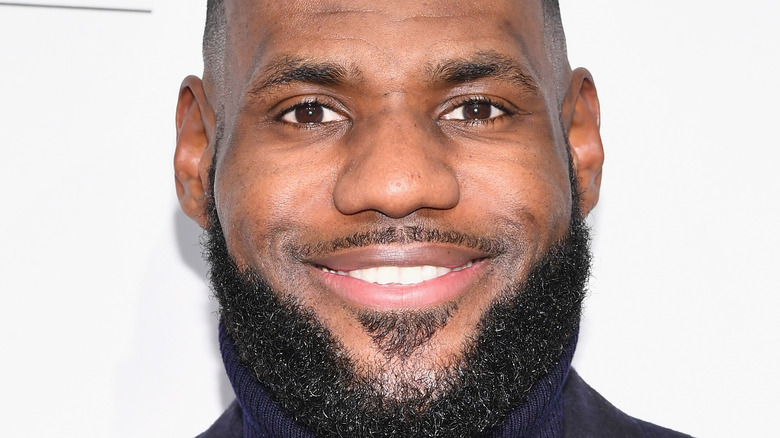 Slaven Vlasic/Getty Images
Having established himself as a rising star of St. Vincent–St. Mary's varsity basketball team The Fighting Irish, LeBron James' was no doubt expecting to enjoy a senior year that would serve as a launchpad to a glittering NBA career. But it was twice derailed by purported breaches of Ohio School Athletic Association laws which nearly stopped him from stepping foot on an amateur court ever again.
Both were related to the seemingly arbitrary rule that no amateur can accept a reward for their prowess as an athlete that's valued at more than $100. The first instance occurred when LeBron's mother Gloria James gifted her son a Hummer H2 for his 18th birthday. Following an investigation, this wasn't deemed to have fallen foul of the law as the vehicle hadn't been offered by an agent but by a family member.
The second occurred when a clothing store presented LeBron with two free jerseys with a combined worth of $845 on the proviso that he posed for photos. On this occasion, the power forward was found guilty and was banned from playing sports at a high school level. Luckily, this was later reduced to a two-game suspension on appeal and LeBron went on to steer The Fighting Irish to their third state title.
LeBron James struggled to deal with his early fame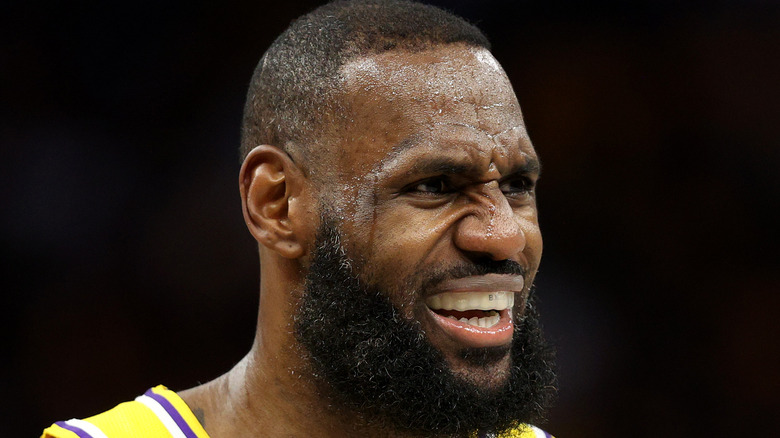 Ezra Shaw/Getty Images
There are not many 17-year-olds who can say they've graced the front cover of Sports Illustrated. So it's perhaps little wonder that LeBron James, who did just that in 2003 thanks to his remarkable form on the court for St-Vincent-St. Mary High School's The Fighting Irish, struggled to deal with the media circus that followed.
In a 2009 book co-written with Buzz Bissinger, "Shooting Stars," James recalled how his personality changed significantly as the team started to become nationally known. He said, "We had become big-headed jerks, me in particular, and we are to blame for that, but so are adults who treated us that way and then sat back and smugly watched the self-destruction."
Sian Cotton, Willie McGee, Dru Joyce, and Romeo Travis, dubbed the Fab Five alongside James, were some of the NBA great's other teammates at the time. But the star admits that he still saw himself as their superior: "I was arrogant, dubbing myself 'The Chosen One.' In hindsight, I should have kept quiet, but I also was what I was, a teenager where every reporter in the world seemed to be rushing toward me at once."
LeBron James had a cancer scare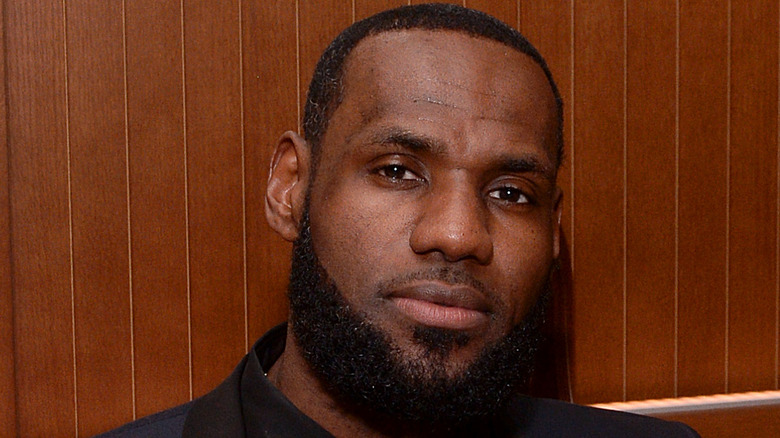 Daniel Boczarski/Getty Images
In 2009, LeBron James revealed that he'd suffered a cancer scare which briefly left him racked with anxiety. Speaking to The Plain Dealer newspaper, the NBA icon recalled how doctors at the Cleveland Clinic discovered a growth in his jaw's right side which they subsequently biopsied.
James said, as recounted by CBS News, that, "It was a nerve-racking experience but I knew at that point I had to get it done. I was on edge for those few days, I was lucky the season was going on and we were playing really well so I could concentrate on basketball. My family was nervous."
Thankfully, tests proved that the growth, which was found in the saliva-producing parotid gland, wasn't cancerous, and shortly after the Cavaliers' season wrapped up, James underwent surgery for its removal. He went on to reveal that in the week of his recovery, he enjoyed some of the best sleep of his lifetime!
Kobe Bryant's death left LeBron James an emotional wreck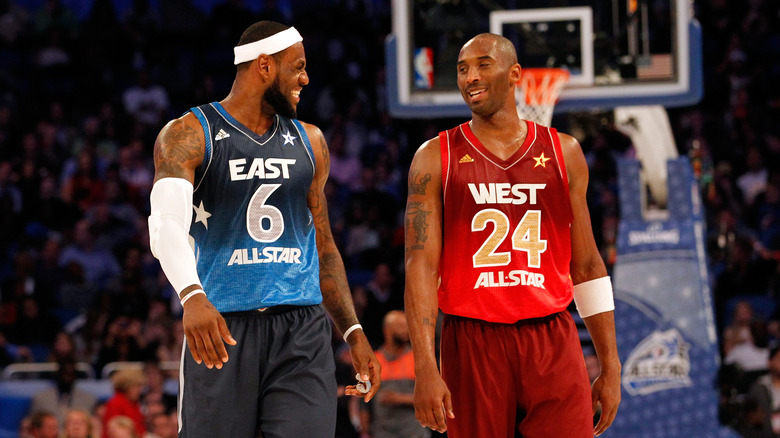 Ronald Martinez/Getty Images
The basketball world was left reeling in 2020 when Kobe Bryant, along with his daughter Gianna, a pilot, and six other passengers died in a helicopter crash in Calabasas, California. And LeBron James, who spoke to his fellow NBA superstar the night before the tragedy, found the news particularly tough to deal with.
"There's not a day that doesn't go by that I don't think about him," the "Space Jam: A New Legacy" star told USA Today's Mark Medina at a practice session six months later. Although the pair had never played together in the NBA, they did build up a strong friendship following James' move to Bryant's former team, the Los Angeles Lakers, in 2018.
James told Yahoo! Sports, "I do remember when I decided to come here, he sent me a text right away and said, 'Welcome, brother. Welcome to the family.' That was a special moment because at the time, Laker faithful wasn't [fully in on me]. A lot of people were saying, 'Well, we might not want LeBron at this point in his career,' and, 'Is he right? Is he going to get us back [to the Finals]?' So to hear from him and get his stamp of approval, it meant a lot."
LeBron James' son suffered a cardiac arrest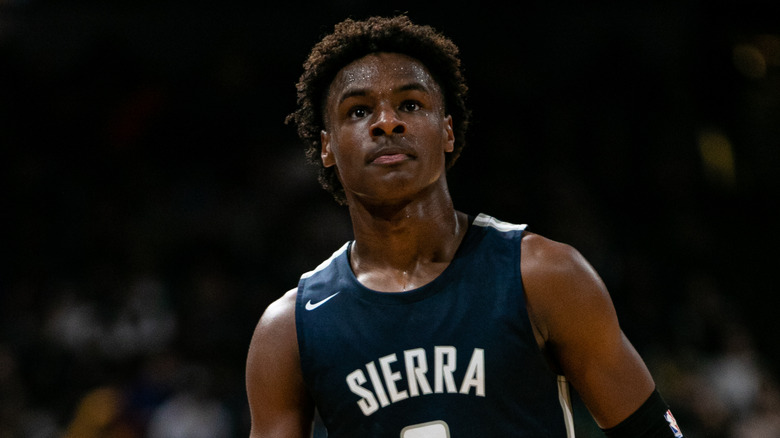 1022 Project/Shutterstock
LeBron James experienced every father's worst nightmare in 2023 when the oldest of his three children with his wife Savannah James suffered a cardiac arrest at the age of just 18. Bronny James was practicing with the University of Southern California's basketball team when he suddenly collapsed on the court and was subsequently rushed to hospital.
A spokesperson for the James family later released a statement that revealed that Bronny was no longer in the intensive care unit and was now in a stable condition. They added in the statement shared via CNN, "LeBron and Savannah wish to publicly send their deepest thanks and appreciation to the USC medical and athletic staff for their incredible work and dedication to the safety of their athletes."
Bronny looked all set to follow in his father's footsteps following his graduation from Los Angeles' Sierra Canyon High School earlier in the year. The combo guard had attracted the attention of USC after impressing at the McDonald's All-American Game, while LeBron had expressed his ambition to still be playing professionally long enough to compete in the NBA alongside his son.
A teenager was killed outside LeBron James' school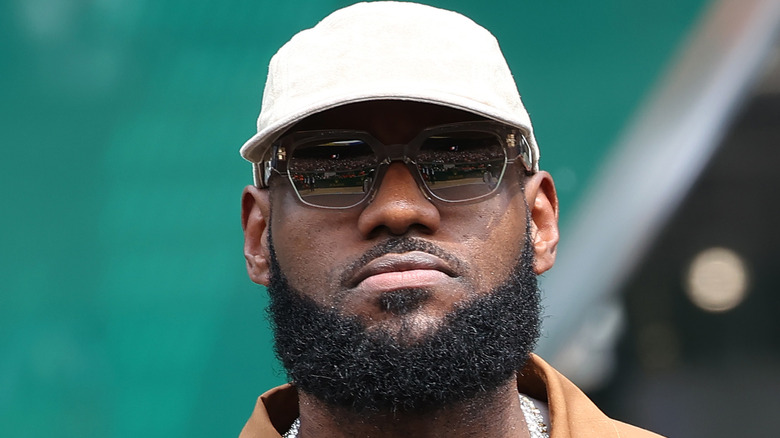 Marc Piasecki/Getty Images
In 2018, LeBron James founded the I PROMISE School in his Ohio hometown in conjunction with his eponymous foundation and Akron Public Schools. Tragically, four years later, it became the scene of a deadly crime: the murder of a teenage boy.
17-year-old Ethan Liming was beaten to death after he got into a fight with a group of men playing basketball on the grounds' nearby courts. The teen and two friends had been squirting their water guns at people indiscriminately while driving around the city when they took aim at the sportsmen. In an attempt to pacify the enraged individuals, Liming got out of the car to make it clear he didn't mean any malice. But he was subsequently attacked by two, suffering a blunt force trauma that proved to be fatal.
James took to Twitter to express his sorrow at the news: "Our condolences goes out to the family who lost a loved one!! May the heavens above watch over you during this tragedy! Pray for our community! [sic]" His foundation also tweeted their devastation, adding, "We are grieving with our community over another senseless act of violence. Our I PROMISE School campus is safe and secure as we continue to do everything we can to support our students, families and the entire Akron community."
Injuries have plagued LeBron James' career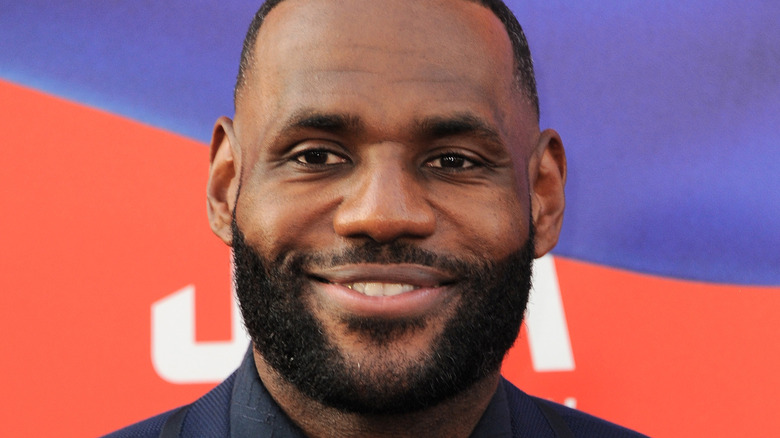 Tinseltown/Shutterstock
While injuries are part and parcel of being a sportsman, it's safe to say that LeBron James has had to deal with more than his fair share. His most severe came in December 2018 when he was forced to miss 17 games after tearing his left groin. But this was just the latest in a long line of body woes.
James suffered his first notable injury during the 2003-04 season when a sprained right ankle put him out of action for three games. Over the next decade, he had several similar spells on the sidelines thanks to everything from back spasms and broken noses to sprained hamstrings and serious elbow trouble.
In 2023, James experienced another major setback when an injury to his right foot resulted in a 13-game absence. The star was advised to undergo surgery by professionals, but after finding a doctor he deemed "the LeBron James of feet," he managed to return without going under the knife. However, within two months, the Los Angeles Laker admitted that his foot was still causing him pain and that he was now open to more treatment. 
LeBron James' mom has had alcohol issues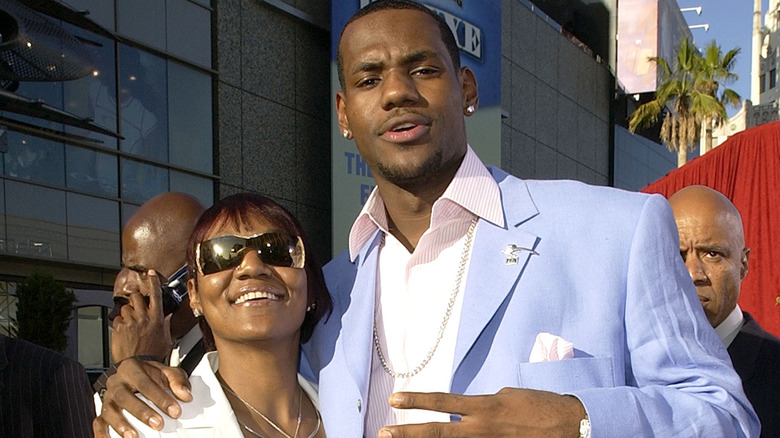 Michael Caulfield Archive/Getty Images
LeBron James' mother had several run-ins with the law while the power forward was growing up. And even when her son was an NBA megastar, she still couldn't keep herself out of trouble. And alcohol was usually at the root of her misdemeanors.
In 2006, Gloria James was arrested and charged with several offenses including driving while intoxicated, kicking a police car window out, and speeding 20 miles over the limit. And five years later she was charged with simple battery and disorderly intoxication after assaulting a parking attendant Sorel Rockefeller at Fontainebleau's Miami Beach Hotel. The altercation happened when Gloria, who reportedly had bloodshot eyes and smelled of alcohol at the time, grew fed up with how long it was taking for her car to be returned.
When asked by the press about the latter incident, which took place shortly after the Miami Heat had taken on the Milwaukee Bucks, LeBron seemed understandably reticent. First describing it as a sensitive subject, the sportsman then added, as recounted by CBS News, "It's my life. And there are certain things you need to deal with. You try not to let it be a distraction. I have a job to do, still."
LeBron James faced a backlash from Hong Kong protestors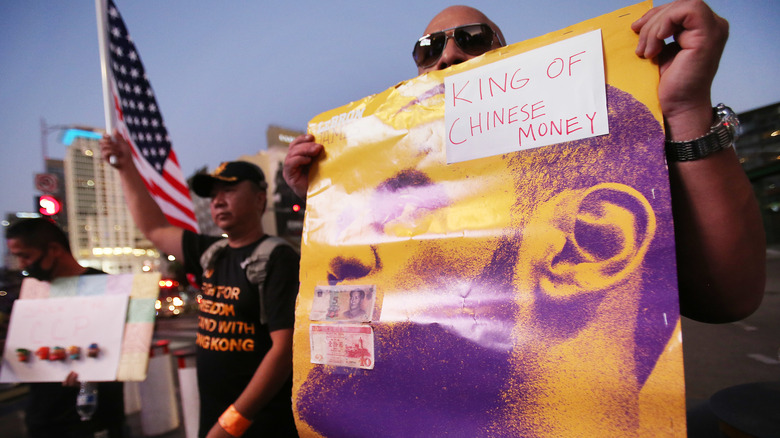 Mario Tama/Getty Images
LeBron James didn't exactly endear himself to his Hong Kong fans in 2019 when he spoke out against the country's pro-democracy movement. The NBA star got into hot water when he called out Houston Rockets General Manager Daryl Morey for a since-deleted supportive message on Twitter.
Referring to Morey's viewpoint, James told SB Nation, "Yes, we do have freedom of speech. But at times, there are ramifications for the negative that can happen when you're not thinking about others, when you only think about yourself." Speaking in support of the protestors negatively affected the NBA's relationship with China, which led Morey to delete the tweet. James later argued that the manager was potentially harmful not only in a financial sense but an emotional and spiritual one, too.
Unsurprisingly, James faced backlash for his stance and for saying that free speech can cause "a lot of negative." Protestors in Hong Kong burned jerseys emblazoned with his name on the streets of Hong Kong. And Bill Maher, a man never afraid to tell it as he sees, also criticized the Los Angeles Laker for choosing to call out dissidents rather than the human rights abuses of the Chinese government.
LeBron James' house was vandalized with a racial slur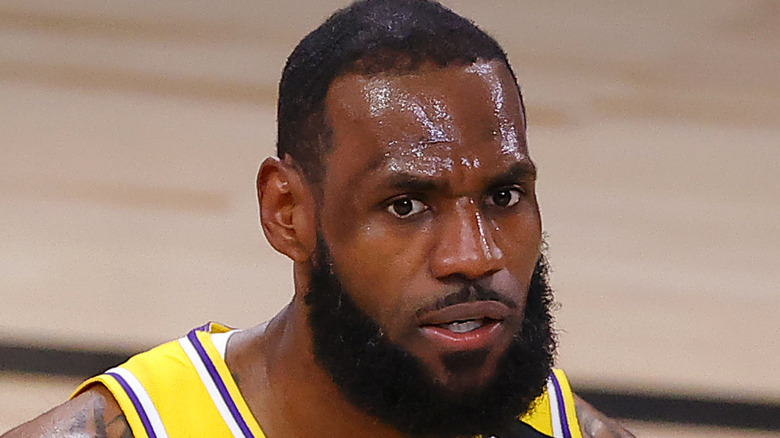 Kevin C. Cox/Getty Images
In 2017, LeBron James became the victim of a racist attack when his home in Los Angeles was vandalized with a slur. The LAPD were called to investigate after an undisclosed term was graffitied onto the gate of the NBA star's Brentwood property
James addressed the incident shortly before his Cleveland Cavaliers team competed in the NBA Finals against the Golden State Warriors. In a statement via CBS News, he said, "Sitting here on the eve of one of the greatest sporting events that we have in sports, race and what's going on comes again — and on my behalf and my family's behalf. But, I mean, I look at it as if this is to shed a light and continue to keep the conversation going on my behalf, then I'm OK with it."
"No matter how much money you have, no matter how famous you are, no matter how many people admire you, being black in America is tough," the power forward continued. "And we've got a long way to go for us as a society, and for us as African-Americans, until we feel equal in America. But, my family is safe and that's what's important." James later spoke out against the Make America Great Again movement that year, arguing that the youth of the nation deserved better.
LeBron James was sued by man claiming to be his father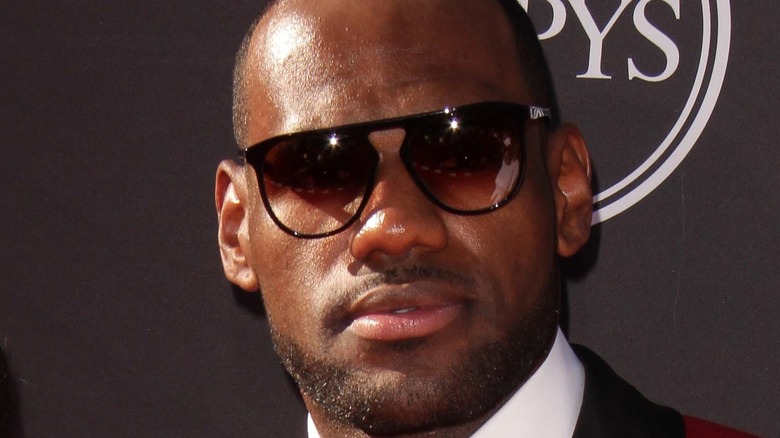 s_bukley/Shutterstock
LeBron James' checkered family history appeared to take another twist in 2011 when a man claiming to be his biological father filed a lawsuit against the NBA star. Leicester Bryce Stovell alleged that the sportsman had been the product of a one-night stand with mother Gloria James — although the fact that he was 29 at the time and she was 15 meant this would have been statutory rape.
James has often called out the man said to be his real dad, Anthony McClelland, for abandoning him as a child. But Stovell argued that these criticisms actually applied to him and so sued the power forward for defamation to the tune of $4 million.
Princeton graduate Stovell also accused James of fraud following a paternity test that came back negative. The claimant alleged that the Los Angeles Laker tampered with the results alongside his mom, although he couldn't produce any actual evidence to back this up. It's little surprise, therefore, that U.S. District Court Judge Colleen Kollar-Kotelly dismissed the case, pointing to the fact that Stovell believed "companies are willing to pay him for being the father of LeBron James."
LeBron James has suffered with his mental health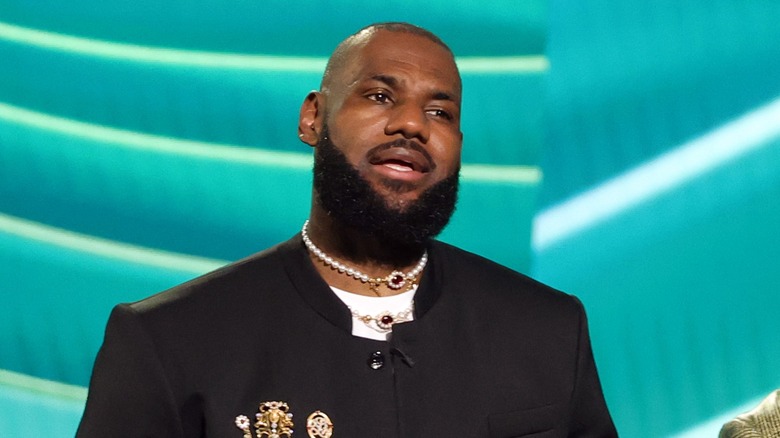 Kevin Mazur/Getty Images
In 2010, LeBron James caused controversy when he revealed during the TV special "The Decision" that he was waving goodbye to the Cleveland Cavaliers in order to team up with Chris Bosh and Dwyane Wade at the Miami Heat. And the backlash from fans who'd previously idolized him took a toll on the NBA star's mental health.
Speaking to ESPN's Rachel Nichols a year later, James admitted, "I started to play the game of basketball at a level or in a mind state that I had never played at before. I mean angry. That's mentally, and that's not the way I play the game of basketball." However, the power forward said he understood why he'd upset so many fans, acknowledging that he would have felt the same way had the shoe been on the other foot.
That same year, James told ESPN's Dave McMenamin that the Miami Heat's NBA Finals defeat to the Dallas Mavericks had also impacted his emotional well-being, adding, "The level of scrutiny that I was dealing with, and how I got out of my comfort zone. I lost my love for the game." And in 2015, the star revealed he'd gotten into a funk following the Golden State Warriors' victory over the Cleveland Cavaliers. Four years later, he teamed up with the wellness app Calm to promote its beneficial effects for stress relief.