The Scandal That Rocked Oscar De La Hoya's Marriage To Millie Corretjer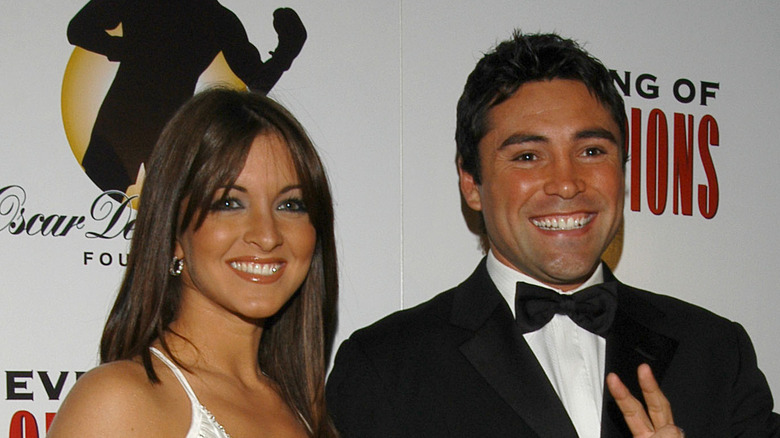 Mark Sullivan/Getty Images
Oscar De La Hoya is known mainly for his prolific boxing career, but the pugilist is also a lover of music and released a self-titled album in 2000. During that time, he met his now-estranged wife, Millie Corretjer after he asked the singer to be in his music video. Prior to his relationship with Corretjer, De La Hoya was engaged to former Miss USA, Shanna Moakler. In the documentary, "The Golden Boy," Moakler claimed she found out her fiance was with Corretjer when she saw them at the Latin Grammys together (via Entertainment Tonight). "We were together, 1000 percent. The next day, he got in the car with me. I just said, 'Why did you do that?' He looked me dead in the face and goes, 'I don't love you anymore,'" Moakler recalled.
De La Hoya and Corretjer got married in 2001 in the singer's native homeland of Puerto Rico and together, they went on to have their children Oscar Gabriel, Nina Lauren, and Victoria Lauren. The couple separated in 2016 but during their marriage, scandalous photos were released of De La Hoya, which had him lying to protect his image — and his marriage.
Racy pictures of Oscar De La Hoya surfaced during his marriage to Millie Corretjer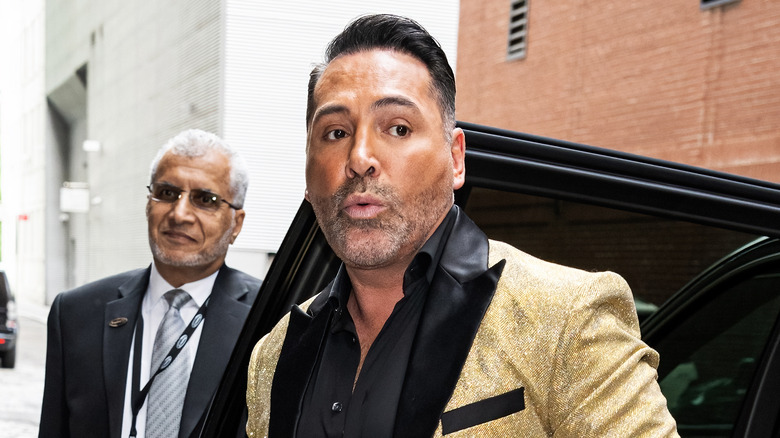 Gilbert Carrasquillo/Getty Images
In 2007, Oscar De La Hoya's life was turned upside down when pictures of him dressed in women's lingerie were leaked. The boxer claimed they were Photoshopped and his friend, Mario Lopez, shared, "His wife [Millie Corretjer] was teasing him that he looks better in lingerie than she does ... I just spoke with Oscar about the photos and we both got a big kick out of them. He said he looked like his aunt," per Extra.
Days after the photos were released, a woman named Milana Dravnel claimed she was the one behind them. As reported by the New York Daily News, she stated, "I was pressured into going public with the photos by certain individuals who had improper motives and acted solely for their own financial gain. I have not received any money from the sale or use of these photos." Dravnel also asserted that she received "numerous threats from people who were in control of the images," but didn't think De La Hoya was one of them.
Dravnel sued De La Hoya for $100 million for defamation and emotional distress caused by the release of the photos, per ABC. She claimed that she was his mistress and that the boxer's lawyer, Stephen Espinoza, pressured her into signing a confidentiality agreement, which caused her to lose $70,000 from not being able to sell the pictures. At the time, the tarnished pugilist insisted the photos were staged, but years later, he finally came clean.
Oscar De La Hoya fessed up being unfaithful to Millie Corretjer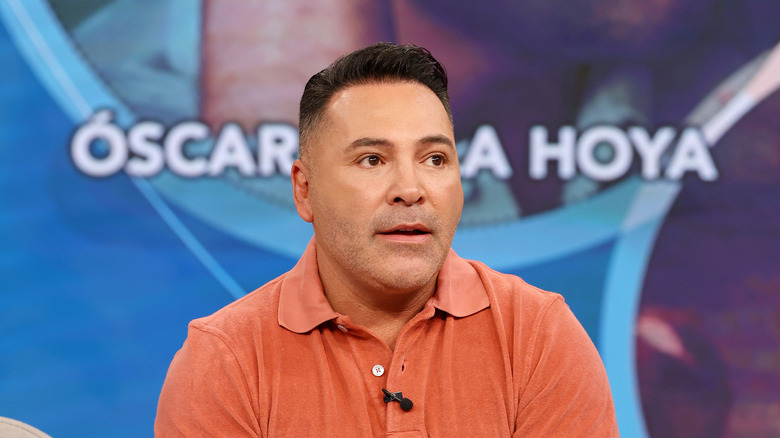 Alexander Tamargo/Getty Images
Four years after the infamous scandal, Oscar De La Hoya finally admitted that the leaked pictures of him in women's lingerie were in fact, not Photoshopped. "Let me to tell you, yes, yes, it was me [in those pictures]," he stated in a 2011 interview with "Aqui y Ahora" (via the New York Post). The boxing champion declared he was tired of lying and the pictures were taken during an alcohol and cocaine-induced night with Milania Dravnel.
De La Hoya also admitted to cheating on Millie Corretjer. "I've been unfaithful to my wife. We're obviously not talking a Tiger Woods here, but I was unfaithful. It was filling the void of maybe not feeling loved to a certain point," he revealed. De La Hoya continued, "When you're in the state of that high of drinking and doing drugs, emotions run through your head like there's no tomorrow ... and you do stupid, crazy things." He shared that he voluntarily checked himself into rehab and had been sober for three months at the time.
De La Hoya filed for divorce from Corretjer in January 2023, TMZ reported. He is now in a happy relationship with his girlfriend, Holly Sonders, and he gushed on Instagram, "Thank you for making the "The Goldenboy a huge success. If you thought part 1 and 2 are shocking, wait till 3 and 4 on a side note, look at my face and see through my soul, this woman right here did that. I love you buba."