The Real Reason Shanna Moakler And Oscar De La Hoya Split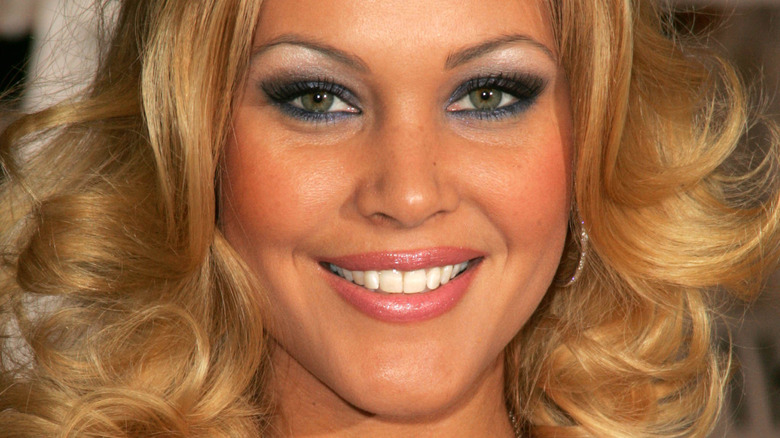 s_bukley/Shutterstock
It takes two to tango in a relationship. Not only do you have to be available for your partner emotionally, but therein lies a spiritual connection to be established as well. In Tinseltown, couples must also balance the weight of their human relationship with the crushing scrutiny of the media, and it takes a certain type of person to pull off such successfully.
When you think of successful Hollywood relationships, you think of Tom Hanks and Rita Wilson; Kevin Bacon and Kyra Sedgwick; and Ryan Reynolds and Blake Lively. But for every successful Tinseltown relationship lies a graveyard of broken alliances — one that actor and model Shanna Moakler is all too familiar with. The star, who has lived in the spotlight since the early 1990s, has had a string of unsuccessful relationships — including ones with Dennis Quaid and, most notably, Travis Barker.
But there's one relationship in particular that stands out beyond the one with the Blink-182 drummer, and that's Moakler's relationship with boxing veteran, Oscar De La Hoya. Per Life&Style, the two were together from 1997 to 2000. Over the course of their relationship, the two became engaged and welcomed daughter, Atiana, in 1999, but soon after, things fell apart.
Shanna Moakler called it quits after Oscar De La Hoya was spotted with another woman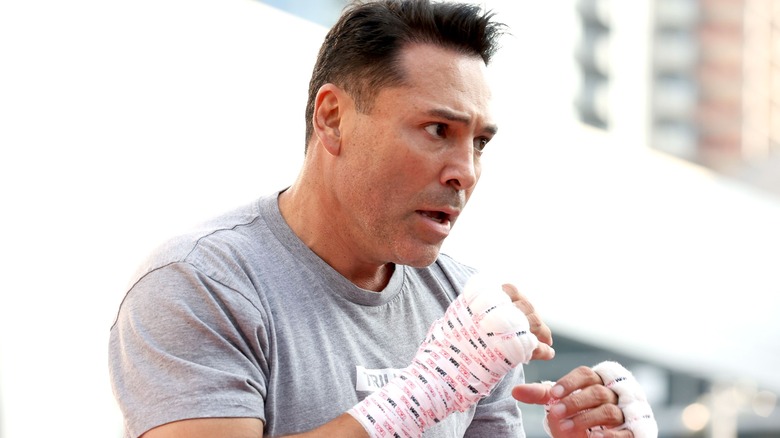 Amy Sussman/Getty Images
Shanna Moakler epitomizes the independent woman. Never one to take any garbage from another man, the model has been known to be vocal in her critiques against former partners. In May, Moakler noted she feels "no ill will" toward ex-husband Travis Barker amidst his relationship with Kourtney Kardashian, but the star couldn't resist getting in some form of shade against the Blink-182 drummer, calling his PDA with Kardashian "weird," per People.
However, some shade is warranted, such as in her case against Oscar De La Hoya. The two dated for three years and welcomed daughter Atiana into the world, as noted by Life&Style. But in September 2001, Moakler caught wind of De La Hoya's ways and immediately called it quits. "I'm sitting in bed, watching the Latin Grammy awards, feeling hurt that he went without me. Then, I see him there with another woman," Moakler told ESPN in 2001. "I was devastated. I had no idea there were any real problems in the relationship until that point."
Hell hath no fury like a woman scorned, they say. The timeless proverb was seen in full effect when, in December 2001, Moakler hit De La Hoya with a $62.5 million palimony suit. Interestingly enough, the outlet noted that the month prior, the boxer sued Moakler, alleging that she locked him out of his $5.5 million mansion to throw what she dubbed "Shanna's Freedom Party."
Shanna Moakler doesn't blame Oscar De La Hoya for their split
Shanna Moakler was quick to end her relationship with Oscar De La Hoya and even slapped him with a palimony suit in the process, but that doesn't mean she necessarily blames him for their relationship's end. When asked about the problems between her and the pro boxer, Moakler sympathized with the boxer's rough upbringing in California.
"He didn't have a normal upbringing," Moakler told ESPN. "He was extremely poor, not very well-educated, spent his entire life in the gym, never really got to go out. Or at least never got to go out at the right time, when you're supposed to go out and meet girls and drink beers," she continued. Moakler insisted that De La Hoya didn't get to experience such luxuries because "he was always in the gym."
Speaking on his fame at the time, Moakler stated, "When his own responsibilities are heightened, that's when he's out sleeping with the world and gambling, drinking, and acting like an a**." She further clarified, "In the big picture, I can understand where the poor kid's coming from, but the way he handled the situation with me and our kid was in poor taste and really kind of mean." However, in April — over two decades after their split — she was spotted with the boxer and told Entertainment Tonight the month prior, ​​"He and I are super close. We're really good friends, and I just think he's great."