Teen Mom OG Star Catelynn Lowell Reveals Sex Of Third Child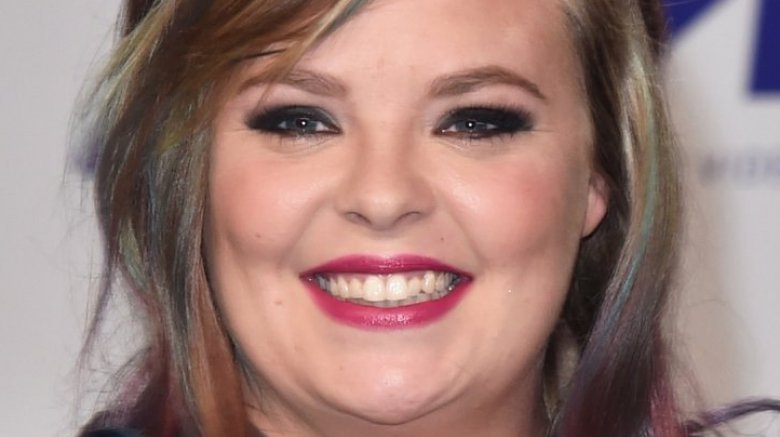 Getty Images
Teen Mom OG's Catelynn Lowell just shared some exciting pregnancy news!
During an exclusive interview with Us Weekly, published on Wednesday, Oct. 17, 2018, the reality TV star revealed that she and husband Tyler Baltierra are expecting another baby girl.
"I was so shocked that it was a girl because I for sure thought it was a boy! Tyler knew the sex before I did," Lowell told the magazine. "When we did our gender reveal, I was so shocked I almost cried because I wanted a boy so badly. I'm super excited it's a girl now. Since our miscarriage, I just am thankful to get another chance, and as long as it's healthy, that's all that matters!"
As Nicki Swift previously reported, Lowell and Baltierra, both 26, first announced that they were expecting their third child together in mid-September 2018 after suffering a miscarriage not too long ago. "The big news is that we are expecting our rainbow baby. This baby is our rainbow after the storm," the pregnant reality TV star told Us Weekly at the time. Lowell added that, while her pregnancy was "very unexpected," she's "super excited." 
Just prior to sharing the big gender reveal, Lowell took to Instagram to tease the news with an adorable snapshot of 3-year-old daughter Nova holding a sign, which read: "I am such a pretty little girl, my mommy & daddy wanted another one to be their world. So as our world gets a little bigger, I just can't wait to be [HER] big sister." With the actual reveal blocked out with a shocked face emoji, the proud mom wrote in the caption, "Excited to have Nova announce our SHOCKING GENDER REVEAL."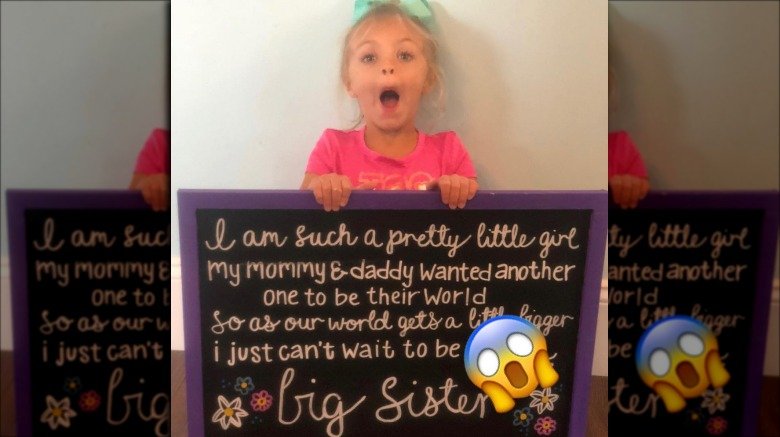 Instagram
Lowell and Baltierra famously gave their first child, daughter Carly, up for adoption in 2009, while appearing on MTV's 16 and Pregnant. They later welcomed little Nova in 2015, and are expecting baby no. 3's arrival on March 6, 2019.
While the married pair couldn't be more thrilled about having another daughter, it turns out they're currently thinking about "trying again" for a son. "We definitely want to have a boy, but if God only wants us to have girls, then that's just what it is," Lowell said in her latest Us Weekly interview, jokingly adding, "It will be a houseful of ALL girls! Poor Tyler!"
In recent weeks, a number of other celebrity pairings have shared exciting baby announcements of their own — including none other than the Duke and Duchess of Sussex themselves, Prince Harry and Meghan Markle. On Monday, Oct. 15, the royal couple announced that they are expecting their first child in the spring of 2019.